Just make sure you're at the Beckford Arms by 9am, said Saunders, our organiser, not sounding excessively Christmassy. Truth be told, 9am did seem a touch early for something billed as a convivial pub lunch where a group of road-testing mates would embrace the Christmas spirit, especially as said Georgian public house is a good two hours from the office in wildest Wiltshire.
Of course, we knew the real reason for the early start. The one thing about gatherings of drivers and cars – from which words and photographs will be extracted – is that they begin in an early, time-eating frenzy of car arranging and cleaning, followed by an extended bout of camera action and then some more arranging and shooting after that, just to be sure.
Then will come action shots, during which (especially at this time of the year) the cars get covered with road gunge in their first 100 yards, so you'll have to clean them again. Sure, there will be a nice lunch in the middle of it all, but the surrounding activities will ensure the day doesn't end until daylight runs out around 4.30pm – and I've seen many a photographer (to a person, they're obsessives) extend winter shoots by illuminating one car with the headlights of another.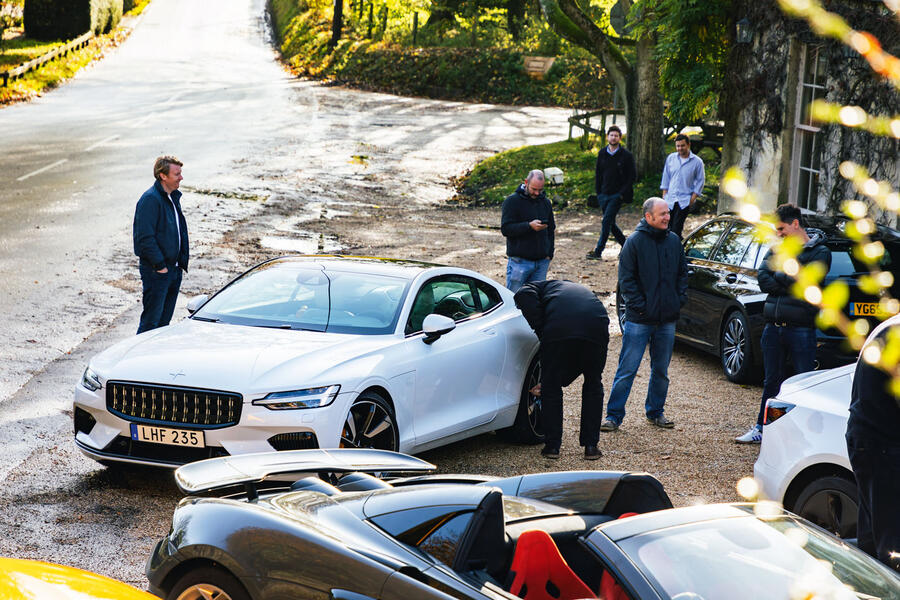 Not that I want to sound less than profoundly enthusiastic about our Christmas junket: this was, after all, a gathering of the finest road-testing talent this side of the equator; a team of enthusiasts driving and gassing as usual about their favourite cars and little else. For a whole day.
Besides road test editor Matt Saunders, who chose to appear in a vast red and black Jeep Wrangler Rubicon, there was Matt Prior in a svelte 600bhp Polestar 1 plug-in hybrid coupé, Andrew Frankel in a magisterial Porsche 911 and James Disdale in a BMW 320d Touring, his version of 2019's perfect family car. Simon Davis's choice was a Toyota Supra, almost scary in its extreme yellowness, and Ricky Lane's McLaren 600LT was the major eye-grabber of the group despite a calm grey-green paint job. Finally, there was me in a white Tesla Model 3 Long Range, a car that has profoundly surprised and impressed me during the year. I looked forward to justifying my choice to the blokes.
This event has become an Autocar Christmas fixture: we each choose a recently launched car that we especially like, ideally to illustrate a personal preference in cars per se, and we take it to a photogenic location, with lunch attached. We drive, eat, talk, snap and finally head homeward, realising as the year ends how greatly we love this job and want to keep doing it next year. Also just how different from one another a clutch of great cars always are. "There are no really bad cars any more" goes the pub litany, and that's just about true. But this year-end exercise always shows how diversified cars continue to be and how healthy that is for buyers, drivers and the industry that makes them.