The Porsche Taycan, which has gone on display at the Frankfurt motor show, is set to rewrite electric car performance benchmarks when it hits UK roads in January next year, with official technical specifications and data suggesting it will eclipse all mainstream rivals in every sporting regard bar the 0-62mph sprint.
Key to the Taycan's performance capabilities, Porsche says, is the decision to use permanent synchronous motors (PSM) rather than cheaper, but larger, heavier and less consistent asynchronous motors (ASM). It says the packaging, thermal management and high efficiency benefits of them justify their extra cost.
All the news from the Frankfurt motor show
Although the Taycan's 90kWh battery pushes the car's weight above 2.2 tonnes, the Taycan has the lowest centre of gravity of any Porsche on sale today – and close to the 918 Spyder's – and weight distribution is a near ideal 49:51.
First drive: 2020 Porsche Taycan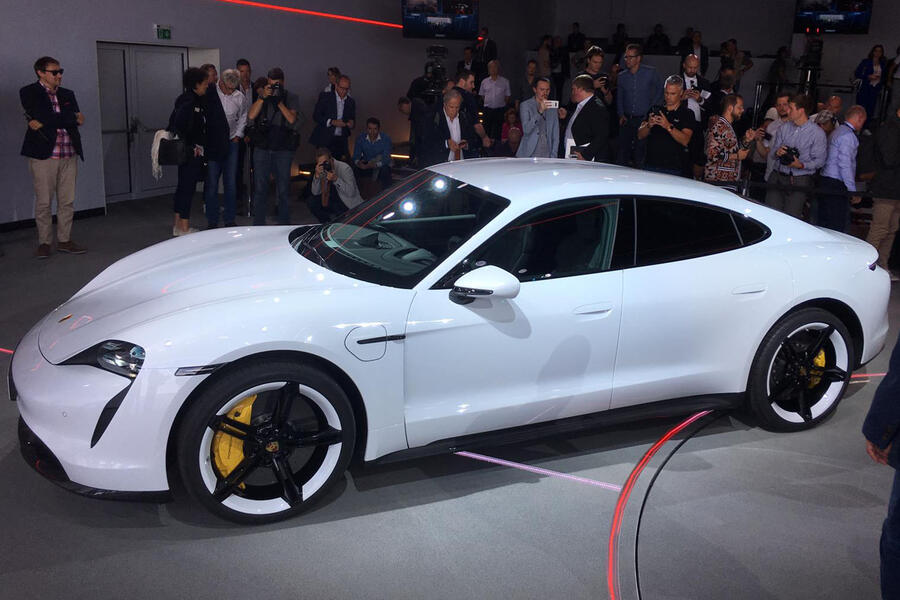 Through electronic control mechanisms the motors' capabilities extend to enhancing the Taycan's response and handling, which insiders working on the project say was regarded as needing to be "not just class-leading, but a step change beyond what's available already". Throttle response is five times quicker than on a combustion engined car, for instance, traction control 10 times faster and torque vectoring front to rear five times faster, while an electronic limited slip differential can respond to wheelslip 50 times faster than a mechanical set-up. Porsche Stability Management can be used, sit in a Sport mode that offers limited intervention or, crucially for enthusiasts, be switched off entirely.
Advantages over existing rivals are not limited to electronic advances, however, with Porsche also highlighting a unique suspension set-up, based on the Porsche Panamera's but using three-chamber air suspension that also allows for the car to drop 22mm at speed, enhancing efficiency and lowering the centre of gravity, and to lift 20mm in the face of any obstacles.