The upcoming Aston Martin DBX SUV will go on sale in the UK from £158,000, with the first official images of the car's interior now revealed.
The car, which is Aston's first high-riding model and will arrive with the same 4.0-litre, twin-turbocharged V8 as the DB11 supercar, is set to make its debut in Beijing on the 20th November. Order books will then open, with a $189,900 asking price in the USA and €193,500 in Germany. In the UK, pricing is set to include three years of servicing as standard.
UPDATE: The Aston Martin DBX has been revealed - full story here
A single image was released to coincide with the pricing announcement, giving a first official look at the DBX interior, with copious amounts of leather seeking to embody the firm's characteristic blend of comfort and opulence. Visible details include perforated leather seats, an expansive panoramic glass roof, and wood-finished interior door handles.
First ride: 2020 Aston Martin DBX prototype
It confirms spy photos previously seen in September, which showed Aston would continue to use Mercedes-sourced switchgear and technology combined with its own bespoke trim.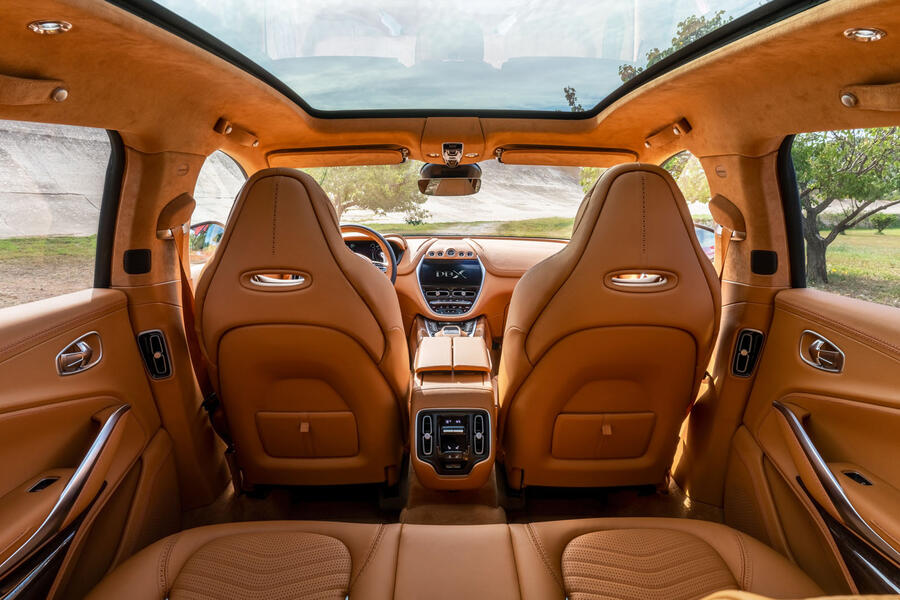 Previously only a single image teasing the interior had been officially released, showing a portion of the car not clad in its now-familiar prototype camouflage and revealing that a chunky black plastic rear bumper will be available. Bootspace was then confirmed as well, with the DBX's 632-litre rear loadspace giving it a significant practicality advantage over its Bentley Bentayga rival.