What is it?
The BMW 330d is the latest version of a fast, frugal compact executive saloon that needs little introduction.
Before Munich experimented with the six-cylinder progenitors of this model and its various close siblings, go-faster diesel derivatives simply didn't exist. Then for a while, after BMW refined and developed the performance diesel concept, it seemed as if a blue-and-white-propellered '30d' was all the everyday business express saloon anyone really wanted.
Now, with rival Audi throwing its weight back behind them but other brands shying away, and some customers picking faster petrol-electric plug-in hybrids instead, it isn't clear if big-hitting hotter diesels are coming or going. Unsurprisingly, however, BMW is sticking with what it knows, and what we all know it's so good at. And so the 330d is the only 3 Series variant that busts the £40,000 road tax threshold, sitting squarely at the top of the showroom range – until the M Performance version comes along, that is.
Unlike lesser versions, the 330d comes in Sport or M Sport trims only, and like the 320i and 320d, it can be had with rear-wheel drive or part-time four-wheel drive. It uses BMW's 'B57' 3.0-litre straight-six diesel engine in twin-turbocharged, 261bhp form.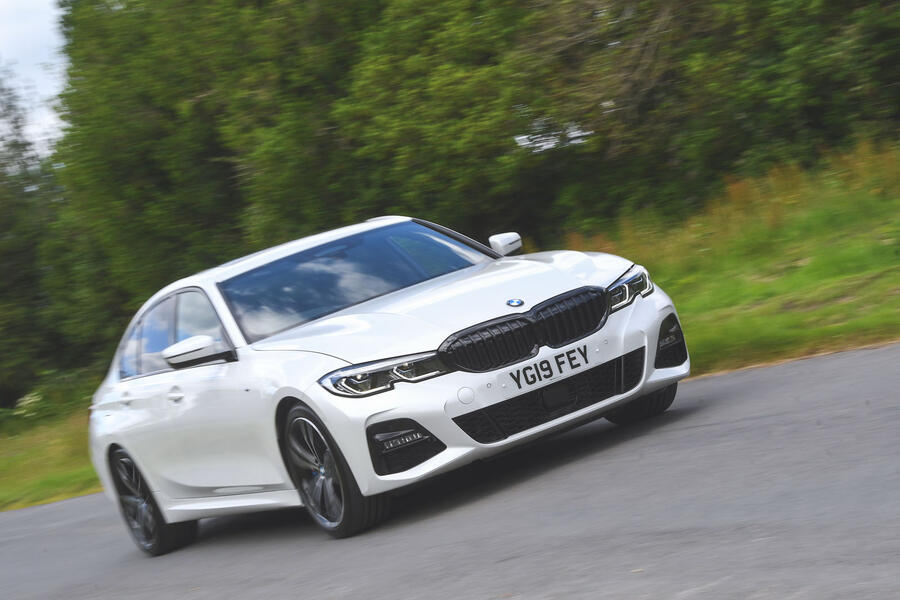 Order a 330d in Sport spec and you get BMW's standard steering system, its standard passively but progressively damped suspension and a choice of standard 18in or optional 19in rims – both of which come on run-flat tyres. Plump for M Sport instead and you get lowered, passively damped suspension as standard and can avoid a run-flat tyre by opting for a 19in rim and high-performance rubber – which comes packaged with variable sport steering, adaptively damped M Sport suspension and a torque-vectoring active rear differential as part of the £2200 M Sport Plus Package. That's sure to be a popular addition.
Our test car was a rear-driven M Sport with all the M Sport Plus trimmings.