The electric Volkswagen ID 3, the brand's most important model since the Golf, has been revealed at the Frankfurt motor show, offering up to 341 miles of range and priced from around £27,500.
Initially shown as a concept at the 2016 Paris motor show, the hatchback will be the first ID model to arrive on roads next summer, followed shortly after by the production version of the ID Crozz SUV.
Other members of the upcoming all-electric ID family already seen in concept form include the Buzz, Vizzion and Roomzz, all of which will contribute to the VW Group's intention to sell three million EVs by 2025.
We've driven a prototype, read what we learned here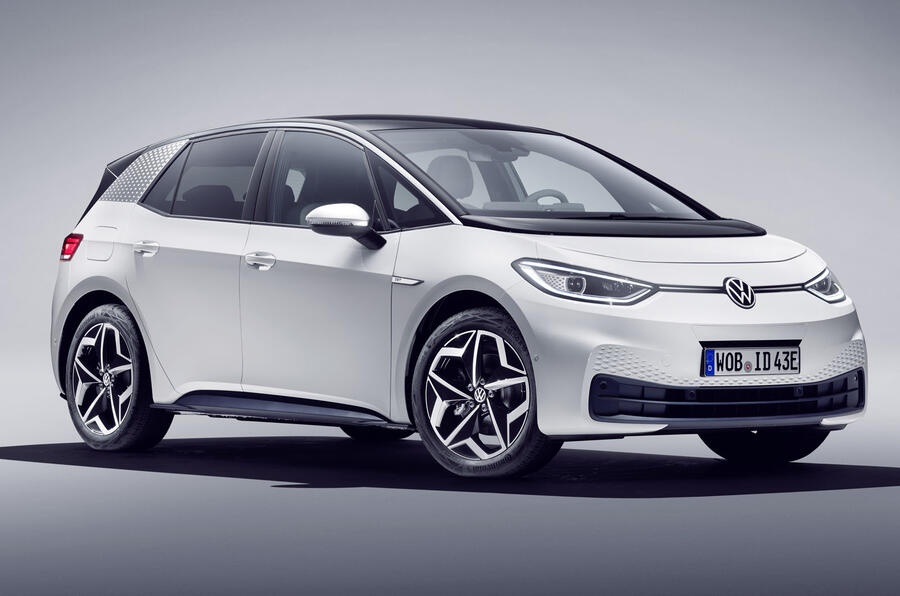 Described as "an electric car for everyone", the ID 3's importance for VW is spelled out by its explanation of the model's name. The marque says the '3' signifies "the third major chapter for the brand after the Beetle and Golf", both broadly considered to be landmark cars for VW and the wider motoring industry.
The ID 3 is the first car to use the maker's new MEB platform, a scalable architecture built solely for electric vehicles, which will underpin all ID models and be used by other VW Group brands. VW is also licensing the platform's use to other firms, most notably major rival Ford – a move considered crucial in helping to recoup the vast costs of developing the chassis and lower prices through greater economies of scale.
One major benefit of a bespoke electric platform is interior space. While the ID 3 is only 3mm longer, 10mm wider and 60mm taller than the current Golf, its wheelbase is 145mm longer at 2765mm, just 21mm shy of a Passat saloon's. Boot space is identical to the Golf at 380 litres.