My first visit to Maranello came in 1993, to drive the then new 456GT for this very publication. It was in its own understated way a landmark car for Ferrari: all-new from end to end, the first with a six-speed manual gearbox and the first in far too long not to rely on the Fiat parts bin for the majority of its switchgear. It would shortly beget the 550 Maranello, so siring a line of front-engined V12 supercars that remains unbroken to this day.
I can remember every moment of that trip and thinking to myself that the day that spending one's time in such a way felt remotely normal would be the day I left this profession for good. Twenty-seven years and who knows how many trips later, that day seems as far off as ever.
Not least because the most recent trip felt so like the first: less a simple automotive appraisal, more a looking glass into the future of the company. Back in 1993, the 436bhp 456GT was the most powerful standard production road car that Ferrari had ever made, with only the limited-edition F40 beating it, thanks to 478bhp. Yet the car I'm driving today, the SF90 Stradale, makes 986bhp – more than double the power of even the F40, let alone the 456GT.
If it seems strange to compare a mid-engined two-seater from 2020 with a front-engined 2+2 from 1993, remember the 456GT and SF90 have in common far more than a badge. Like the 456GT, the SF90 is all-new. Like the 456GT, it has become Ferrari's priciest and therefore flagship model. And it too shines a light not only into Ferrari's future but also that of the supercar and hypercar genres.
The SF90 is also Ferrari's fastest car to date, both in a straight line and around the track, its traction, tyre and electronic technology overcoming the fact that its power-to-weight ratio is actually inferior to the 2013 LaFerrari's. Indeed, on street tyres, this mainstream production Ferrari road car can lap Fiorano at about the same pace as the track-honed, race-prepped FXX from 15 years ago did on slicks. Which, when you think about it, is staggering.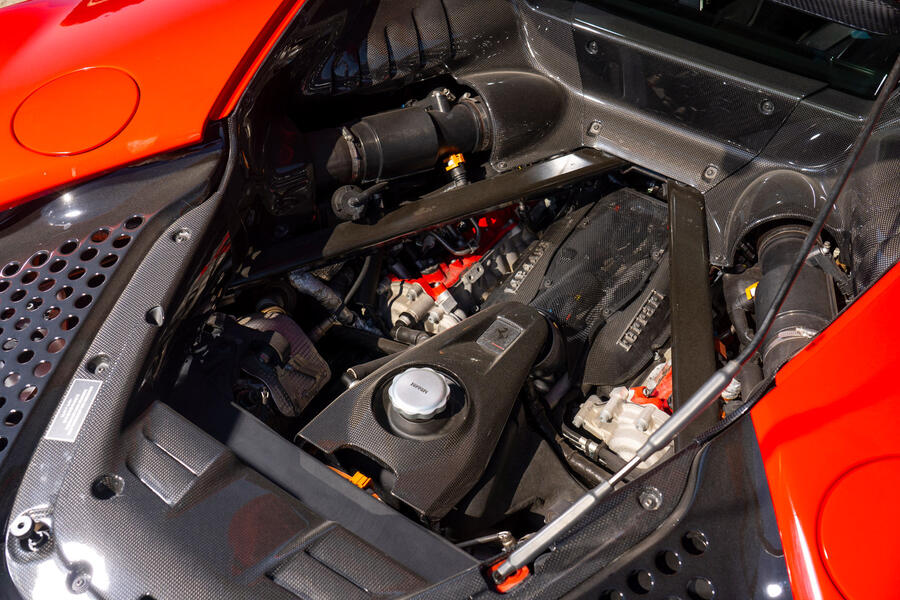 Ah, Fiorano. Actually, and on this occasion alone, I'd not wanted to go to Ferrari's fabled test track. We had ground to cover and many pages of images to fill, and I knew all the other magazines would use the standard Fiorano shots we've all seen so many times before. But in Ferrari's unique and curious way, I was told that my attendance was 'mandatory'. So that was that. And I was getting to drive a near-thousand-horsepower Ferrari on a purpose-built circuit, so you can dry your eyes now.
You get so little time. I think I had seven laps of what is quite a short circuit – seven laps in which to get up to, on to and then past the limit of one of the fastest and most powerful road cars yet built. Seven laps in which to reach meaningful conclusions on its behaviour in all its driving modes, as well as figure out the pros and cons of Ferrari's first-ever electrically driven front axle. And not crash. That bit is important and by no means a given around here. Seven laps at Fiorano speed equates to just over nine minutes of driving. It's one of the busier times a motoring journalist gets to spend driving a car.