Apologies – we're a bit late to this V12 gem. In around 2009-10, prices for the 456 fell back to about £40,000 tops, while some cars in poor condition dropped to as low as £25,000. Then from around 2014 they began to rally, only to fall back slightly a couple of years ago.
It all means that today you'll struggle to find a good right-hand-drive 456, or the later 456M, for less than £40,000 while, if you want to sleep soundly in your bed, you'll need to spend between £58,000 and £65,000 for a proper one with a low mileage and a good service history.
That last bit – a good service history – is crucial. Too many 456s have gaps in their histories, a legacy of those rock-bottom prices when many people with shallow pockets but eyes bright with the dream of Ferrari ownership snapped up the cars. Once reality kicked in, the first thing to go was servicing, with the result that lots of cars have patchy histories with few signs of the necessarily regular 6000-mile fettle and 24,000-mile cambelt change.
Many have since found good homes and had their service histories patched up. In any case, the model is, despite the litany of checks we advise (see below), a tough and reliable old thing. Indeed, it was Ferrari chief Luca di Montezemolo's intention that it should be. He figured that building a reliable and practical supercar to be driven rather than locked away, as is the fate of most Ferraris, would be his brand's best advertisement.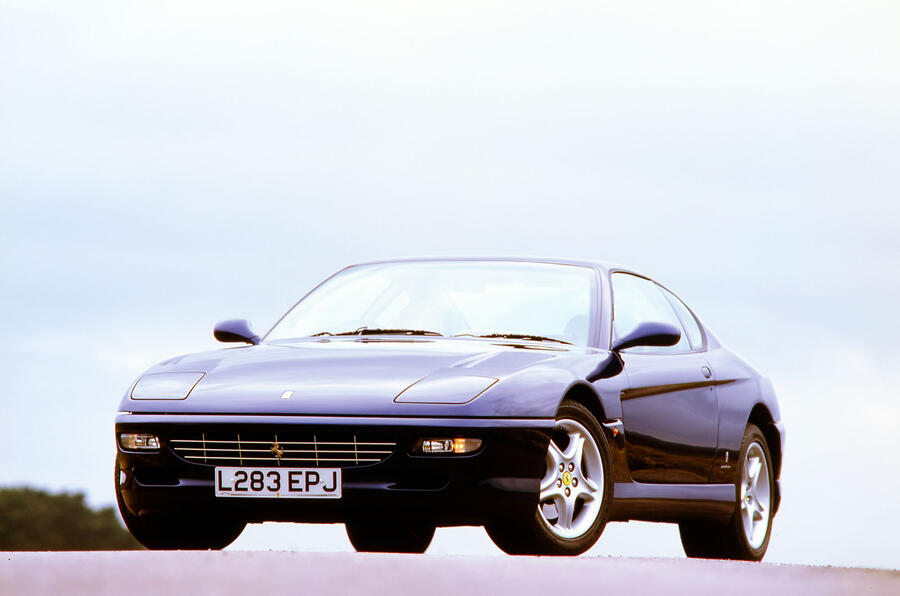 The car was launched in 1992 as the 456GT and wasn't replaced until 2003. In between times – 1998 – it was facelifted when it became the 456M, for Modificata. Whether GT or M, the 5.5-litre front-mounted V12 produces the same 436bhp, driving the rear wheels through a six-speed manual gearbox that went from being a dog-leg gate to a more usable H-pattern in around 1995. Alternatively, from 1996 there was a four-speed torque-converter automatic. Naturally, the former attracts a premium, but the automatic is reliable and a good fit if you just want to cruise effortlessly from country to country.