Ferrari has unveiled the most powerful, most advanced and fastest-accelerating road car it has ever produced: the SF90 Stradale.
Described as a "milestone in Ferrari's history" by CEO Louis Camilleri, the new flagship model is also the first series-production plug-in hybrid Ferrari. It's the second of five new models to be presented this year - an "unprecedented" product rollout, according to the Italian firm.
"2019 is the year in which we have decided to significantly increase our product portfolio," said Camilleri. "This [car] is the first step in a direction that Ferrari will enter in unwavering focus and confidence".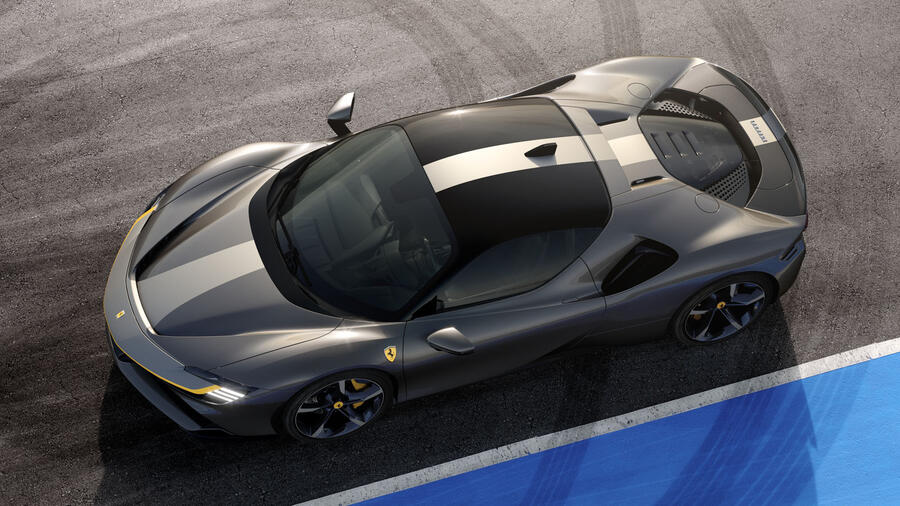 Dubbed Project 173 during development, the production name is taken from the firm's 2019 Formula 1 car and in turn references 90 years since Scuderia Ferrari was founded. Unlike with the LaFerrari, production is limited only to the amount the firm can sell, with 2000 customers from around the world lined up to see it tonight.
Engine and performance
The most significant number for the SF90 Stradale is 1000. That's the total horsepower figure (986bhp) that the petrol-electric powertrain makes: 36bhp more than the LaFerrari's and the most of any roadgoing Ferrari ever built.
The heart of the car is Ferrari's award-winning 'F154' twin-turbocharged V8, bored out from the 3902cc of the 488 Pista to 3990cc. Engineers claim a complete redesign, including new combustion, intake and exhaust systems, while a narrow cylinder head, with a Ferrari V8 first in a new 350-bar direct injection system, features.
The resulting output of the engine alone is 769bhp, with 590lb ft of torque at 6000rpm. The new engine design, in which the turbocharger is mounted lower and the flywheel is smaller, results in a lower centre of gravity. The exhaust system also makes use of the super-alloy Inconel instead of steel to save weight, while Ferrari claims a "fuller, richer" sound.