The sight of a near-silent electric Formula E car on the move is no longer a novelty, but watching Daniel Abt's Audi E-tron FE06 in action was certainly surreal on this occasion.
For one thing, the single-seater wasn't on a race circuit but a snowbank-lined ice course on a frozen airfield. And it was fitted with studded ice tyres. Oh, and there was a tow rope trailing from its diffuser, at the end of which a skier was hanging on as best he could. And yet that probably wasn't the weirdest sight you could find in the vicinity of that ice track.
Try a 2012 Dakar Rally-winning Mini All4 Racing slithering on ice. Or a Porsche Taycan lapping a circuit at the same time as a historic Porsche 911 with, for reasons still unclear, a surfboard on its roof rack. A lightly modified Bentley Continental GT practising doughnuts. And Hans-Joachim Stuck reunited with the chassis in which he made his grand prix debut, now fitted with six – yes, six – studded tyres.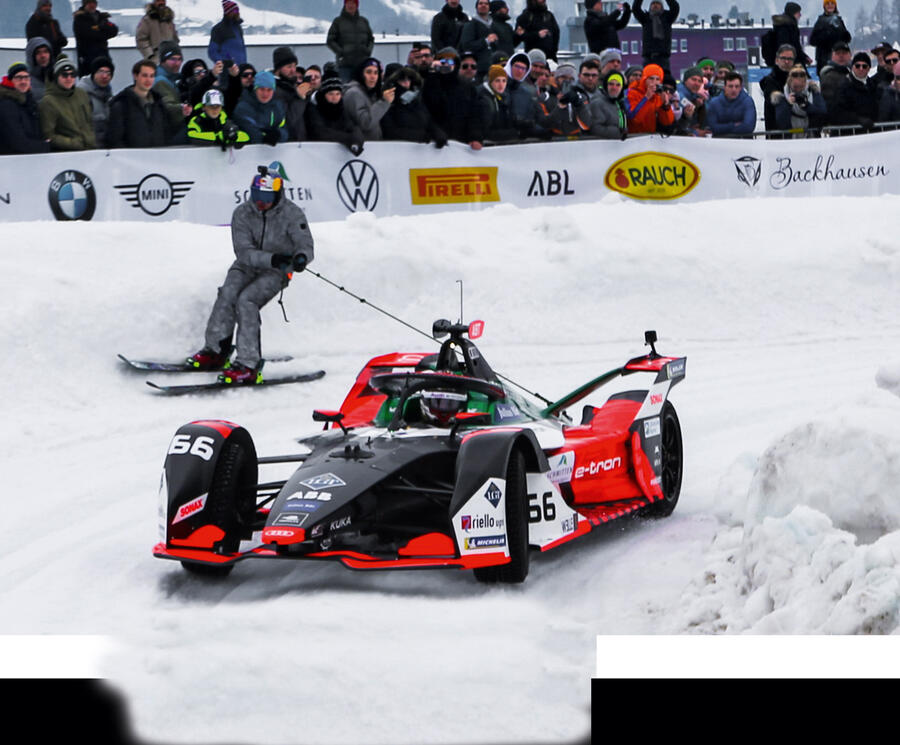 Welcome to the bonkers world of the GP Ice Race. You might not have heard of it yet but, after just two years, it seems poised to grow into a showcase event on the motorsport calendar: an Alpine Festival of Speed, perhaps.
Like Goodwood, the GP Ice Race is built on a long motorsport tradition. It's centred on the bizarre discipline of skijoring, in which skiers are towed by cars. The first skijoring event in Zell am See, Austria, was held in 1937 on a frozen lake, with skiers towed by bikes. The first Dr Porsche Memorial Skijoring Race took place in 1952, before standard car races were added the next year. It became an annual tradition, although it moved from the lake to the town's airfield in 1969 after several weather-related cancellations. But after the 1974 running was cancelled at late notice, it fell off the calendar.
The revived event features timed runs, competitive races and, brilliantly, skijoring – but it's mostly just an excuse to gather an amazing collection of historic and modern cars for a slippy, slidy motorsport party.
The GP Ice Race even has its own equivalent of the Duke of Richmond: co-organiser Ferdinand Porsche, great-grandson of that Ferdinand Porsche. He says he decided to bring the event "back from obscurity" both to meet the growing demand for historic events and because "motorsport belongs to Zell am See".