Brooklyn Cruise Terminal is an unlikely venue for a glimpse into the future. Essentially a barren car park and dock, it's nestled in a corner of Red Hook, a faded, weathered Brooklyn neighbourhood full of run-down red brick buildings liberally splashed with graffiti. Even the stunning backdrop of distant Manhattan across the Hudson River adds only a wisp of glamour.
Yet it's in this unlikely location that thousands of people gathered on a sweltering July weekend to see the future – the future of motorsport, of electrification, the car industry and arguably even wider society.
Since 2017, for one weekend every year, the terminal's car park and nearby roads have been transformed into a 1.4-mile circuit to host the ABB Formula E Championship's New York City ePrix. While the location isn't as glamorous as the event's title suggests, the fact it's held relatively close to Manhattan shows the increasing power of the electric single-seater championship. As does the event itself.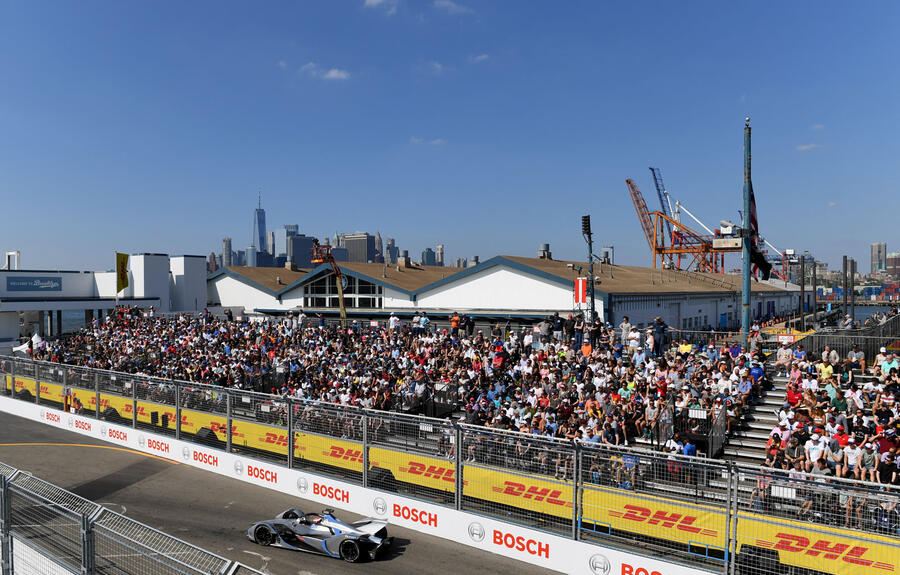 Walk down the pit lane and, while the garages might be in temporary tents, they contain some of the biggest names in the car industry: Audi, BMW, DS, Jaguar and Nissan, along with newer firms such as Mahindra, Nio and Venturi. For the coming 2019/20 season, Mercedes-Benz and Porsche will join them. The makeshift venue is packed with fans, pressed up against the fence to watch the two chaotic, entertaining races that capped the 2018/19 season.
That Formula E reached the end of its fifth season surprised many early sceptics, let alone that it did so unquestionably on the up and with real momentum behind it. "When we launched in 2014 nobody believed in Formula E. The general perception was that it was destined to fail," laughs the series' Renato Bisignani.
There were reasons for such scepticism. At the time, EV technology was still in its relative infancy – and virtually unexplored in motorsport. The cars were slow and battery sizes so limited drivers had to swap machines mid-race. The concept of an electric championship made sense, but it seemed premature.