In the winter, it's important for drivers to take all the precautions necessary to travel safely in hazardous conditions. That often means fitting a set of winter tyres to tackle snow and ice, which can cause our road network to grind to a halt - even after the slightest dusting.
But are winter tyres worth it? In this in-depth guide, we'll look closely at winter tyres and discuss whether or not they merit the outlay, before considering every other aspect of driving during the cold season.
What are winter tyres?
Winter tyres are specially engineered to provide improved grip and traction in cold weather, specifically in temperatures below 7deg C.
They aren't just for driving on snow and ice: they're also useful in the wet, and on bone-dry surfaces too. Winter tyres are also better at clearing standing water, so they're safer than summer tyres when it's raining.
In the UK, winter tyres will be most effectively used between the end of November and the start of March, where they will almost certainly generate more grip than summer tyres.
How do winter tyres work?
Winter tyres are different from summer tyres in three specific ways. Here's how they work.
Winter tyres have a more effective tread pattern, with many more grooves, or sipes, cut into it, which displaces water more effectively and helps the tyre to bite into snow and ice.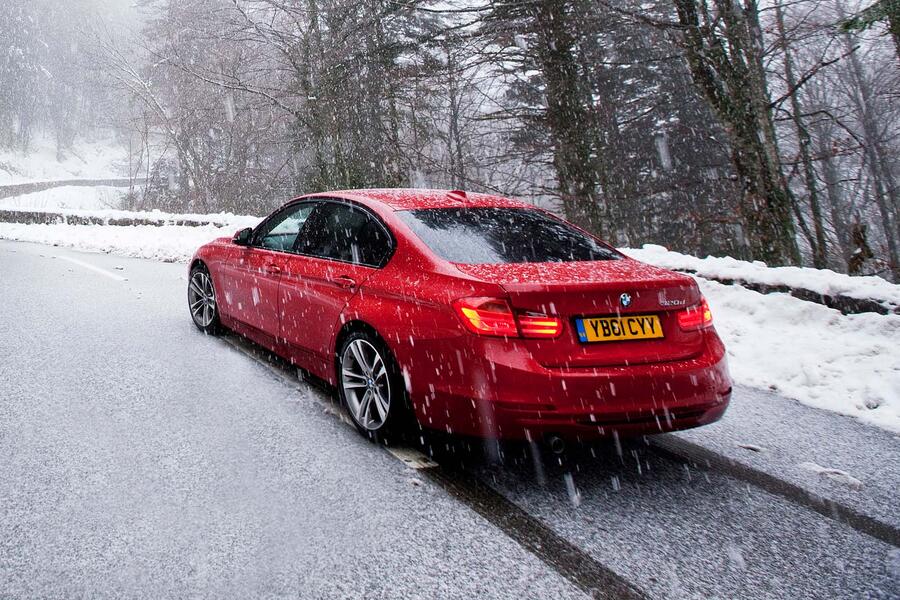 Winter tyres are made from a compound that has more silica in it, which means they stay soft and supple even in freezing temperatures. In very cold conditions, the rubber of a summer tyre becomes extremely rigid, meaning it slips across the surface of the road rather than clinging onto it.
Finally, a winter tyre's rubber blocks are designed to vibrate when on the move, which means any snow they might have picked up will be shaken out. A summer tyre, meanwhile, will become clogged up with snow and ice and in effect become completely smooth and entirely ineffective.