Is there anything more overtly '2019' than a plug-in hybrid SUV? On a purely conceptual level, at least, they provide a compelling snapshot of both the prevailing and emerging trends in the wider motoring sphere.
Resplendent in Turbo Blue, the Audi Q5 55 TFSIe is the current class newbie. You'll know the drill by now: comparatively low CO2 emissions will help it carry sway with tax-savvy fleet managers, while its boxy architecture should appeal to the classically family-minded buyers who helped catalyse the propagation of the SUV breed as a whole.
Only, it's not quite that simple any more. Such a formula might have spurred the likes of the Mitsubishi Outlander PHEV on to sales greatness, but this new Q5 – one of more than 20 electrified Audis due to arrive by 2025 – has to satisfy a far broader remit. There are the above factors, of course, as well as the expectations of reasonable grandeur that come with an Audi badge and a £54,900 list price. But there's also the small question of the 362bhp and 369lb ft developed by the partnership of its 2.0-litre EA888 engine and electric motor. Considering that allows for a hot-hatch-troubling 5.3sec 0-62mph time, that at least has to count as a mild performance streak.
This Audi has a fair bit to juggle, then. Not only has it got to be usable, economical and luxurious enough to justify its inflated asking price, but it also now seems there are grounds to expect trace amounts of dynamism and engagement from this 2030kg SUV.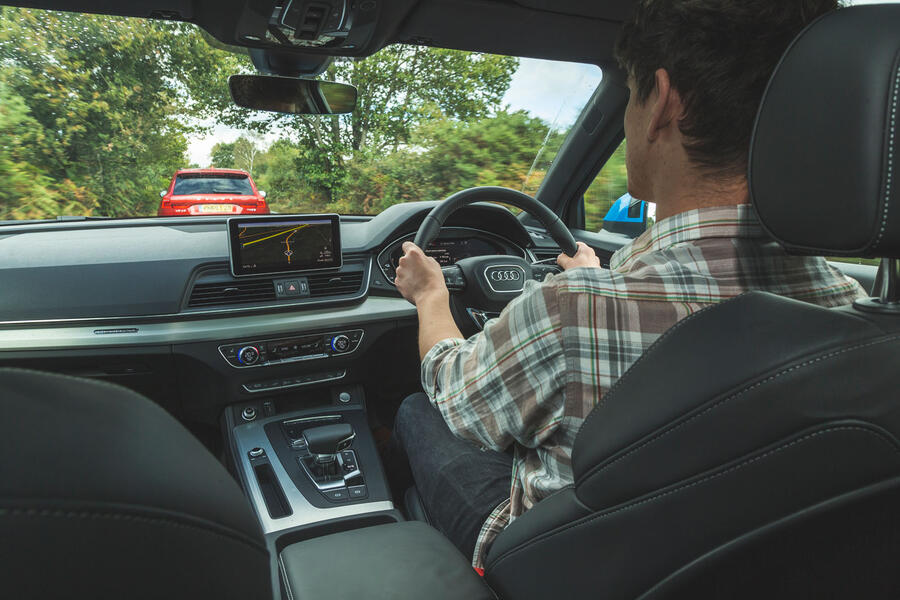 Gunning for similar territory is Volvo's XC60 T8 Twin Engine. In £59,670 R-Design Pro guise, this newly updated plug-in SUV packs a smaller-capacity battery than the Audi (11.6kWh versus 14.1kWh) but offers a slightly greater electric range, according to WLTP testing procedures (29 miles versus 26 miles). And like the Audi, its official economy and CO2 numbers offer plenty of on-paper appeal.
But whereas the Audi's electric motor is integrated into its seven-speed transmission and uses a separating clutch to feed drive torque into the quattro drivetrain in conjunction with the petrol engine, the Volvo's two powerplants are totally separate. At its nose, there's a 2.0-litre four-pot (turbocharged and supercharged, for good measure) with 299bhp and 218lb ft driving the front wheels. At the back, there's an 87bhp electric motor with an additional 177lb ft of torque, driving the rears.