The first Audi model to be built on the new Premium Platform Electric (PPE) architecture, co-developed with Porsche, is set to be a low-slung Audi A5 Sportback-sized four-door coupé.
The dramatic new Audi model, first reported by Autocar in March, previewed in images released by the German company showcasing its electric car strategy, which includes the launch of 20 EVs using four different platforms by 2025.
The PPE platform is designed for Audi and Porsche's full-size luxury models – both traditional cars and SUVs – and can be adapted for models of different lengths and track width. It features an 800V system capable of 350kW charging, and can accept different sizes of battery – with the larger offering a claimed range of more than 300 miles.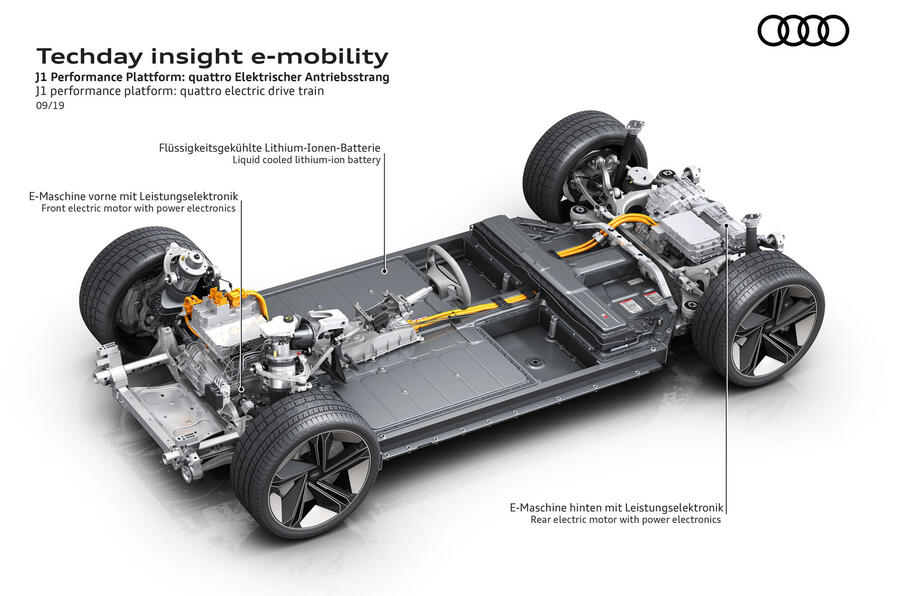 The platform has been designed with a rear-mounted motor as standard, with the possibility to add a second electric motor on the front axle offering all-wheel drive. The architecture can also accept systems such as torque vectoring and all-wheel steering that don't feature on the Volkswagen Group's MEB platform, on which Audi is also developing models.
Audi hasn't given performance details of the new PPE platform, but says it is "generally similar to that of the MEB".
The new four-door coupé previewed by the firm is roughly Audi A4-sized, with styling similar to the swooping Audi A7 Sportback, and a front grille and bumper design that echoes the Audi E-tron GT.
Audi wouldn't confirm that it would reach production in this form with the PPE platform, though designer Parys Cybulski said the brief was for it to be a "statement".
He added that the model was still in the early design stages, and that it "could be the most important car on this platform", because it would help show the direction future models could take.