Why we're running it: To see whether £65,000 is too much for a 4 Series without an 'M' on its rump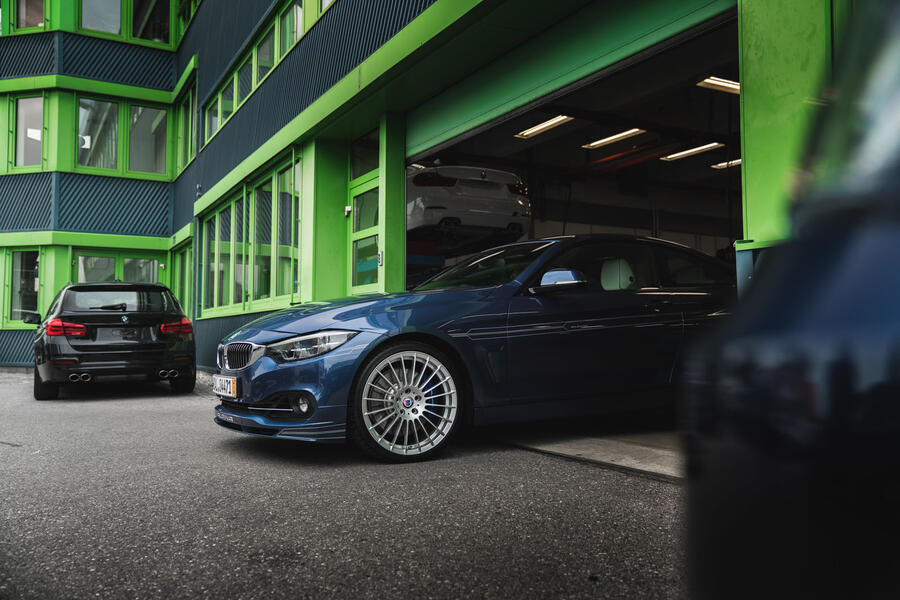 Life with an Alpina B4 S: Month 3
Last week, it was 201mph in our McLaren. This week's 201mph run is courtesy of Alpina - 19th June 2019
Can we agree that many comparison tests are predictable affairs? Any new hot hatch will go to Wales with a mob of its peers, any new limousine will lose to an S-Class, and so on. Equally, some of these contests are much more oblique and all the more intriguing for it. They brew up in your brain unsolicited, ready to break out at a time when you almost certainly won't have a pen to hand. Like on the autobahn.
Our B4 S has been back to mainland Europe, serving as rapid transit between a reporting job at Ford's Lommel proving ground in Belgium (believe me when I say the new Focus ST will be worth the wait), Cologne airport and the Nürburgring, where we drove some other interesting cars you'll hear about soon. It was 1000 miles in four days, much of it on the fastest public roads on the planet but with enough rat runs through the Ardennes and Eifel to relieve any itch for hard cornering. It was a perfect mission for our long-termer.
It reminded me of a similar trip in a Ferrari 575M Maranello – a manual in Tour de France blue with the Fiorano handling pack, so doubtless worth many billions of pounds by now. I mention it because although the Italian car has double the cylinder count of the Alpina, the similarities are striking elsewhere. Each is purely rear driven, each weighs 1690kg, and although the Ferrari is shorter, lower and wider, you wouldn't know it unless you parked the pair abreast.
With 508bhp, the 575 makes a little more power, but because the Alpina is twin-turbocharged (BMW's N55 block is recast to take the additional turbo), it wins the battle for torque, and so the official 0-62mph times are a dead heat at 4.2sec.
Surely, though, it's no contest on the autobahn? Well, the slippery Ferrari's claimed top speed is 202mph but our Alpina nailed an indicated 201mph on the deathly quiet stretch of the A1 that begins at Kradenbach, so you can forgive me for calling honours even.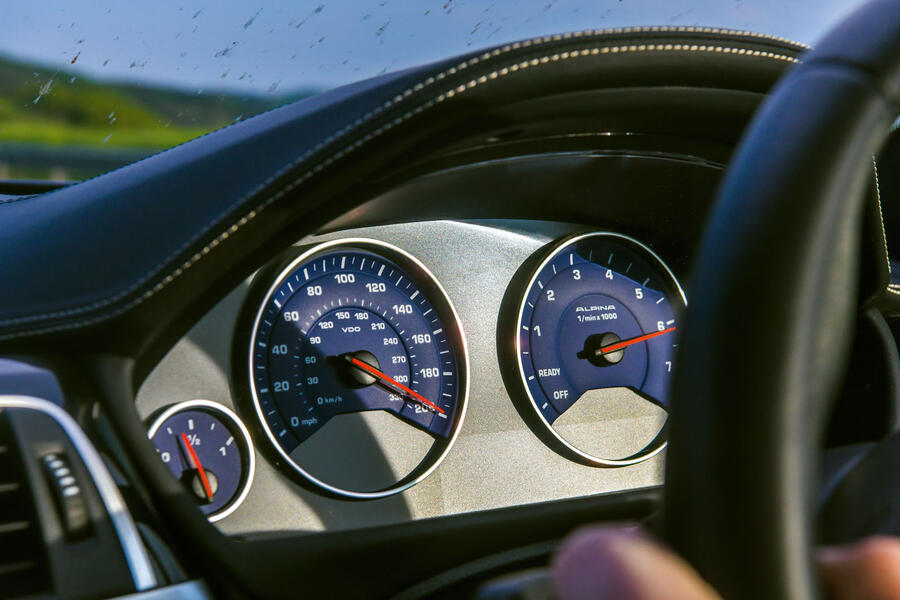 It's a great comparison, because since the launch of the repressively hardcore 812 Superfast, the 575 Maranello has become ever more the poster child for what muscular GT cars should really be about. It's an aristocrat. Meanwhile, the Alpina is mostly seen as the pipe-smoking uncle of BMW's M4 and yet these are in many ways the same fabulously capable, cultivated and charming machine. So my question is this: does the B4 S owner of the present day get much the same experience as the 575 owner of yesteryear, only for less than half the £160,000 buy-in?
Allowing for the more intangible elements – any 12-cylinder Ferrari is endlessly special, above even Alpina's homegrown appeal – my cautious opinion is that they do, which seems mad because unquestionably the B4 S is expensive for a 4 Series.
Moving on, here are some concrete observations accumulated during the trip. The 'Merino' leather-lined seats look ordinary but even after eight hours on the road I can say they are among the most comfy I've experienced in any class of car. You simply don't notice them (unlike, ahem, those in the Ferrari), and that's the greatest compliment I can give a chair. Less impressive is the brittleness that can creep up through the steering on rougher roads.
Alpina's recommended pressures seem on the high side, so we'll see if bleeding off a bit of that pressure improves the otherwise excellent ride quality. And on the subject of tyres, Michelin's Pilot Sport 4S rubber is formidable come rain or shine. In combination with Drexler's limited-slip differential the B4 S generated phenomenal traction on the twisting roads surrounding the 'Ring.
Stints at very high speeds dropped economy from the usual 28mpg to 25mpg, which is still acceptable given the performance. And finally, that performance itself: in the next few weeks, we're going to fix our timing gear to the B4 S and see just how quick it really is on the mile straight at MIRA. My gut says it's a giant-slayer.
Love it:
Cavernous boot It's lavishly carpeted, naturally, and holds a vast 445 litres – more than almost any other coupé of comparable performance.
Loathe it:
Switch-tronic There's little wrong with the shift, but a car this quick needs paddles, not little buttons. Those found in the new Edition 99 would do nicely.

Mileage: 4500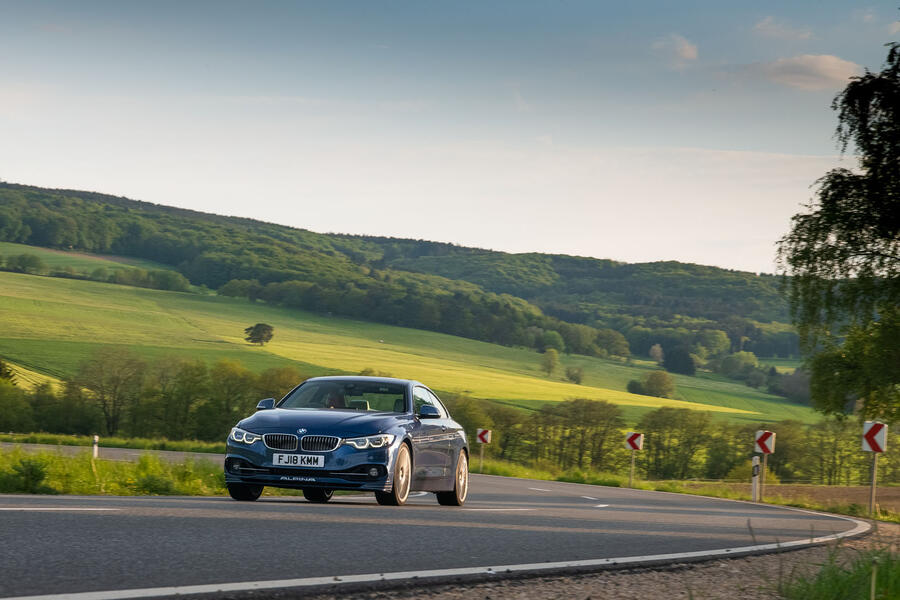 Life with an Alpine B4 S: Month 2
B4 isn't sure it's breathing properly - 22nd May 2019
An engine-management light is very rare in an Alpina this young, apparently, but the helpful techs at Baron's BMW Kentish Town tell me it's a lambda – or oxygen – sensor. There's one each side of the cat, and one (or both) isn't reading properly. The B4 S remains very much operational, but the new part's arrival could be a fortnight away. 
Mileage: 3140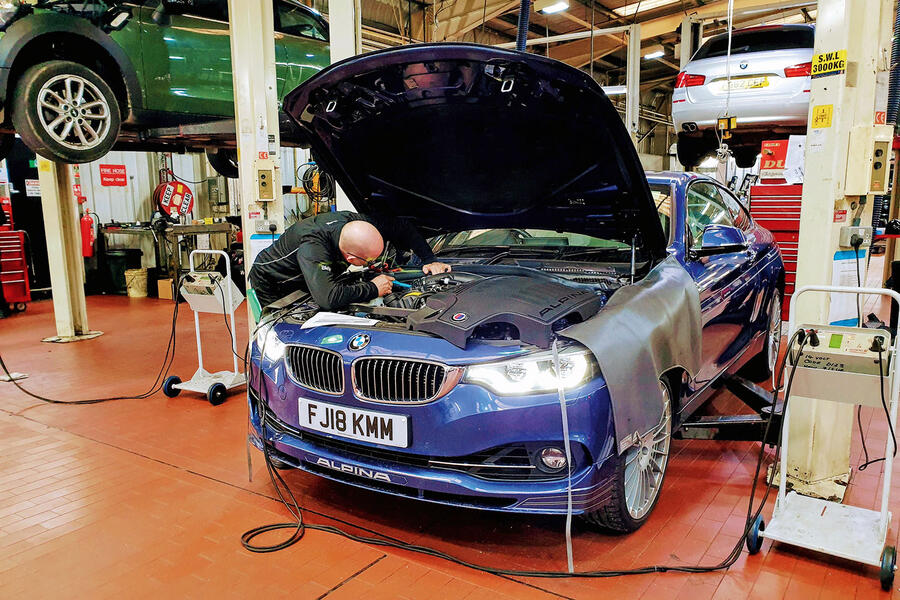 We approved of the car the first time we drove it – thankfully now the DVLA does too - 8th May 2019
Some will have clocked a gap in our Alpina reports stretching back into February, a hole of almost three months. An explanation is now required.
Has the road-test desk been enjoying the car's unassuming but quite devastating performance too much to have bothered to file a single report? Plausible, but no. Has the car suffered some embarrassing mechanical catastrophe and quietly been shuffled from the limelight? Thankfully not.
The truth is to be found some 6800 miles from road-test headquarters at 30, Teban Gardens Crescent, Singapore. It's here you'll find Alpina's sole concessionaire in the world's third wealthiest per capita economy. It's also where this B4 S was originally destined, where indeed it briefly ventured, and where it probably would have stayed were it not for the fact that, due to a punitive tax regime, over there an Alpina like this costs about the same as a 911 Turbo. No contest? Not really, and people said so with their wallets.
And so to cut a saga short, there are plenty of countries that, like Singapore, drive on the left, but very few that have an established appetite for brand-new and expensive Alpina cars. It meant that after failing to find a buyer, our example was shipped back to Germany and converted to the UK spec in preparation for a stint at the magazine you're holding. After we drove it home from the Alpina factory in Buchloe on temporary German export plates – a splendidly comfortable and sometimes breathtakingly fast journey touched on in our initial report (6 February) – that should have been that.
Alas, as it was originally Singapore-bound, this particular Alpina never received what's known as a Certificate of Conformity for European markets, which details everything from engine power to axle weights. Several attempts to register the car with the DVLA were therefore thwarted, hence the delay. But eventually, after various documents were unearthed and decoded from German, an Individual Vehicle Assessment was booked and the DVLA duly satisfied. "You'd think we had built our own kit-car, and built it badly" was how one manager at Sytner, the UK importer for all Alpina cars, put it during a phone call.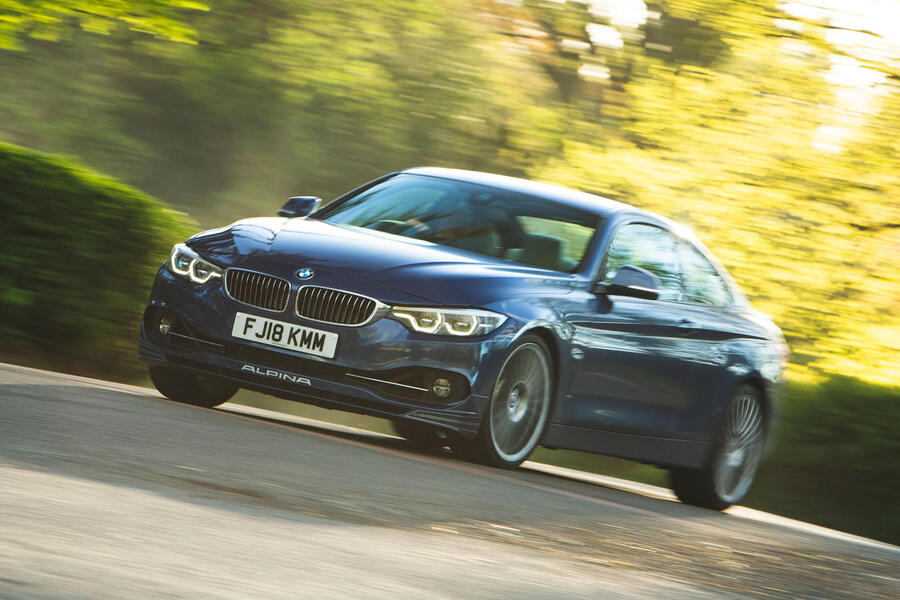 Now we have it back, already our B4 S has had a run-in with the new 911, if only in passing. Given the asking price for what is essentially a modified 4 Series, albeit modified extensively, I think it's reasonable to compare the two cars and it's a duel we'll return to in more detail over the coming months. But so far it is one-nil to Alpina. Okay, so rolling refinement isn't the be-all and end-all for a performance car, but the older, fractionally less powerful (but far more torquey) car was demonstrably more relaxing on the 140-mile, motorway-heavy route up to MIRA, where the 911 recently underwent the track element of its road test.
The Porsche's problem is its beefed-up rear spring rates. They support the mass of the engine sublimely in the Welsh mountains but channel considerable tyre roar into the cabin at a cruise and have the chassis labouring on less than ideal surfaces.
The Alpina isn't perfect in either respect, but despite the vast, 20in forged wheels and 30-section tyres, it glides along by comparison, treading lightly and riding fluidly. Its 3.0-litre straight six matches the displacement and turbo count of its compatriot, but it's also less booming than those famous horizontally opposed half-dozen cylinders, with the tall seventh gear overdrive dropping the tacho to around 1700rpm at a quick cruise.
Among cars of comparable size and performance, it's without peer in its long-legged manners, at least in this tester's humble opinion. You'd never know what performance lurked within, and it would be even better if you could select the Sport weighting for the notably delicate steering but keep the two-way adaptive dampers in Comfort.
I suppose that is the most attractive element of Alpina's proposition. No matter where this B4 S may end up during it's time with us or what rivals it might come up against, you just know it's always going to be the one everybody will want to drive home.
Love it:
Unfussy looks The 'F32' 4 Series provides a superb basis for Alpina's additions – the muscular lines are deceptively simple but purposeful.
Loathe it:
White leather It's already picking up marks and slightly undermines the B4's vibe as a serious driver's car. Makes for a wonderfully airy cabin, though.
Mileage: 2100
Life with an Alpine B4 S: Month 1
Double VIN-sion - 20th February 2019
Bit of trivia for you: all Alpina cars have two VINs. The first is applied to the donor chassis as it travels down BMW's production line. But the development engineering and some pre-assembly still takes place at Buchloe. It's here the original VIN is crossed out and a new one etched on when the car has its aero components and interior fitted.
Mileage: 1677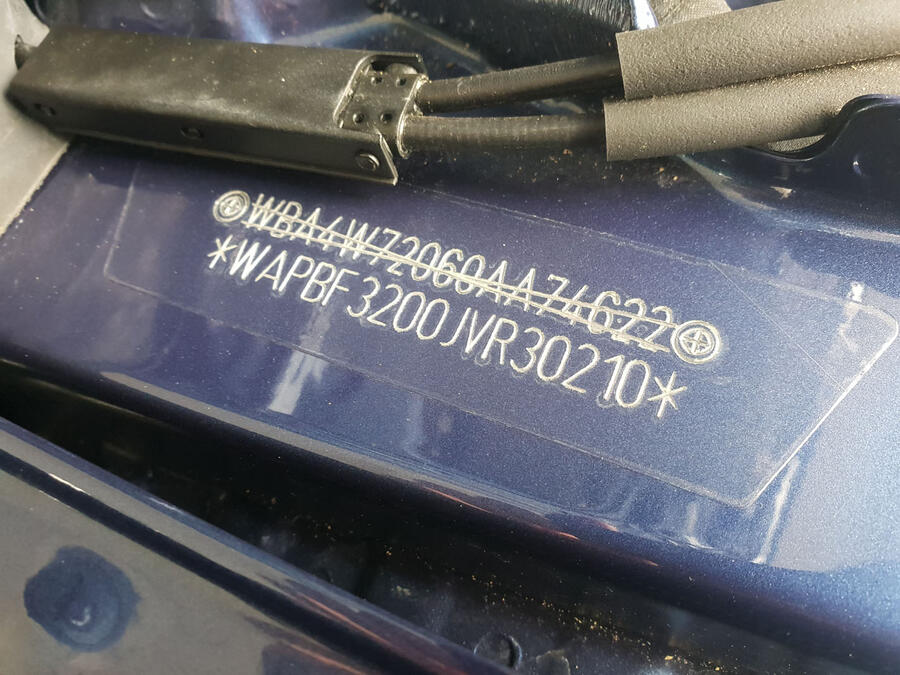 This car is special, but special enough to merit the outlay? Let's find out - 6th February 2018
Tiny Alpina doesn't have the inventory resources of a major car maker, so it's rare a box-fresh example can be conjured for a long-term magazine test. Rare, and sweeter still if you happen to be the road tester dispatched to the Bavarian town of Buchloe for a factory collection.
This magazine makes no secret of its fondness for Alpina's under-the-radar approach. The cars go like rockets but are a pin-hammer to M division's nail guns: less thrilling but more obliging when all you want is to hang a picture. And frankly, I defy anybody not to warm to a company whose engineer-founder Burkard Bovensiepen not only chooses to live slap-bang between final assembly and the engine workshop but also harvests the hot test-bench exhaust gases to heat his swimming pool.
There's also an unusual side hustle, to help make ends meet: wine. Half a million bottles of it are stored on site. In the early days of tuning BMW engines for racing, Bovensiepen would arrive at far-flung meets in a van stacked with spare parts. And being parts for touring cars, most of them never made it back. The vacated space became the basis of a wine distribution network. Fast cars and wine don't really go, but Alpina has a habit of deftly defying convention.
It's why, were it our money, at least one-third (and most probably two-thirds) of the road test desk, which will be running this B4 S, would opt for Alpina's alternative to the BMW M5. There isn't a journey I wouldn't cheerfully undertake, in any weather and at any speed, from behind the wheel of the B5 Biturbo because the chassis is so gloriously supple, given how rigorously it marshals 600bhp. Speed, comfort and control – the concentrations are just right for day-to-day driving.
Our new long-term test car is similar in conception but has a tougher task. It's smaller than the B5 Biturbo so won't naturally ride with the same composure, even though it needs to get close to that level to justify its price. As a bona fide performance coupé, it simultaneously needs to be responsive; not M-car alert but not far off.
Autocar first drove the F32-based B4 Biturbo in 2014, when Andrew Frankel pronounced it "damn near as fast as an M4, easier to drive, quieter and more comfortable".
BMW subsequently pacified the M4's twitchy suspension, creating a far more exploitable road car, before Alpina gave the B4 a minor increase in power to create the B4 S. As it stands, the result is two extremely similar cars on paper. It's no wonder Alpina UK spends plenty of time telling confused potential customers that this car is not a BMW trim level offered as some sort of expensive satellite to the M division's wares.
So what better journey to enlightenment than the one from Bavaria to London? The evolution of BMW's N55 3.0-litre twin-turbo straight six, tuned to deliver 434bhp and a mammoth 486lb ft – and deliver it beautifully – is a story for another report. Suffice it to say this is a very special motor and one that, nourished by Aral's near-mythical 102-octane brew, fired our B4 S to an indicated 194mph on a section of autobahn near the Belgian border. Less fire, more waft, in fact.
Alpina's chassis revisions have always seemed impossibly painstaking when you consider just 250 or so employees turn out only around 1500 cars each year. The bushings are bespoke, and so are the anti-roll bars, dampers and springs, and the geometry. The 'ALP'-marked tyres are also a custom compound from Michelin and are definitely not of the dreaded run-flat variety. Again, any ride assessment deserves more space than it can get today, but 1049 miles in two days suggest Alpina's diligence has mostly paid off.
As this is an introductory report, we should talk about specification, of which there is much. Alongside the detail work to the engine and adaptive suspension, as standard Alpina fits a rich-sounding Akrapovic sports exhaust more Joe Bonamassa than Kirk Hammett, and the S, unlike the original B4, also benefits from a mechanical limited-slip differential.
There is engine stop/start, automatic LED headlights, DAB radio, cruise control, parking sensors, rain-sensing windscreen wipers, heated electric sports seats and folding wing mirrors. Those using the car daily will want for nothing, it seems.
Optionally, our car wears Alpina's hallmark blue metallic paint (£1590) with an Opal White leather interior (£1215) whose purity will probably prove harder to preserve than a wedding train dragged through a farmyard. Additional noteworthy outlay is detailed in the test data box at the bottom of the page.
The total cost for this particular 4 Series, with options, is £78,880. When Porsche gets round to pricing the basic 992-generation 911 Carrera later this year, it's likely to settle on a similar figure, and perhaps this single but significant fact undermines the case for the B4 S altogether. I'm not so sure.
The Alpina is faster and a more special, unusual sight on the road. It comes with added practicality and is built from an outfit overflowing with charm, history and a sense of intimacy. Could it possibly be worth the money? It just might. In three months' time, we'll know for sure.
Second Opinion
As a farewell to the F32-generation 4 Series, running an Alpina B4 S will take some beating. I've always preferred Alpina's understated take on an M4, and we may even get a chance to compare our new B4 S with BMW's latest G20-gen 3 Series.
Matt Saunders
Alpina B4 S specification
Specs: Price New £63,000 Price as tested £72,880 Options Alpina Blue metallic paint £1590, Opal White merino leather £1215, BMW Icon adaptive LED headlights £1200, reversing assist camera £330, glass sunroof £825, Harman Kardon sound system £325
Test Data: Engine 2979cc, 6cyls, petrol Power 434bhp at 5500rpm Torque 486lb ft at 3000rpm Kerb weight 1690kg Top speed 190mph 0-62mph 4.2sec Fuel economy 31.0mpg CO2 207g/km Faults None Expenses None