Why we're running it: To see if the third-generation Continental GT rules the roost as the ultimate grand tourer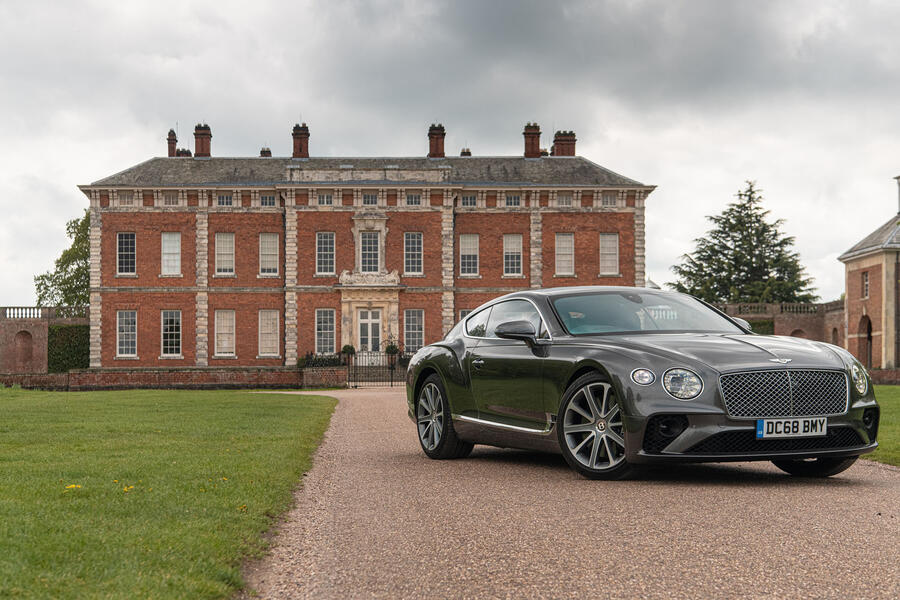 Life with a Continental GT: Month 2
Our Conti heads to the workshop for a quick once-over - 7th August 2019
With a road trip in the works, it seemed the ideal time to experience Bentley's aftersales service. We were lucky enough to have had the Continental GT thoroughly serviced before it arrived at Autocar, so the sensible choice was a simple health check, just to ensure everything was as it should be.
I turned up at Jack Barclay Aftersales in Wandsworth, London, on a Friday morning, and already I'd behaved contrary to the typical Bentley owner. On arriving, David Fellowes, group aftersales director of HR Owen, Jack Barclay's umbrella firm, explained that 95% of cars serviced at the site are picked up and delivered back to the owner. As a Continental GT 'owner', I'm most likely to book in work myself, but if I owned a Mulsanne or Flying Spur, it would be my staff instead. I don't have any staff, unless I can describe my boyfriend as such...?
You might have read our feature on the outfit recently but suffice to say, this place operates in parts of society that most of us can hardly imagine. There's a Porsche 959 in the corner being stored for a loyal client, plus two Rolls-Royces which were shipped in containers from the Middle East for servicing here, such is the prestige of the place. It's hard to know what secures this level of demand (aside from excellent customer service, which Fellowes assures me the firm delivers), but it does hold the Royal Warrant, which must go some way to impressing legions of dignitaries and the rest.
After my car is washed (hoorah!), it's parked on one of the centre's 23 ramps and the technician, Rory Pankhurst, works through a long checklist, with the car in three positions: on the floor, and then at two different elevated heights. The inspection includes a full systems check of around 40 control modules via a diagnostics machine, a fluid level check and a nose under the bonnet, plus a careful look inside and out to seek any imperfection. Higher up on the ramp, Pankhurst looks at suspension, brakes, tyres, wheels, cooling system, gearbox and more. He says it's a careful process to ensure he doesn't mess up the air suspension's tolerances.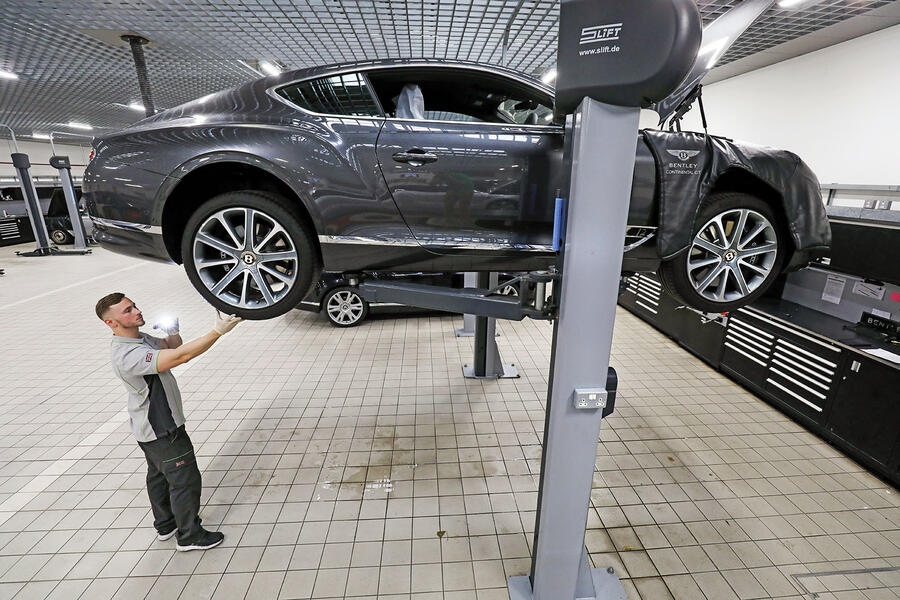 Pankhurst has worked here for six years, starting on a three-year apprenticeship. He went to Mercedes-Benz for a year which, he says, "allowed him to appreciate the pedigree of Bentley", before returning. He's a novice compared to most of the 14 technicians at Jack Barclay Bentley Aftersales, given that the average length of service here is 27 years (the longest-serving member of the team is a 46-year veteran).
The health check takes around 40 minutes. How much? It's happily a free service, although any suggested work comes at a price, of course. Once the health check is completed, I receive an email update detailing any recommended work and through which I can press a button to give the go-ahead to anything I want done.
Our Conti was all fine, except for a query on its tyres. Now, I'm not saying that Squires Prior and Calo, who borrowed the car for a video, had anything to do with the slightly worn tread but… To replace all four came to the princely sum of £1786.96. I didn't press the 'accept' button.
Jack Barclay has recently introduced a service plan, which is novel at this end of the market. The first two services of a Continental GT (or Bentayga) would cost £1595, which saves around £600, I'm told.
Love it:
Experience to savour The joy of running a Bentley hasn't worn off. Climbing in to the luxurious cabin, firing up the W12, gliding down the road… delightful.
Loathe it:
Shine whine Catch the sun at the wrong time and the reflections in the Piano Black dash veneer can be unnervingly distracting.
Mileage: 9670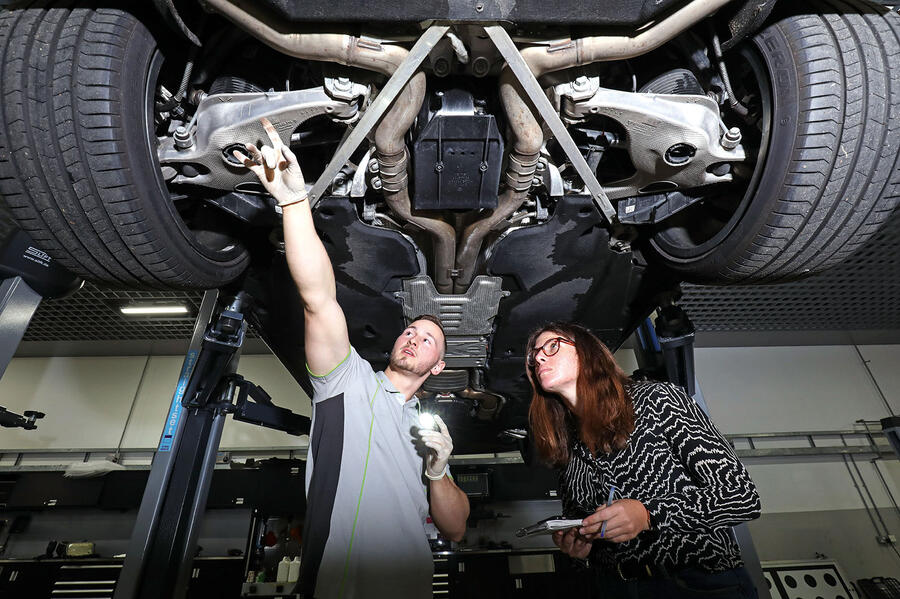 Matrix LEDs in the spotlight - 17th July 2019
I tried the headlights' auto-dimming function for the first time recently and was impressed by the clever matrix LED technology. The lights remained on high beam but tracked oncoming cars and masked out that bit of blinding light until the car had passed. It worked flawlessly, even with more than one car coming at me. The tech ensured excellent visibility on the (very dark) road.
Mileage: 8407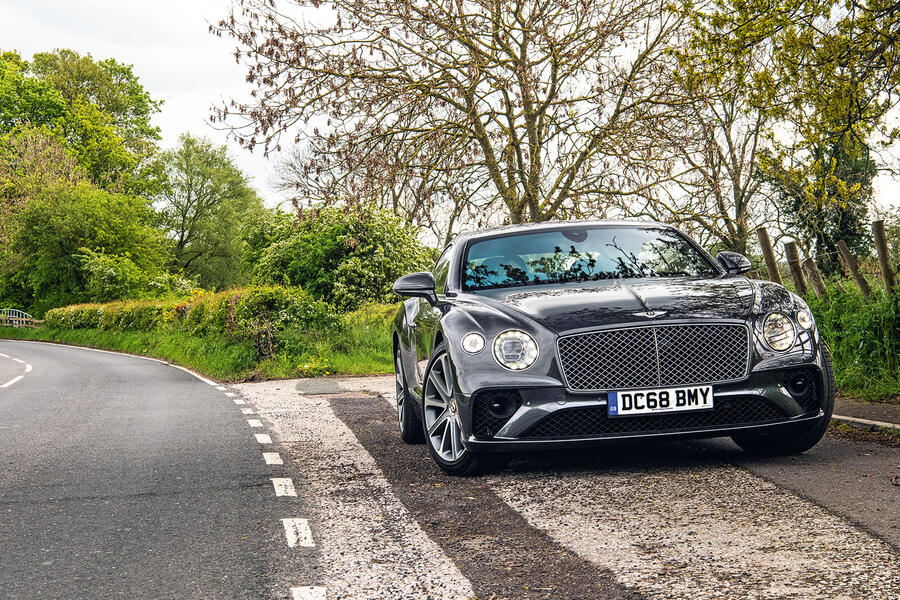 Bentley Drivers Club event in Yorkshire stretches our car's long, London-based legs - 3rd July 2019
"The Arnage is comfortable, quiet and has the prestige of being a Bentley," says David Spencer, proud owner of a 2005 Arnage and organiser of the East Midlands branch of the Bentley Drivers Club.
I've driven to North Yorkshire on a Friday in our Continental GT long-term test car to meet a few club members at the start of their weekend of local driving tours, to discuss their experiences of owning a Bentley. It's my first long drive since the Continental's arrival on the Autocar fleet, and it's a glorious one. The further I get away from London, the more the roads – and the car – open up and its credentials as a grand tourer are quickly proven. Each time I have the chance to accelerate rapidly, I'm thrilled by the linear progress and the ride comfort. It feels as wafty as I've yet experienced in a car, although perhaps that's a reasonable expectation when your car costs £210,000...
Spencer's take on his Bentley is a recurring theme among these owners. Although today Bentley endeavours to have far more focus on performance and dynamics in its line-up, and particularly in the Continental, comfort is still crucial.
As you might expect of Bentley owners, most people I speak to have an impressive fleet of cars. Spencer enjoys a Jaguar XJ Sovereign as his daily driver, has a Jaguar E-Type and names his favourite a Triumph Stag.
He has been a Bentley owner since 2006 but didn't acquire the Arnage until 2017. Why did he buy it? "I like the brand. I'm a driver rather than someone who owns a Rolls, where you sit in the back. With a Bentley, you don't look like a snob, whereas if you drive a Rolls… I like driving it all the time in Lincolnshire, where I live. It's got 42,000 miles on it and I'm going to keep it for the long haul."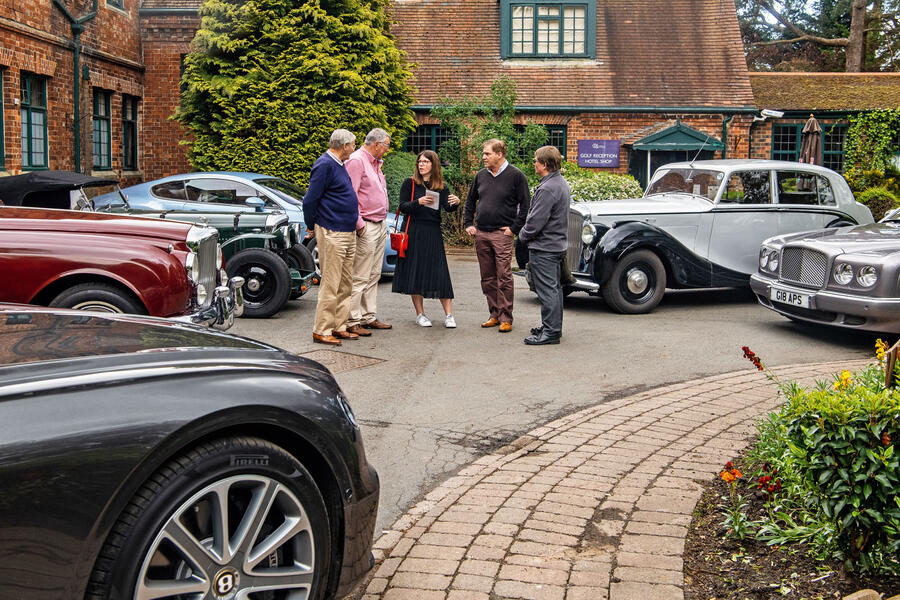 The joy of an owners club is the breadth of Bentleys present. Alongside the Arnage is a Mk VI Mulliner from 1948. Paul Flower tells me he's only the third owner after the car spent many years in a garage. "We took out the engine and rebuilt it. Everything is original. It took 18 months," he says.
Flower owns four Bentleys in total, including an R-Type. But the Mk VI Mulliner is the one he uses the most. "I bought it to enjoy it. A car like this is a lot more reliable than other vintage cars. We did 1200 miles in Scotland. They just drive and drive as WO Bentley intended," he says.
And then there's Pat Connock, who has a 1949 Mk VI Special, which she has owned since 1980, having been brought up in a family that had a 1925 4.25-litre. When I ask how long she has been a member of the owners club, she swiftly responds: "Bentley Drivers Club. We drive. We don't own." I stand corrected.
"I've driven thousands and thousands of miles in it. I have a Volvo for Sainsbury's but I feel at one with this car," she says.
"My favourite trip was in the Outer Hebrides. You're at one with the landscape with the hood down." There's little more satisfying than being around people who truly love driving their cars. And there's plenty of interest in our Continental, too, with people enthused by mod cons such as the Bentley logo projector and rotating display.
Next morning, I head home at dawn from a sleepy Yorkshire village. It's the perfect time, place and roads for dream motoring in the Continental. So much so that, when I arrive home, I look at house prices in the area. I can commute from Yorkshire, right?
Love it:
Effortless progress Waft. Waft. Waaaaaft. Get the idea?
Loathe it:
attention grabber It's understated in grey but still feels conspicuous.
Mileage: 6601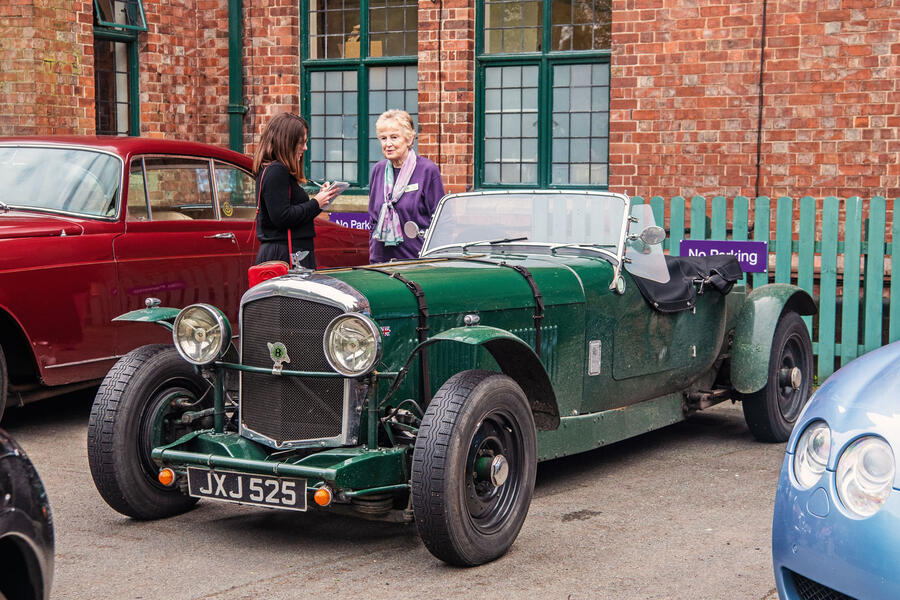 Life with a Continental GT: Month 1
Direct competitor makes its presence felt - 12th June 2019
Our Bentley met its most direct rival: another hand-finished British grand tourer with 12 cylinders and more than 600bhp. The Continental GT and the Aston Martin DB11 AMR also cost not dissimilar money. The Bentley feels more luxurious, more refined, although it's heavier and less agile. The verdict? Watch the video on our website to find out.
Mileage: 6338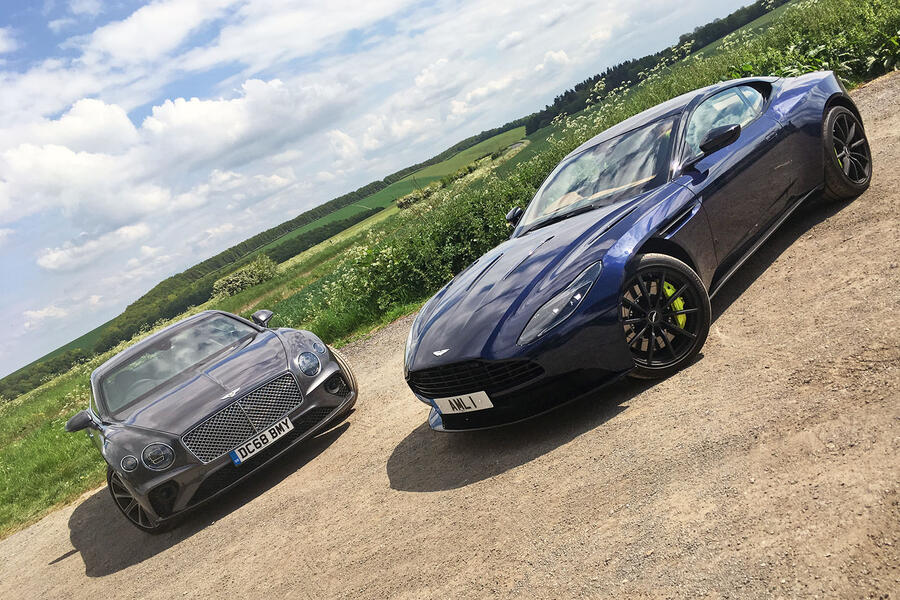 Welcoming the Continental GT to the fleet - 5th June 2019
When Bentley revealed its third-generation Continental GT in late 2017, it promised "a paradigm shift in driving performance". In layman's terms: the Crewe-based maker wanted to get the attention of those buyers typically devoted to a certain Stuttgart marque not named Mercedes…
The aim, beyond captivating Porsche buyers, was to appeal to both loyal and new customers and be "even more agile without compromising luxury", helped by a new chassis, suspension, W12 engine and dual-clutch eight-speed gearbox. Given that the Continental remains Bentley's second biggest seller – outranked only by the successful Bentayga SUV (just) – it's not a formula to mess with. Bentley is set to sell 12,000 cars in 2019, an increase of 2000 over last year, and 5000 of those will be Continentals, of which 500 will be in the UK.
And for all of Bentley's desire to attract younger, more sports car-orientated owners, let's be honest: a large proportion of these cars will be bought by those already familiar with the Continental formula. There's no official Continental customer profile but, anecdotally, UK buyers tend to be in their 50s and male.
Bentley's intentions for the latest Conti have succeeded – to an extent – according to our road test. We gave it 4.5 stars and said it retained all the "lavishness, top-level luxury and first-order touring refinement" of its predecessor while halving the gap between that second-gen car and the best handling cars in the super-GT niche. The Aston Martin DB11 V12 nudged just ahead in our rankings.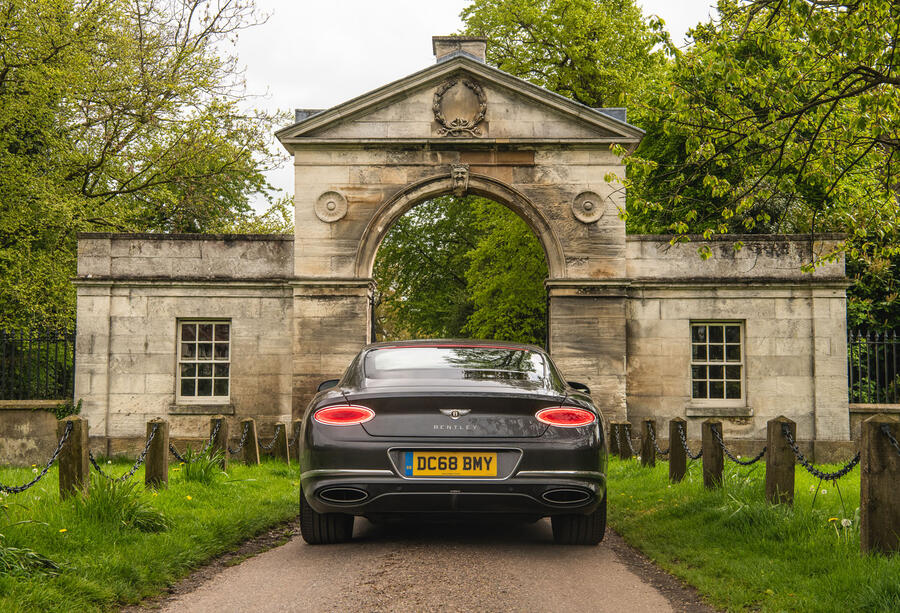 As well as the introduction of the impressive DB11 since the previous-gen Conti, the (much pricier) Rolls-Royce Wraith and Ferrari 812 Superfast have arrived. The new McLaren GT will also enter the mix. We've racked up some miles on the Continent in a Continental, when Andrew Frankel completed a mammoth 24-hour drive through 15 countries. In his sign-off, he noted: "I sat in that Bentley for an entire day and emerged without the smallest ache, and there can be no better measure of a car called Continental." All of which bodes well for our next adventure in Bentley's grand tourer…
I'm running a W12 Continental for three months to see what it's like to live with day to day. I can't pretend I have the house or garage of a typical Continental buyer – given that those I've met have upwards of three cars – but I will be doing some serious mile-munching and seeing if what appears an incredibly luxurious interior translates to usability, ease and comfort day in and day out. This is a chance for the Continental to prove its standing as the ultimate grand tourer in the comfort stakes, with an extra dose of dynamic driveability thrown in.
Now, the mind-blowing numbers. The 6.0-litre W12 engine produces 626bhp at 6000rpm and delivers 664lb ft of torque between 1350rpm and 4500rpm. Our acceleration tests achieved a 0-60mph time of 3.5sec and 0-100mph in 8.1sec. If you care, claimed combined economy is 20.3mpg. On the upside, it has a generous 90-litre tank so you'll get upwards of 400 miles on a fill unless you're a total hooligan (which, I'd like to think, Bentley drivers aren't).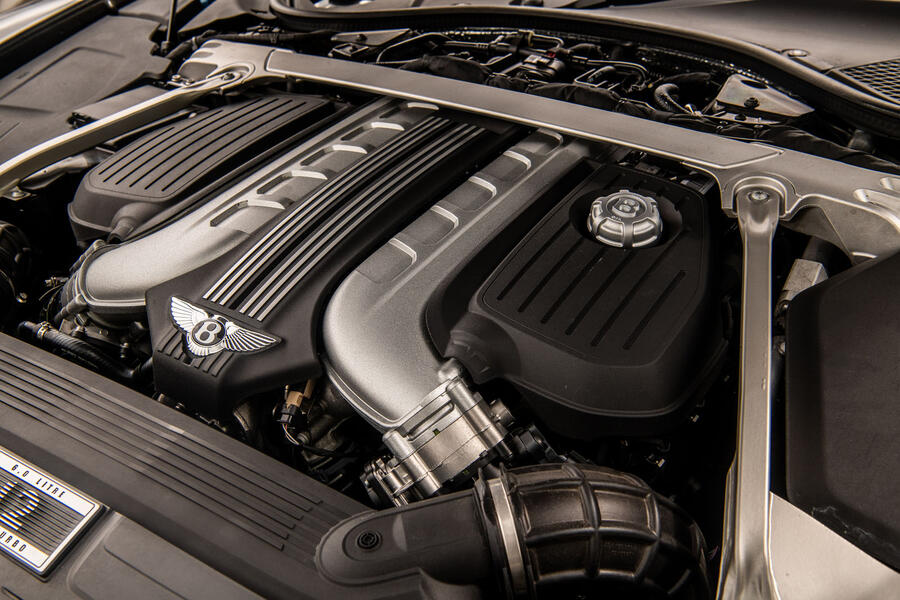 The Continental is priced from £159,100, but our car comes to a costly sum of £208,765 taking into account £49,665 of options. We have a handful of so-called 'specifications'. Touring (£6195) gives you features such as lane assist, adaptive cruise control and heads-up display; City (£3960) includes a top-view camera, reverse traffic warning and handsfree boot opening; and Mood Lighting (£1490) does what it says on the tin.
Our most pricey extra is the Mulliner Driving Specification, at £8095. That doesn't put off buyers: 80% of Continental GTs have this option and you can see why. It gives the interior an extra dose of the luxury you want in a Bentley. It includes quilted seats, embroidered Bentley emblems, sports pedals and diamond embroidery. Mulliner spec has 22in wheels as standard but you can go for 21s, as we have, for better ride comfort.
By far my favourite interior gimmick is Bentley's rotating display in the central dashboard, in which you can alternate between a 12.3in screen or three traditional circular dials. When the engine is turned off, a third face sits flush to the rest of the dash design. It's a £4700 option and two-thirds of buyers go for it. The other particularly expensive option on our car is the 'Naim for Bentley' audio system, at £6500. Apparently, 40% of buyers opt for this set-up. All in all, we have 19 options. The bargain? A £250 air ioniser.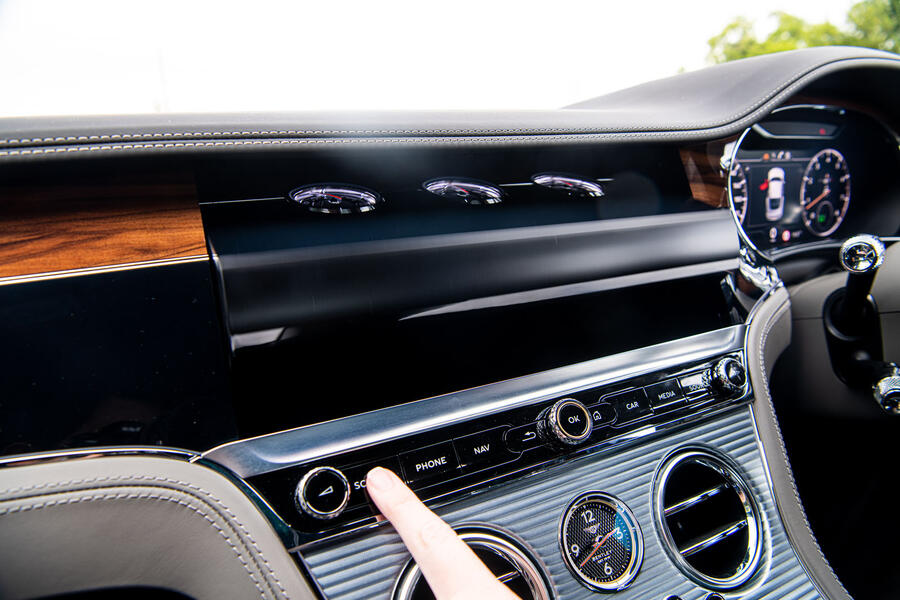 The first thing that strikes you about the Continental is its sheer presence inside and out. While it still looks like a Continental, its more mature, sleek lines are a sizeable upgrade to my eyes. Inside, it's opulence epitomised. But will those formidable first impressions last? Let's find out.
Second Opinion
I've yet to meet anyone who hasn't loved being in a Bentley. But I also meet very few people who aspire to it. Part of the problem, I believe, is that few fully know what Bentley stands for. It's arguably not as posh as a Rolls, nor as sporty as an Aston and thereby not as defined as either.
Jim Holder
Bentley Continental GT W12 specification
Specs: Price New £159,100 Price as tested £208,765 Options Extended paint range £4500, Mulliner Driving Specification £8095, Touring Specification £6195, Front Seat Comfort Specification £3945, heated windscreen £480, heated steering wheel £750, deep pile overcast £350, Naim for Bentley audio system £6500, rotating display £4700, digital TV and radio tuner £965, inductive phone charger £280, parking heater with remote activation £1840, welcome home lighting £450, contrast stitching £1720, Côtes de Genève finish to centre console £1395, air ioniser £250, liquid amber over black veneer £1800, City Specification £3960, Mood Lighting Specification £1490
Test Data: Engine 5950cc, W12, twin-turbocharged petrol Power 616bhp at 6000rpm Torque 664lb ft at 1350-4500rpm Kerb weight 2244kg Top speed 207mph 0-62mph 3.7sec Fuel economy 23.2mpg CO2 278g/km Faults None Expenses None