Our Verdict
A model upon which Seat has staked its future, the new Ibiza must now deliver in an extremely competitive market. So can the supermini upset the likes of Ford, Mini, Mazda, Nissan and others?
First Drive

Does the Seat Ibiza deserve class honours ahead of the Ford Fiesta? We spend six months with one to discover just that

First Drive

The Seat Ibiza has wowed in other iterations, but how will the entry-level 1.0-litre MPI version stack up in the UK? We've been to north Wales to find out
Why we're running it: To find out if Seat's small car truly deserves its Fiesta-beating crown – we have six months to find out
Life with a Seat Ibiza: Month 2
Stopping cold feet with the Ibiza – 28 December 2017​
The winter weather has revealed a neat touch the Seat Ibiza shares with the 2005-spec version I previously owned: a snowflake that appears on the driver information display when the outside temperature drops below 4deg C.
It's a pleasing little detail, although one I've never found necessary: by the time I get in a car, I've usually got a pretty decent sense of how frosty it is outside…
Mileage: 4572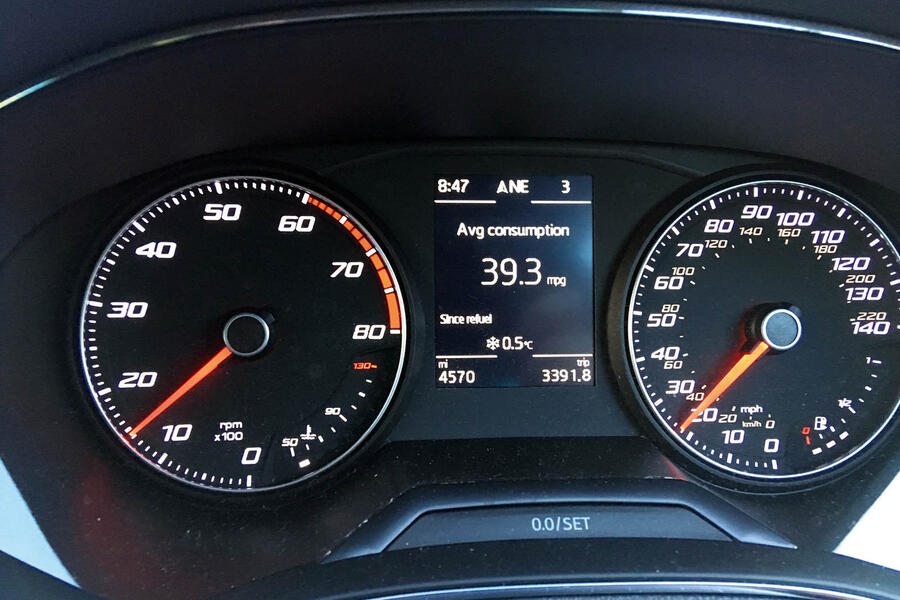 Enjoying the homecoming with the Ibiza – 29 November 2017​
After a recent holiday to Texas, spent driving a typically anodyne hire car, I was excited to regain the keys to our Seat Ibiza.
Before even reaching the exit of the Autocar Towers car park, I had regained the warm glow of contentment I've felt whenever I've been driving it. If anything, being reunited with the Ibiza after a break has made me appreciate it even more.
This struck me a few days after returning from Texas, when I forced myself out of bed before dawn on a chilly Sunday morning to take part in a 10k run in Wiltshire.
After breezing through the quiet streets of south-west London, I was zipping down the M3 when I realised something about the Ibiza: in terms of driving, it just does everything well. Really well.
So far, I've subjected the Ibiza to my stop-start commute through Greater London traffic. I've taken it on motorways and A-roads, used it as an airport shuttle, and packed the boot with cases and shopping. I've driven it on some lovely, flowing country roads too. And I've yet to find a situation in which it doesn't excel.
I noted in my first report how impressed I was with the one-litre engine in our FR-spec Ibiza, and that appreciation has grown as well. It's remarkably at home on a motorway, never feeling stressed even after long periods at 70mph or so.
My tale of two Seat Ibiza long-termers. I'm rather fond of both of them... https://t.co/gCxQn4XbZn pic.twitter.com/brdVHlSMzo

— James Attwood (@Atters_J) November 15, 2017
It's also incredibly good to drive: nimble and light, yet always sure-footed. It doesn't feel as twitchy as some small cars, and is always able to respond assuredly if you ask it to display some enthusiasm.
In my view, the Ibiza scores because it does everything so well but doesn't really shout about it.
The nearest I can come to finding fault with its performance or dynamics is that the first gear pushes the car forward a little too fast to be able to let it roll along in stop-start London traffic, but that's hardly the car's fault.
Which made me suspicious about my Sunday morning M3 musings: is the Ibiza really that good, that grown-up, that eminently capable? Or has my thinking just been coloured after hire-car tedium?
Fortunately, executive editor Matt Burt had also signed up for the 10k and spent time driving the car when I was away. So I asked him to describe it.
"Easy," was his response. "It's good to drive, assured on the motorway for a car of its size and everything is just where you want it to be."
'Easy' might sound like damning with faint praise, but it's really not. It's a sign that perhaps the most impressive thing about the Ibiza's drive is that it's hard to think of anything it does badly.
Mileage: 4367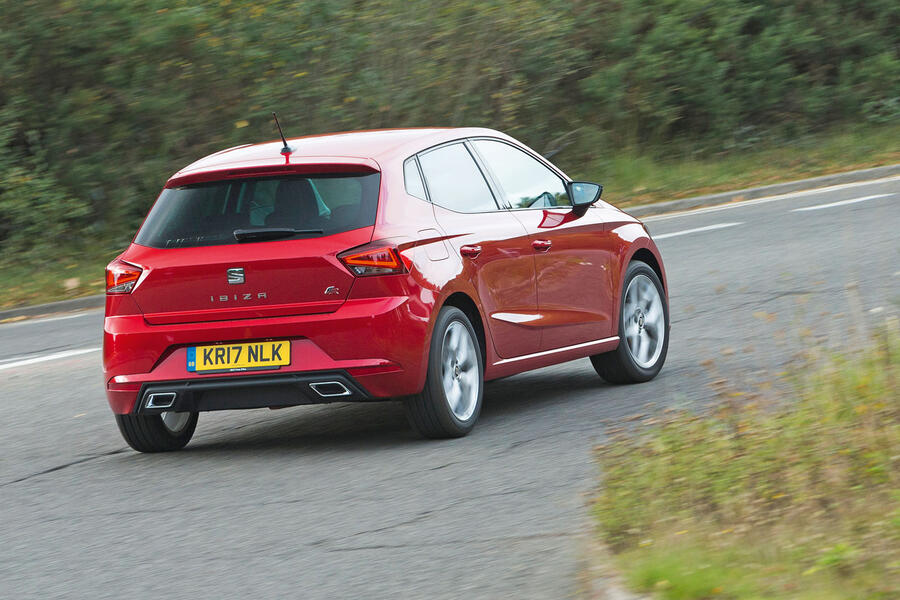 Life with a Seat Ibiza: Month 1
Getting settled in the new Ibiza – 22 November 2017
A recent 600-mile round trip to Kirkby Lonsdale in Cumbria proved a real test of the Ibiza's comfort levels, but I reached the edge of the Yorkshire Dales without any of the aches and pains you might expect from a long haul in a small car.
Even better: I arrived with more fuel left than I expected, having averaged 51.4mpg on the motorways.
Mileage: 4006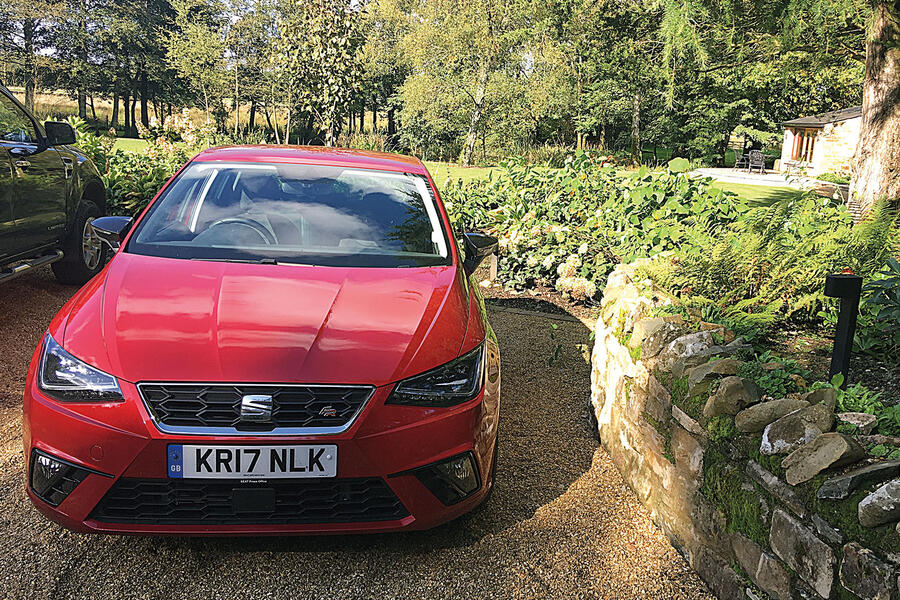 Welcoming the Ibiza FR to our fleet – 08 November 2017
When we added the new fifth-generation Seat Ibiza to our long-term test fleet, I was the natural choice to run it.
Why? Because I've spent plenty of time driving one. A six-month stint in a new Ibiza FR barely qualifies as a long-term test compared with the 12 years that I owned a third-generation, 2005-vintage 1.4L Sport.
I bought my Ibiza from new and only parted with it earlier this year. It proved a trusty companion, only really letting me down once – albeit in spectacular fashion when an engine problem caused me to grind to a halt on the M4 with my sister-in-law and five-month-old nephew on board (I think she has since forgiven me…).
Don't think my positive feelings towards my Ibiza might cloud my objective judgment, either.
If anything, I grew intimately aware of my Ibiza's many faults and foibles. Those ranged from the major, such as suspension a little too firm for London's pot-holed streets and a 1.4L engine that didn't quite have enough torque at low speed, to the more trivial, such as the slightly questionable quality of certain trim bits, lack of any form of boot light and woeful slide-out cup holder.
Believe me, I know where to look to find faults with an Ibiza.
I could forgive some of those faults because, in 2005, Seat was something of a budget brand, offering a relatively affordable way to buy a Volkswagen Group machine for those who couldn't stretch to a VW and wanted something with sportier styling than Skoda.
Now? Our Seat Ibiza FR costs £17,510, which puts it into the same price bracket as the new Polo it shares a platform with and the Ford Fiesta. Expectations have duly shifted up a few notches.
Those expectations have been heightened further by our road testers, who proclaimed the new model the best small car on the market today. Or put another way: a Ford Fiesta beater.
Now that's pressure – and our goal is to find out whether that verdict holds after an extended time in the car.
The Ibiza's 4.5-star road test verdict made choosing a spec for our long-termer easy: we asked for it as our testers assessed it. Which means we've chosen the 1.0L three-cylinder TSI 94bhp engine, driven through a five-speed manual 'box.
In this spec, our car can do 0-62mph in 10.9sec, with a top speed of 113mph, and I've been largely achieving solid mid-40s mpg fuel economy.
Initial impressions are remarkably positive: it's quiet at low speeds yet develops a nicer sound when pushed, and I've yet to find it really lacking power. Aside from an occasional thrum when accelerating in lower gears, it's smooth and responsive too.
It's hard to think why you'd really need a bigger engine (except in a Cupra version, obviously; just saying, Seat).
We opted for the slightly upmarket FR trim, which comes with pleasant Nora Black FR cloth seats and a clean, clear dash. You can definitely see the family resemblance to my old Ibiza's interior, but everything is more grown-up and refined.
A huge part of that is the full-colour infotainment touchscreen, which features Seat's version of the VW Group's excellent system, including features such as Apple CarPlay connectivity.
We added in the optional Beats Sound System for £365 because twenty-something me would have loved such a thing on my Ibiza in 2005; for my late-30s self, it makes Radio 4 sound very nice. Seems it's not just the Ibiza that's grown up…
Grown-up also describes the exterior of the Ibiza, and not just in terms of design, although Seat's Leon-inspired angular lines and stylised creases certainly exude sophistication (the previous Ibiza looked like a squished Leon; to me, this new design just looks nicer than the Leon). To complete the look, we added metallic Desire red paint and the full LED headlights.
But it's literally grown-up because, like many of its small-car rivals such as the Fiesta and its platform-sharing Polo cousin, the new Ibiza is just plain bigger than before.
Crucially, though, it doesn't feel too big. Rear passengers get more room and the Ibiza's usefulness for an Ikea trip has been increased (trust me, I performed miracles to cram flat-packs into my old one), but it still feels and drives like a small car.
It's nimble and the handling makes for an engaging drive, and it's a perfect size for nipping round south London's congested streets, while feeling more composed than ever on motorways.
Complaints? I have a few niggles, which may grow into annoyances in the coming months. The ride, with MacPherson front struts and a semi-rigid rear axle, can prove a touch jolting on bumpy city streets, although the trade-off is an engaging drive when you encounter faster, flowing roads.
Also, the boot has a propensity for not closing properly; and twice I've had to stop driving to re-fasten it.
And bafflingly, despite coming with a whole host of safety tech (enough to garner a five-star Euro NCAP rating) and having that lovely infotainment screen, on FR trim there isn't a reversing camera. There isn't even a reversing sensor, and while the Ibiza isn't the hardest thing to manoeuvre (although it isn't helped by small awkwardly shaped wing mirrors), it seems an odd omission in 2017.
Even with those annoyances, I'm impressed so far.
The new Ibiza feels more complete, more sophisticated than its predecessors – and, indeed, its rivals.
Which, of course, is why we named it the best small car you can buy today.
We'll find out how well it lives up to that title over six months, but I'll be taking things further – considering if this is a car that I'd be prepared to own for 12 years…
Second opinion
If Seat came of age with the Ateca, the Ibiza proves it is set to flourish.
Time was you had to accept compromises on smaller, cheaper cars, yet the Ibiza is good to outstanding pretty much everywhere.
If I was asked which supermini to buy today, I'd recommend this one.
Jim Holder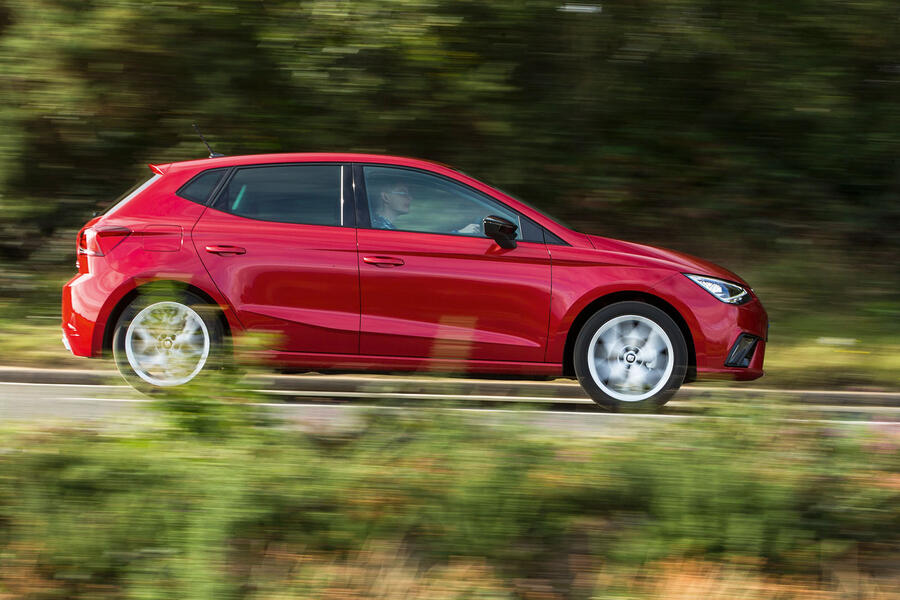 Seat Ibiza FR 1.0 TSI 95 specification
Specs: Price New £16,105; Price as tested £17,510; Options Desire red metallic paint (£650), Beats Sound System – including luggage compartment lining (£365), Full LED headlights (£480)
Test Data: Engine 998cc, three-cylinder, turbocharged petrol; Power 94bhp at 5000-5500rpm; Torque 129lb ft at 1500-3500rpm; Top speed 113mph; 0-62mph 10.9sec; Claimed fuel economy 60.1mpg; Test fuel economy 43.4mpg; CO2 106g/km; Faults None; Expenses None