Part 6 (the final part) - 19/3/18
No, it didn't write itself off, thank you very much.
But I do have a confession to make: I've sold it. I know, I'd not had it long, but I have got a (fairly) decent excuse. To tell you the truth, as much as I loved the Caddy – and I genuinely did love it, honestly – I was always worried about selling it. It's one thing selling a Volkswagen Golf, but chucking a 1991 Cadillac Seville with a maroon cloth roof into the classifieds isn't exactly going to have the phone ringing off the hook. Or so I thought.
Stupidly, I thought the best course of action was to advertise it about four or five months before I actually wanted to sell it. That way, I wouldn't be so disappointed that nobody actually wanted it, and I had a car that I'd got to an agreeable level to enjoy for most of the summer. But I couldn't have been more wrong. This is something I'm rarely guilty of, but I think I was too clever with the advertising, signing up to three American car groups on Facebook and advertising it there rather than with the usual suspects. Within three days, I had the cash in my hand.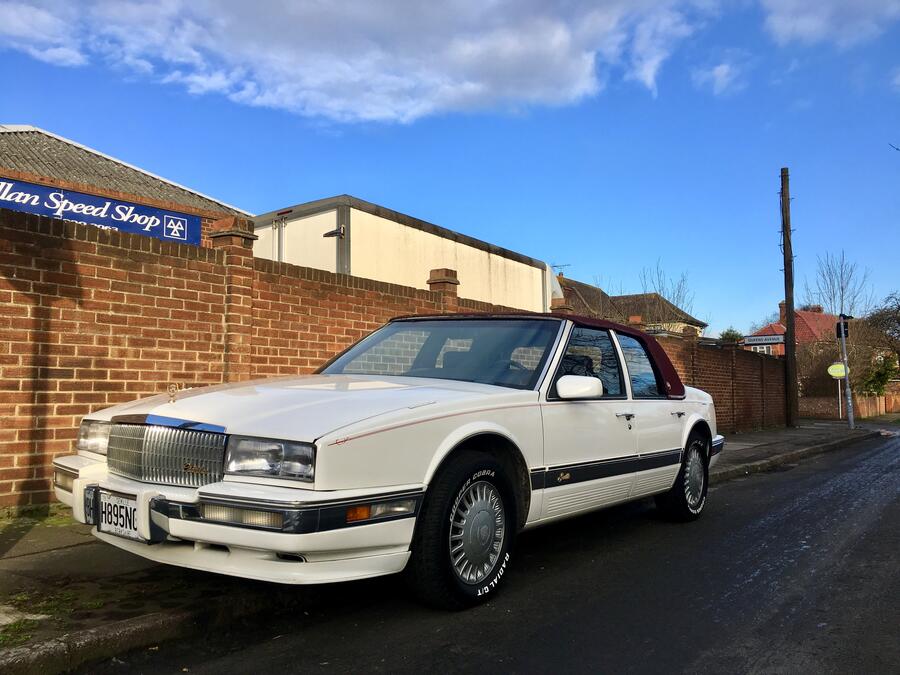 These guys don't mess about. They live and breathe automotive Americana; they know it inside out. So when a car as rare as mine in acceptable condition hit the feed, all hell broke loose. I had eight people after it within two days, and by the third, a chap said he'd buy it unseen if I drove it to him as proof that it could handle a stop-start journey across London to his home in Enfield.
I was almost sad. In fact, I almost said 'no, you can't have it'. But then it hit me like a poorly executed Elvis cover: this was too good an opportunity to miss – mainly because I'd advertised it at £500 more than I'd bought it for.
Well, I'd advertised it at that, but I thought I should probably take it in to have its sticky footbrake and faulty climate control looked at, just in case somebody as unhinged as I fancied kicking the tyres. It went back to Glenn and the diagnosis wasn't good - the footbrake was sorted but the climate control would require a full assessment by an automotive electrician. The face Glenn made when I asked how much that might cost was unnerving.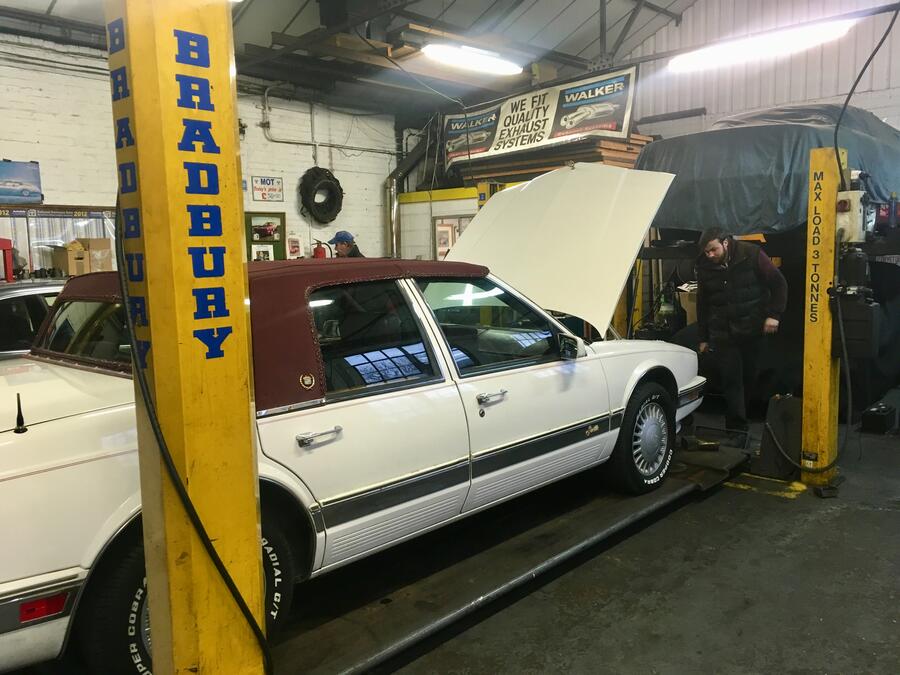 The trouble was, I already had eight people interested, including the 'buy unseen' chap. So, I knocked a couple of hundred off the price, he was happy and the job was a good'un. It made it to Enfield, the look on the chap's face was one of sheer delight, and the one on mine outdid that as he put cash in my hand that still added up to more than I'd bought the Caddy for last year.
More than I'd bought it for, yes, but not more than I have spent in total. Oh no, no, no. But hey, it has been a thoroughly enjoyable experience, and what was a fairly off-the-cuff purchase has actually turned into a genuine interest in American cars and a promise to myself that I'll run more. It has also convinced me that the V8 engine is probably my favourite of all the engines. Having said that, a V10 is quite nice...
Anyhow, I have exciting news: I have bought another. No no, come back, no not another Cadillac, but another V8. So, if you'll have me back, this blog will be hanging its chaps by the door and exiting to a world of leather briefcases, massive mobile phones and baggy suits. More in due course. Hopefully.
___________________________________________________________________________________
Part 5 - 18/1/18
You thought I'd gone away, didn't you? Well, I'm afraid not. The Seville is still alive, and it has spluttered into 2018 looking better than it did in 2017 - albeit only slightly.
There has been progress both inside and out, beginning with its roof, which has finally had a decent clean. I toyed with various different products, but in the end I went for Auto Glym's soft top cleaner and protector kit, which is really designed for cabriolets. After loosening the dirt with a cloth, wetting the whole roof and spraying on the cleaner, it was just a case of rubbing it down with the supplied sponge. A quick hose down revealed almost all of the lichen was gone, and where there had been bird muck there were no stains. Its beautiful maroon colour was still intact, too. Result.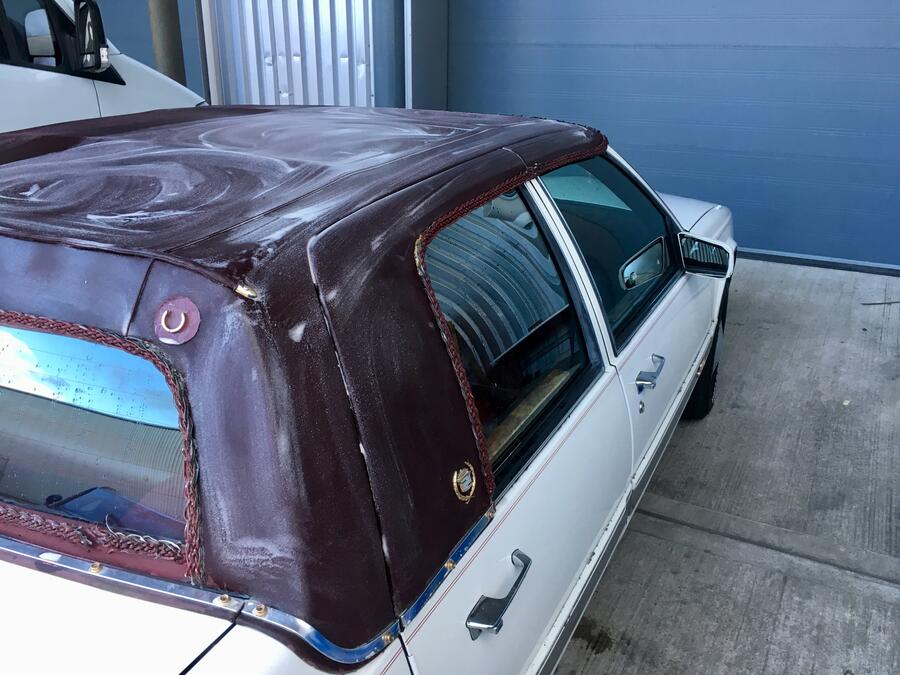 Inside the work isn't yet done, but is booked in for early February (pay day). The car's foot brake has always been a little stiff so the mechanism is being looked at, while I'll soon have a functioning climate control system once an automotive electrician has looked over it, and the system has been regassed. Which just leaves the juddering under load, which could be the transmission, could be the fuel filter or could even be the plugs we fitted not long ago. Either way, it'll be sorted.
Then, probably in March, it'll be a trip to TrimTek in Poole for the exterior plastics to be given a coat of white paint, followed (maybe) by all three armrests in the front getting repaired. They're the chaps who did the work on my 190E's silver wheel trims and did a superb job. All done, I should have a car I'm happy to look at, sit in and drive. We'll see. 
But away form the car itself, I've been looking into its origins. The basics are that it sits on GM's K platform, which it shared with the Cadillac Deville of the same era, and was built in Detroit at GM's Detroit/Hamtramck assembly plant in 1991. Today, cars like the Caddy CT6, Buick La Crosse, Chevrolet Impala and Chevy Volt are built there, but a fair few others have too over the years.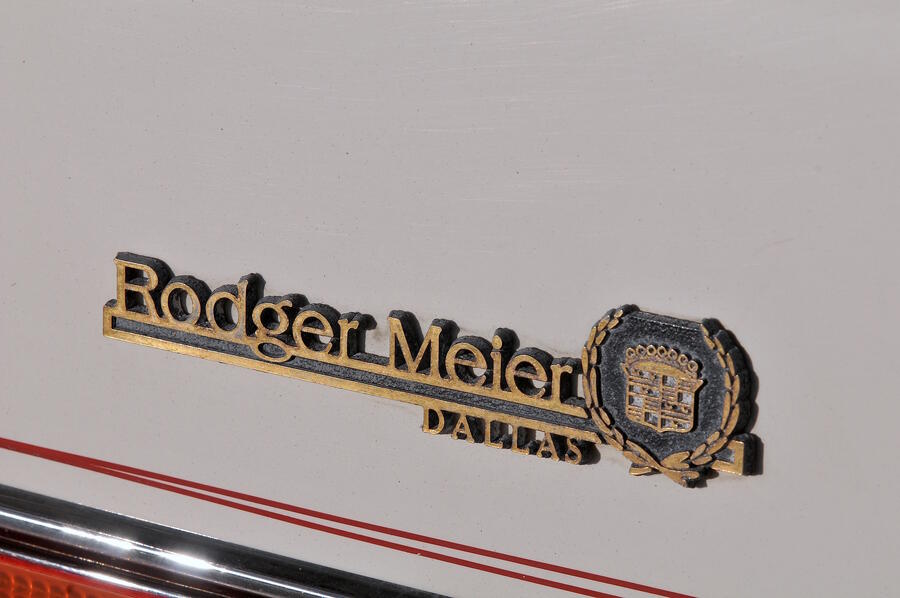 Then, as I've touched on before, it made its way down to Dallas, specifically to a dealership owned by Rodger Meier. Now, Meier opened his dealership in 1969 after applying for the franchise with no prior automotive industry experience. The GM big-wigs were worried, of course. No matter, he convinced them, beat (reputedly) 700 other applicants for the franchise and opened Rodger Meier Cadillac, later adding Oldsmobile and Infiniti dealerships too.
The other interesting bit is that he wasn't opening the first Caddy dealership in Dallas, there were other established dealers in place. Yet, despite the competition the Meier dealership rose to become one of the most successful Cadillac dealers in the whole of the US, even propelling Meier into the Cadillac hall of fame. What I gather from the internet is Rodger's son Todd joined the business later on and they had many successful years, eventually selling up in 1998 to Sewell group who continue to sell Cadillacs today - although not from the same site.
Indeed, using what little info I could find and Google Maps I believe the site is still selling cars, albeit Nissans and Chevrolets. Still, it's nice to be able to picture where my Seville once rolled out of the showroom with its first Dallas oil executive owner smiling behind the wheel. 
___________________________________________________________________________________
Part 4 - 19/9/17
I've been a tad rubbish this month. I haven't bought the roof cleaner I said I would, let alone cleaned the roof, nor organised the spraying of the Caddy's plastic trim. However, I have achieved something, which is evident in the latest pictures above.
Yes, the Seville has a new set of tyres, and just like the car itself, they're dividing opinion in the office. Of course, I love them, but I'm prepared to accept that many won't.
It's not difficult to work out the manufacturer and model of the new set, mainly because it's written in large white lettering across the sidewalls. Indeed, they're Cooper Cobra Radial GTs from leading Radial GT suppliers Silverline Wheels and Tyres in Warwick and fitted by the superb SOS Tyres mobile fitting service I've used more than once previously. They replace the Caddy's old - and distinctly less premium - set of Runway white walls.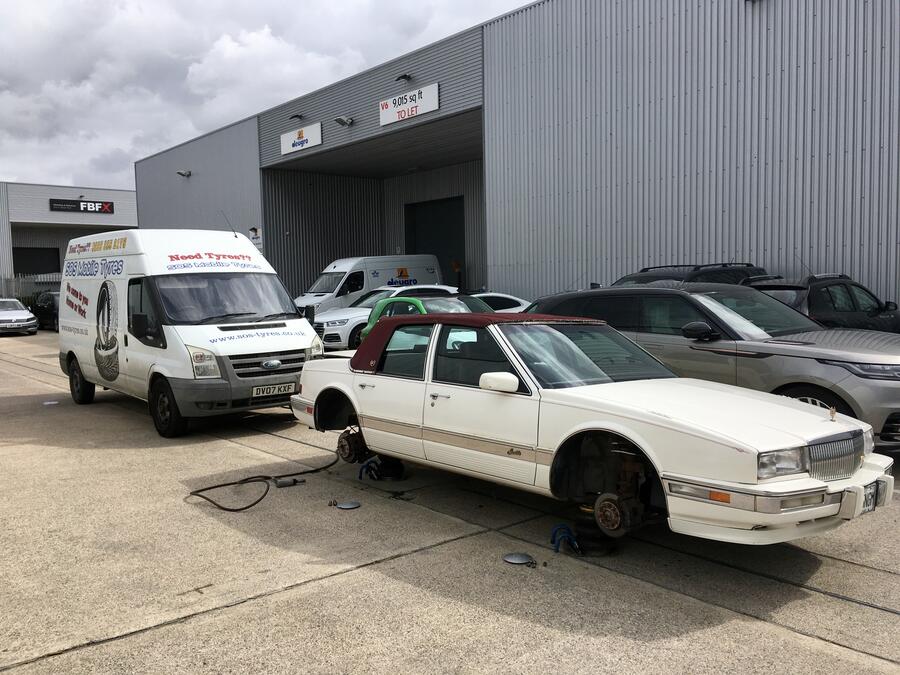 Now, some of you are probably wondering why I've gone for the muscle car look despite this Cadillac's luxury-barge image, and the answer is simple: the noise it makes. The white walls were more Cadillac, sure, and fitted in perfectly during wedding duty. But, you might remember me mentioning a number of enhancements carried out by a certain E. Presley that included a shouty exhaust, front to back.
As such, under load, the Seville's large but distinctly average transverse V8 (while using a frightening amount of fuel) actually makes a very decent noise. To these eyes and ears, the new look is nigh-on perfect. To many of my colleagues', it certainly isn't.
But how do the Coopers perform? Well, for the first time since buying the Seville I had a chance to stretch its legs along the meandering back roads that lead to Goodwood on my way to the Revival weekend. Now, you're probably expecting this next sentence to detail the car's surprising agility and unexpectedly-adroit chassis, but truth be told, it was a complete and utter shower.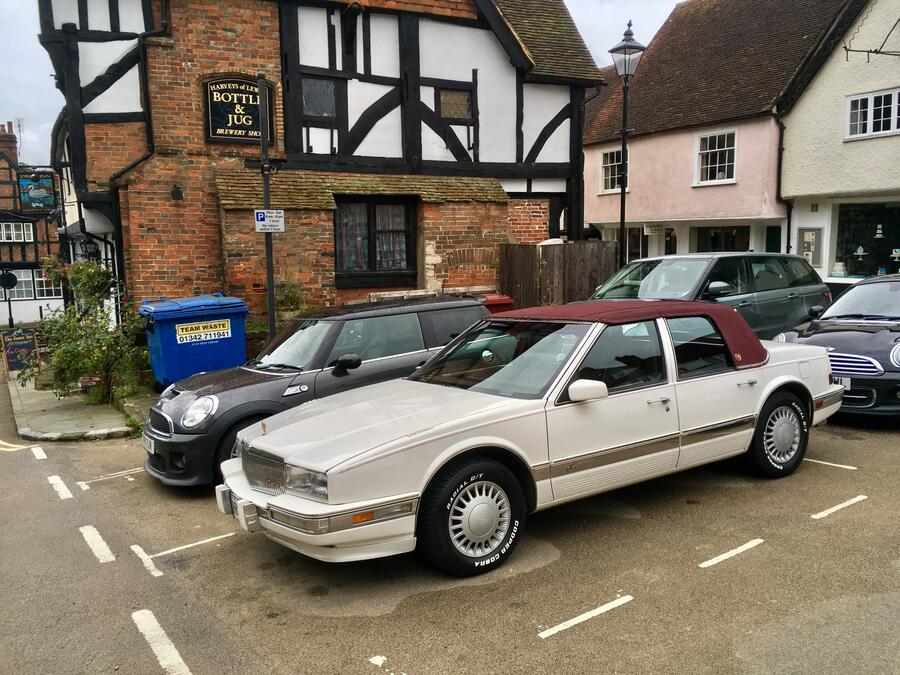 The steering is woeful. No, comical. In fact, the Seville is almost reluctant to turn in, and on the rare occasion that it does settle through a bend, you're so focused on garnering information on what the front wheels are doing that the fact you're '50p-ing' corners almost passes you by. Of course, this has nothing to do with the tyres, and to their credit, it was soaking wet and neither end of the car broke loose. But, to be frank, the Seville could be fitted with the very best track-going rubber and still feel like it was shuffling across the Channel.
What I was more interested in was how the tyres upped comfort and refinement, and in both regards there's improvement. Secondary ride quality is slightly better in town for starters, but more prominent is the reduced tyre roar, especially on my 60-70mph 'blast' down the A3. All told, I'm extremely happy with them: they look the part and have genuinely improved the drive.
And it seems I'm not alone in liking them, because a man driving a ratty Cadillac BLS through Midhurst on his way to Revival stopped, wound down his window and delivered the phrase every car owner wants to hear: 'nice car, mate'. Praise indeed. I'll report back again soon, hopefully with news of a freshly-cleaned roof and sparkling plastic trim. 
___________________________________________________________________________________
Part 3 - 22/8/17
It's been an interesting month of Cadillac ownership. Some of it has been spent grinning from ear to ear, some of it head in hands. But then, you can hardly expect an easy ride. 
It started with the ear-to-ear bit and a run down to Dorset, the first lengthy drive post-service. It was running beautifully, picking up well, making a fantastic noise and cruising smoothly - so much so that I began to enjoy it and keep up with modern traffic. Big mistake: just 10 miles from home, there was a bang, a slur from the gearbox and black smoke in the rear-view mirror. 
I slowed down, gave it a chance to catch its breath and limped the remaining distance, but all seemed back to normal. To make sure, I took it easy on the trip back up the M3 to London again, with everything crossed. After a worried call to Glenn at Mullan Speed Shop, I booked the car back in for a check the next week. That's where the head-in-hands bit comes in. On the drive there, a louder bang, a significant loss of power and my V8 had seemingly become a V-twin.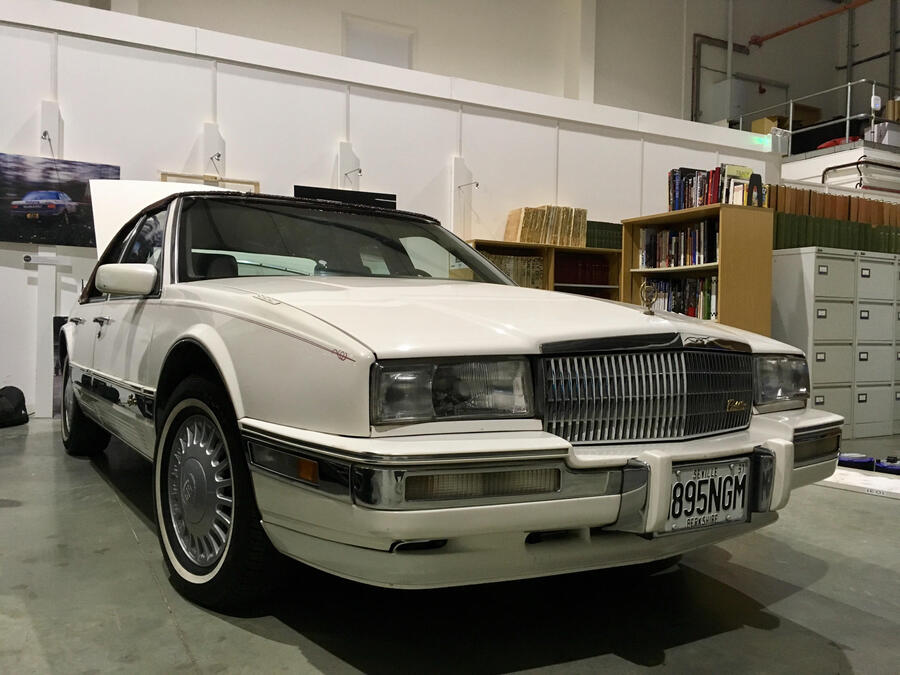 I managed to get it to the garage in fits and starts, and an anxious next three days followed. I'd ordered a new distributor cap, leads, rotor arm and starter motor, and decided to get it all fitted at the same time, hoping Glenn would be able to sort my cylinder-deficiency problem as well as my hot-start issue in one fell swoop. After 48 hours, I could take it no longer, so I gave him a call fearing the worst. 
The starter had been no problem - the new unit had solved the problem. However, Glenn had fitted the leads, rotor and cap only for it to make no difference. I was still running a V6. Upon further inspection, he found that each injector had its own fuse (strange) and cylinders two and seven had blown. He stuck two news ones in, turned the key and they blew instantly. After some head scratching, he discovered part of the wiring loom had become weathered and was shorting, blowing the fuses. He soldered it back, packaged them back up and, hey presto, a V8.
Which all sounds simple when written out in a single paragraph, but all of that had taken precisely 36 hours of labour and probably swearing. Thankfully, after some begging, Glenn went easy on me, but it's safe to say this is no longer a £1500 Cadillac. It's now somewhere in the region of a £2200 Cadillac all in, but I figure that's still not too bad.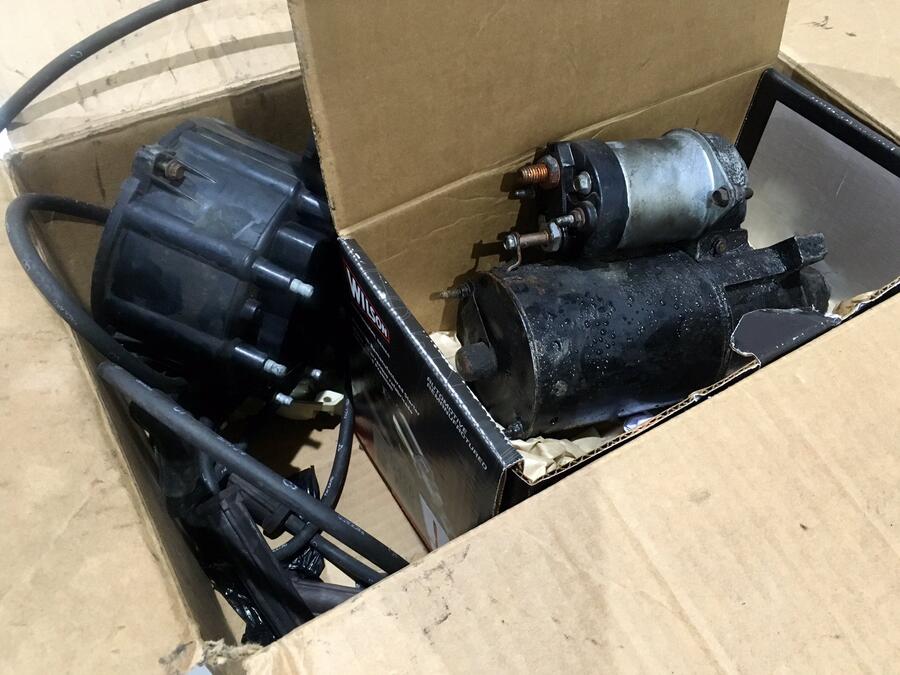 I'm writing this fresh back from another drive to Dorset, on which I took things much easier. It's still not 100%, juddering a little at low revs on inclines, but it starts each and every time and it sounds and performs fantastically well otherwise. In fact, it was there as a wedding car for a good friend, where it earned more than a few admiring glances and comments. Yes, I know, really.
So, next up is a new set of tyres and another trip to the garage to assess the juddering. I'd also quite like to have some of the Seville's plastic exterior trim sprayed to clean it up and start washing and re-edging the vinyl roof after Elvis had a go. All of which I'll report back on soon.
___________________________________________________________________________________
Part 2 - 9/7/17
Good news. Work has begun to bring this American barge back to its former, er, glory. 
Having been told by the previous owner that it had spent the last year in a (thankfully dry) garage, a full service was always on the cards, but a trip to Silverstone confirmed that a little more than fluids and plugs were needed. No, I wasn't heading to the UK's premier racing circuit to take part in an extremely niche one-make event. In fact, it was the 2017 Autocar Awards.
The drive up from London was superb: it was around 26deg, I had the window down (because the air conditioning doesn't work), my left elbow was on the sill, I'd treated myself to some chewing tobacco and the V8 was a-burbling. I could easily have been cruising through Texas. A small group gathered as colleague Alex Robbins and I arrived in perhaps the weirdest two-car convoy ever seen, his beautiful old BMW 6 Series E24 and my shonky old Cadillac Seville.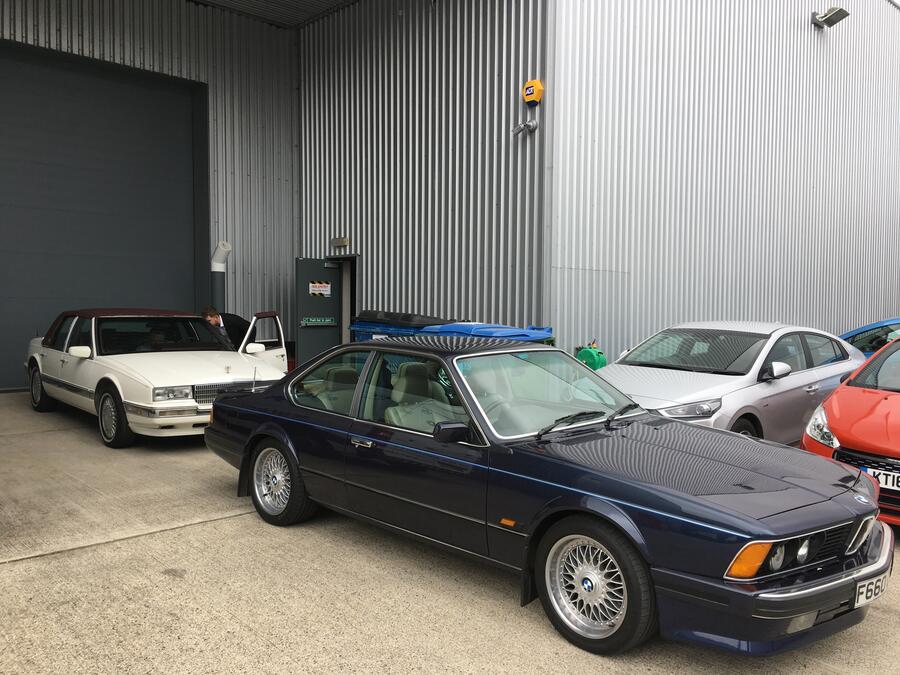 That's when it all went wrong. After proudly presenting my new purchase to anybody that would look or listen, it was time to head to the hotel to get changed. But a turn of the key brought nothing but silence. Not even a struggling starter motor. This was very embarrassing.
Alex's BMW valiantly stepped up and offered its battery, but to no avail. The problem clearly lay elsewhere - probably in my living room when I told Mrs White that the Cadillac I'd blown our money on had died. And if the thought of breaking down in front of six or seven disinterested people wasn't embarrassing enough, a bright yellow AA van parked next to my car with some of the motor industry's finest looking on was, I can assure you, even worse.
Of course, between it not starting and the AA chap turning up, there had been a couple of hours, which was enough time for it to cool down and, you guessed it, start on the button as soon as the mechanic had his head under the bonnet. Not before he'd exclaimed that the engine was the wrong way around, I might add.
A week or so later I headed to Mullan Speed Shop (a decent local garage with American car knowledge) in Feltham having done my homework and pretty sure of the problem, namely that the starter motor was getting too hot and refusing to do its job. Mechanic Glenn, who has owned a fair few old American cars himself, was quick to agree, painfully recalling the time his old Chevrolet Camaro left him stranded on a crowded King's Road with the very same issue.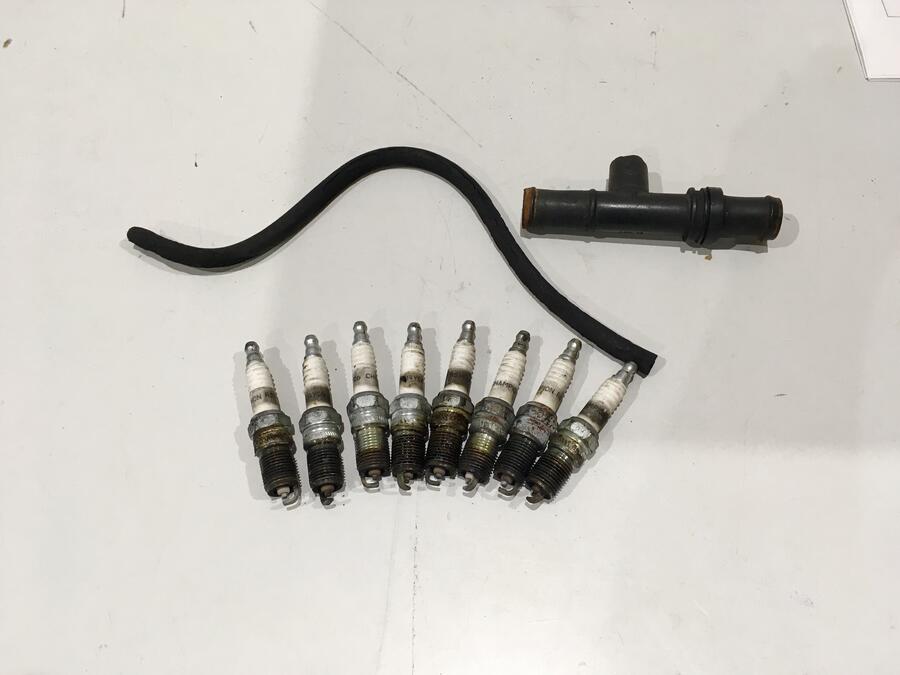 With the Seville's exhaust running right past the starter, its ageing armature was struggling under the heat. It certainly didn't look like it has been changed in quite some time. A quick scan of the internet revealed that a repair was possible, or a new one cost around £100 from Bedford-based USAutomative, which, plus fitting, is an annoying but ultimately necessary job.
But that was for another day, because in the trunk (sorry) I had oil, coolant, plugs, filters and gaskets for a full service, courtesy, again, of USAutomotive. By the end, it turned out some vacuum pipe and radiator hose was also needed to replace the very old and perishing stuff already there. The outcome? One extremely smooth V8, happy with its new fluids.
So, next on the list is that starter motor, because driving somewhere and not having a working car for a couple of hours gets very old, very quickly. I'll update you on that, as well as cleaning the roof, adding a new stereo and potentially some new tyres, very soon.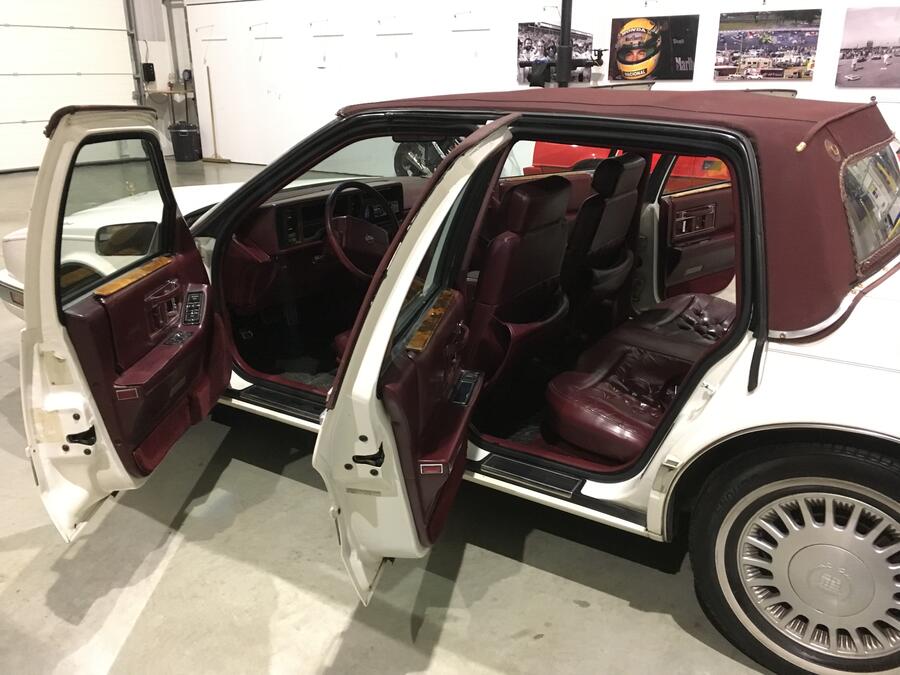 ___________________________________________________________________________________
Part 1 - 26/5/17
You might be surprised that I'm able to type this latest used car blog series, what with my straitjacket and everything.
But while a 1991 Cadillac Seville isn't the exact itch I wanted to scratch, it is from the same pruritus family - that family being American, V8 and massive. My usual £1500 budget in place, I closed my browser's long-studied Alfa Romeo Spider and Fiat Coupé classifieds, opened a new one and simply entered 'American' and '£1000-£2000.'
And what should come up but this 1991 Cadillac Seville, imported to the UK in 1993 and showing 103,000 miles. No MOT, mind - although there were promises of one being added upon sale - but it looked mildly together in the pictures and it was white with gold badging and a red vinyl roof. Justification enough. And the price for this little slice Americana? Just £1700.
Which seemed cheap to me, for some reason. Even cheaper from behind the wheel on the test drive, where it not only felt like the engine and gearbox were spot-on, but so too was the unbelievably supple suspension. Sure, there were some tatty areas outside and some broken switches in the cabin, but ultimately it was in far better shape than I was expecting. I offered £1500, they said yes but MOT it yourself, and with visions of telling people I owned a 'Caddy'; I agreed immediately, whereupon two men in white coats wheeled me away.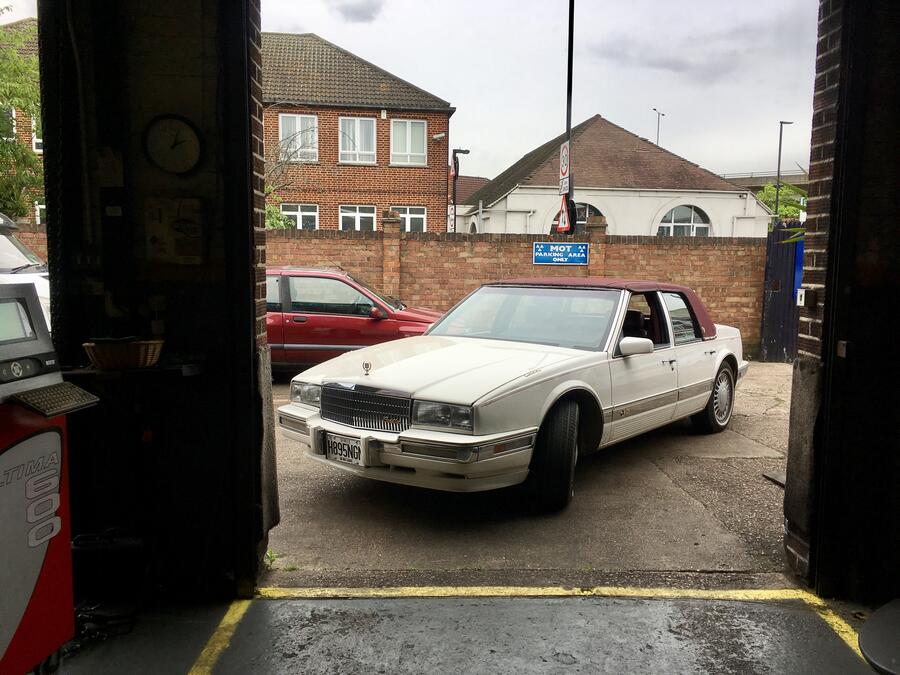 I think it was on the drive from Bedfordshire back to the MOT bay in London a couple of days later that it dawned on me just what a fool I had potentially been. The Seville was in good nick, yes, but it had been sat in a garage for the last year, there were no documents detailing its import, zero service history and only the Divine Being himself knew if it was worthy of a Ministry of Transport certificate.
But the joke is on, er, you people who don't buy ratty 26-year-old V8 American barges. It passed, and not only did it pass, it only needed a couple of wipers. After phoning my wife to suggest we could call off the divorce, I wafted back to our offices in my £1500, 12-month MOT, V8 Cadillac Seville, in pure disbelief.
What exactly is it, though? Well, you'll probably know Cadillac as the one-time leader (in the US at least) of premium cars, and while the first 1976 Seville was exactly as you imagine it to be - laughably massive - by 1991 things had calmed down a bit. You see, by this stage, Cadillac was seriously worried about Mercedes and BMW stealing market share, and in a bid to fend them off, it made its third-generation Seville much smaller. In fact, it's shorter and only slightly heavier than the latest BMW 5 Series 520d.
Rather embarrassingly, not only is it actually quite small, but it's also front-wheel drive. Yes, yes, it has a 4.9-litre V8 that drives the front wheels, and more than one person has peered into the engine bay and announced that it's the wrong way around. It also made just 200bhp and 275lb ft in 1991, so who knows what is being generated now. But remember that this was effectively Cadillac's BMW 3 Series (the larger De Ville is its 5 Series) and it's much bigger than one of those, I hope. And who cares which wheels are driven when you've got a V8 and a naughty aftermarket exhaust fitted by Elvis?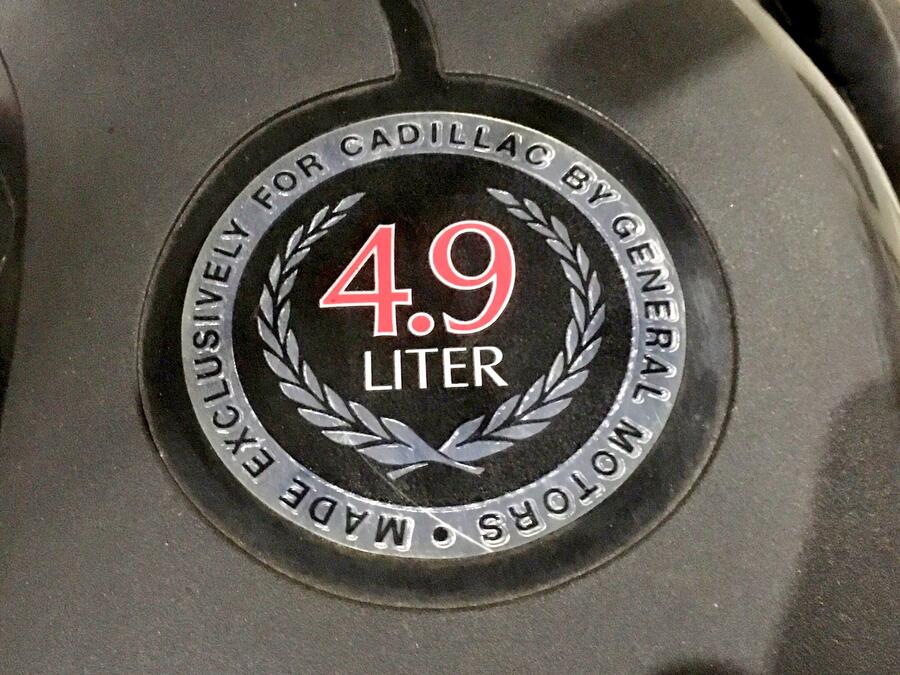 Ah, yes, that's one of the other brilliant things about this car. Not only does the included US handover document tell me it was delivered to an oil executive in Dallas, Texas in 1991, but I was also reliably informed by the guy I bought it from that an Elvis impersonator had owned it before him. Of course one did. And Elvis has been busy, sticking sections of fake red leather over worn areas of the real stuff inside, fitting said exhaust and kindly leaving me The King's best-of cassette in the glove box. The chap I bought it off said he didn't have the heart to chuck it. I've had a listen. He should have done.
What's it like? Well, Cadillac's attempts to make this Seville smaller and more agile in the face of its European competition haven't worked in any way. It's easily the softest car I have ever driven, with steering that is so disconnected from the front wheels that you're often left dumbfounded that what you're putting in is in any way guiding the car. But the better edge of that sword is ride quality so good, that every modern car I'm likely to drive from now will feel like the Hogwarts Express.
So, let me know what you think. Have I made a massive mistake, or does the fact that this Caddy Seville is so different from anything else make it a worthwhile purchase? As you can see in the picture below, some of my colleagues aren't keen.
I'll be back with more on its interior, my plans for it and how the first proper drive went.