The electric vehicle market is growing, so we've collected the Hyundai Ioniq, Volkswagen E-Golf, BMW i3 and Nissan Leaf together to see which comes out on top.
A watched EV never boils. More to the point, it doesn't bleep, flash, pop, ping or do anything else that you might imagine an all-electric hatchback ought to do to indicate a completed charge. Shame. I like the idea of a Nissan Leaf gradually browning, wafting warm toast smells in every direction, before spontaneously hopping three feet into the air like a slice of Warburton's ready for the butter knife.
Read our EV comparison from a few years ago
It would at least make an interesting spectacle in the motorway services car park in which we're now waiting. We've got four brand-new battery cars lined up in front of Ecotricity's fast chargers, each suckling almost noiselessly in turn from the national grid, before setting off on an exercise we've been waiting a long time to carry out.
It was six years ago that the Nissan Leaf and Mitsubishi i-MiEV first tested the appetite of drivers all over the developed world for a compact, affordable electric hatchback. It's an appetite that's needed plenty of encouragement, but it's finally growing at something close to the rate those evangelical early market entrants had hoped for. Viewed globally, the market for pure EVs and plug-in hybrids will total more than 600,000 cars this year, up about 50% year on year. Just over half of all those 'plug-in' cars sold this year will be wholly electric-powered.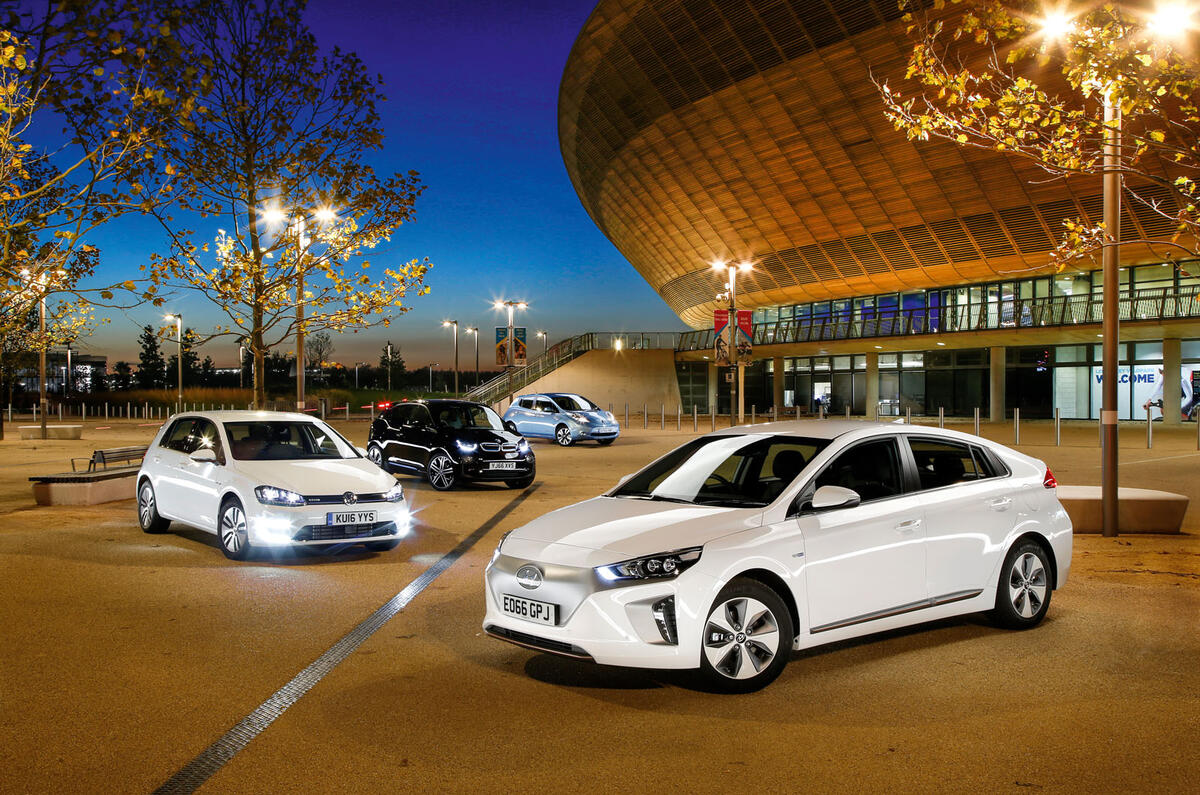 More important, as concerns today's agenda, the all-electric hatchback market now provides the UK motorist with enough choice to populate a full Autocar group test. Welcome, then, the new Hyundai Ioniq Electric to UK showrooms. And allow us to introduce it to the similarly priced, all-electric rivals against which its stature must be measured: the Nissan Leaf, Volkswagen e-Golf and BMW i3.