Why we're running it: To see if reborn MG's poster child is as easy to live with as the established names in the class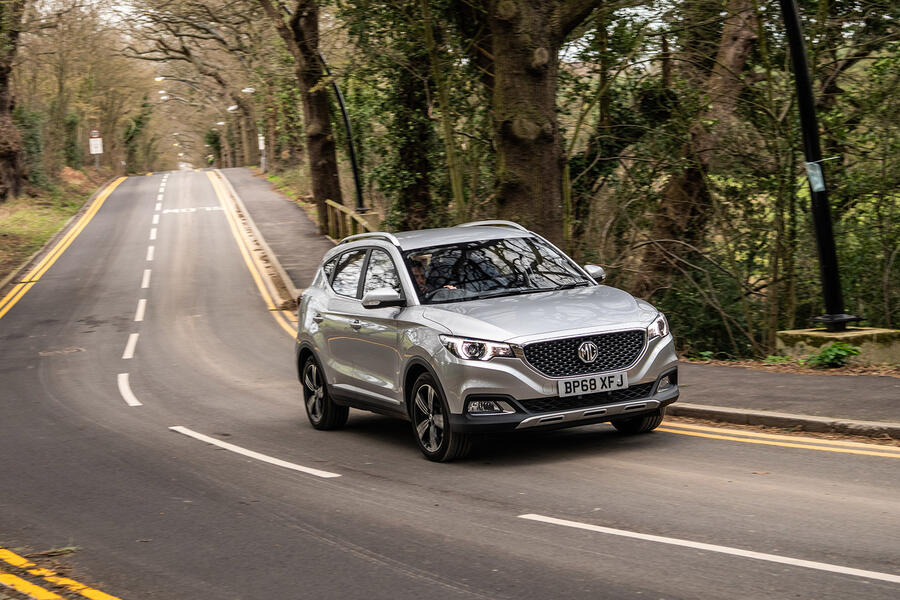 Life with an MG ZS: Month 4
Our MG has been involved in a drive-by shooting – of an F40 - 4 September 2019
I'm feeling quite settled in our 'new' MG now and finding lots to like about what I guess many would consider represents being downgraded into a version with less performance and a manual gearbox. How little 'many' know. 
Giving up our old 1.0-litre turbocharged ZS has meant getting rid of its hyperactive automatic 'box, which I was glad to do. It also means getting used to a new normally aspirated 1.5-litre engine, though, one with noticeably less accessible torque than the old 1.0-litre turbo had, as well as a manual gearbox that isn't the most inspiring to use and obliges you to either pay attention or frequently find yourself stuck in the wrong gear on the road, praying for a downward gradient. The 1.5-litre engine leaves plenty to be desired on drivability and outright poke but, even so, it bugs me less than that erratic auto used to. 
Meanwhile, I'm finding myself much more enamoured of the MG's design now that I can look at it in a brighter colour. The ZS is miles more appealing in Dynamic Red than it was in Cosmic Silver (is verbal window dressing like that really necessary on cars like this?) and it has been applied with a reasonably consistent finish across the car's metal and plastic body panels, which is something you don't always find on bargain-buy cars. I'll admit to preferring funkier colours on car designs that are fairly plain and uninspired because it tricks you into thinking they are more appealing than perhaps they really are. For now, consider me tricked. 
Driving the ZS every day continues to be made much more comfortable with the addition of the backrest cushion I bought for the last car, but that apart, I find the controls pretty comfortable to use and the car continues to impress me on wider practicality levels. There aren't many other £15k cars I could use as photographic tracking platforms. That's a sum that barely buys an entry-level supermini from a mainstream European brand these days. That thought occurred to me the other day, while I was shooting a Ferrari F40 for an upcoming story, a car I've always wanted to photograph. In a way, the humble MG made it possible. Lordy, I'm welling up.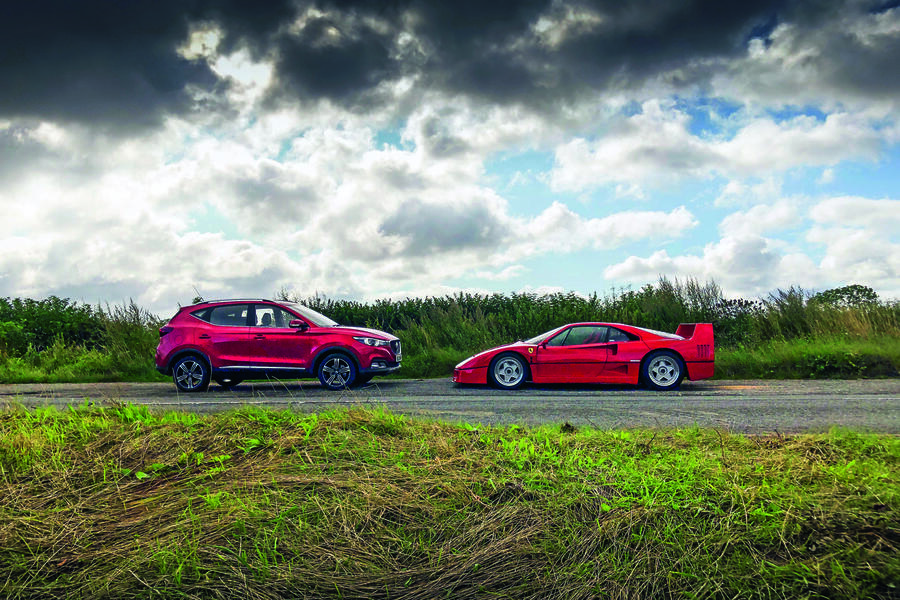 While I'm on, I can also update you a bit on the car's off-road credentials after it took me to a job in a muddy quarry to shoot something with proper knobbly tyres and locking diffs. Honestly, it'd be fair to say there aren't any, although the good news, I guess, is that it didn't get stuck. 
Even so, it quickly became obvious that even attempting to cross much rough stuff in this front-driven MG is a bad idea. The car seemed to protest for a few days afterwards, even after I'd hosed out the wheel arches and checked for any scrapes and scuffs. It rode a bit lumpily and felt looser in its handling than normal. Or maybe that was just my guilty conscience. 
Love it:
New paintwork The brighter colour makes the ZS look so much better – and more upmarket – than it did in silver. I'm not saying people stop and stare but I feel a bit richer when I look at it.
Loathe it:
Nannying noises All the audible alert 'bonging'. Yes, I know I've turned the headlights off: it's the middle of the day. And I'm aware I've opened the door before switching off the engine…
Mileage: 13,100
Don't look back in anger - 21 August 2019
Some friends came to visit and were surprised (read: livid) to find that 'my' £17.5k MG came with a parking camera, when their £30k-plus BMW 3 Series did not. Sometimes it's difficult not to be smug. Anyway, the camera allows me to squeeze into tight spaces with pinpoint accuracy around my north London home. It'd be tricky to go without now. 
Mileage: 11,257
Life with an MG ZS: Month 3
Air con could do better - 24th July 2019
Warm weather has meant I've been using the MG's air-con a lot more. Even at its coldest setting and on full blast, it struggles to keep the cabin cool. I think it might have something to do with the power supply being cut or reduced at times, but I'm not entirely sure. I've heard similar complaints from a reader, so it seems to be an issue affecting other MGs too.
Mileage: 10,600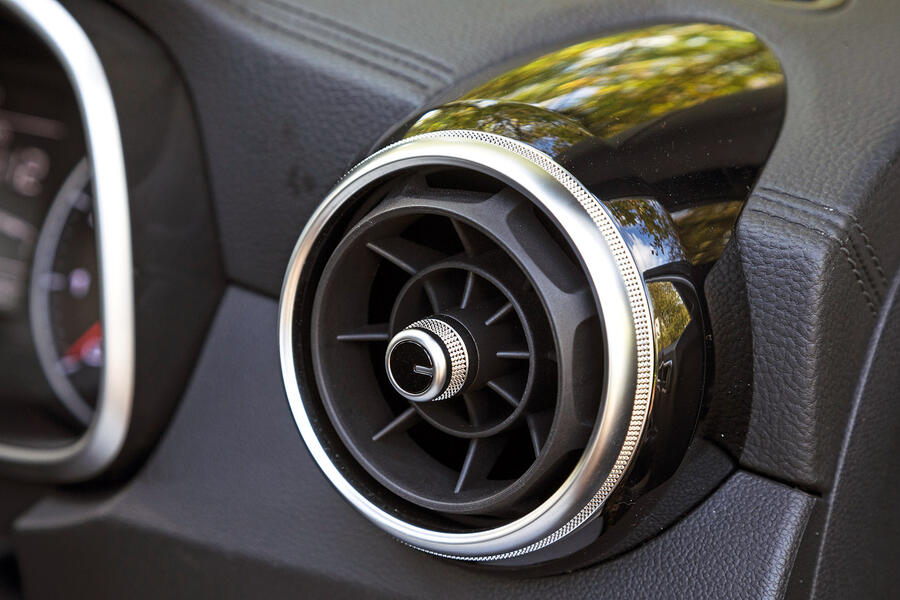 Anecdotal evidence suggests the brand still has pulling power - 26 June 2019
Who'd have thought an understated compact crossover would be so good at attracting the attention of strangers? 
I've written before, if only in passing, about the MG's uncanny ability to draw people in on the petrol station forecourt. But it happens frequently enough that I can now guess exactly how the conversation will go. I've lost track of the number of times I've had to deliver some variation of the following responses: "Yes, it is an MG"; "No, it's made in China now, actually"; "It's definitely not like the old MG sports cars"; and "Yes, it is surprisingly cheap!". Strangers are pleasingly predictable in that sense.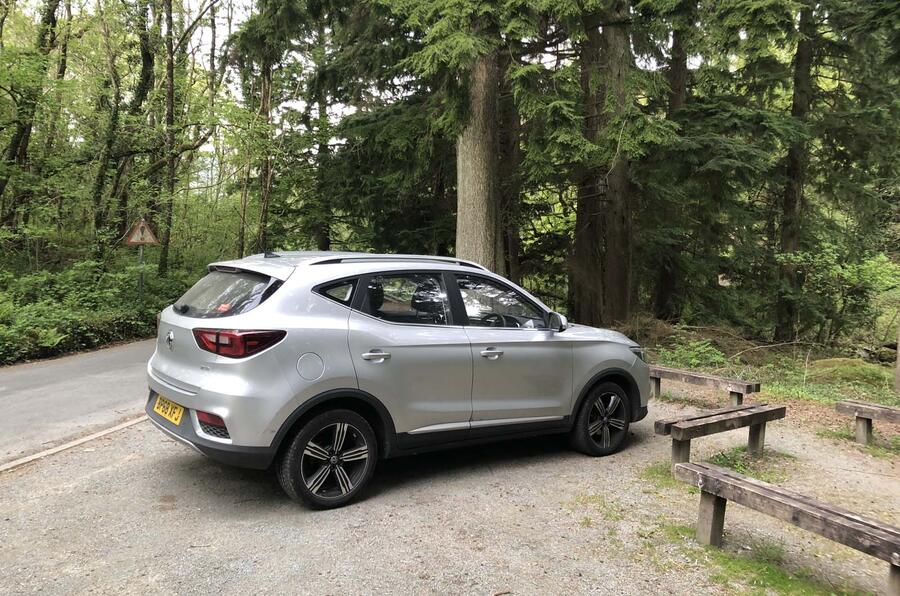 Of course, there are those who don't take too kindly to the MG, and I've found myself having to defend it on more than one occasion. Just the other week there was a security guard who was particularly mean about it… 
But anyway, for every person who doesn't take too kindly to the ZS, there are a dozen more willing to show genuinely positive interest in it. Surely that's something MG's UK marketing bods will be pleased to hear; it means they're doing the right things. A glance at MG's overall sales figures surely confirms as much: in May, the firm sold just north of 1200 vehicles – up nearly 50% from the same month last year. That figure also means that, for the month of May, MG commanded a greater share of the new car market than Alfa Romeo, DS, Lexus, Subaru and Ssangyong could each manage. At 0.66%, MG still has some way to go to topple the likes of Ford, but progress is progress. 
And to be honest, if you take your petrolhead hat off and don your rational thinking cap instead, you can find a fair few reasons to praise the little MG. The cabin, for one, is not only home to all the various toys and features you'd realistically want from a car of this type, it's a much more hospitable place to spend time than the plastic-heavy interior of the Dacia Duster (although video man Mitch McCabe might disagree with me here). There's loads of space, too, and the novelty of being able to fit my bulky photography kit in the boot without first praying to the gods of Tetris to ensure everything squeezes in still hasn't worn off.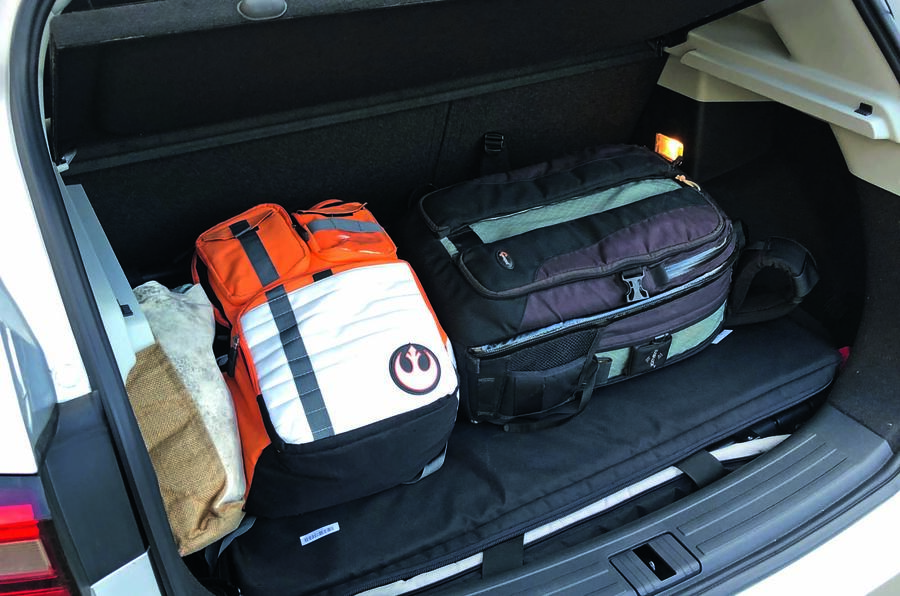 I continue to be impressed by the MG's infotainment suite, and its 36.3mpg economy isn't terrible either. The styling is also starting to grow on me. I used to think it was a bit plain, but that opinion is slowly changing the more time I spend with the ZS. That said, if I could spec this car all over again, I think I'd go for one of the brighter shades of blue or red. Silver looks pretty smart, but it doesn't really help the car stand out. I like to stand out. At the same time, my inner car designer would like to see a ZS where the wheels had been moved slightly closer towards their extremities. Perhaps I'll have a play about on Photoshop over the weekend. 
Olgun Kordal
Love it: 
Ride comfort The MG's ride is very easy-going on the motorway. Makes those long journeys that much more bearable.
Loathe it:
The perils of wide feet: The pedals seem to be spaced too close together. More than once I've gone to brake and inadvertently clipped the throttle.
Mileage: 7951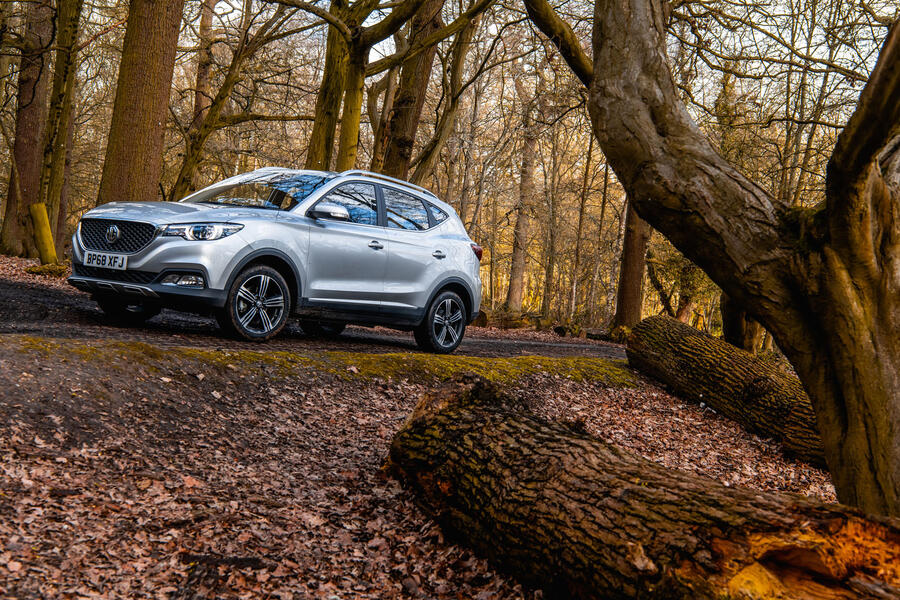 Life with an MG ZS: Month 2
No surprises from the engine, but no disappointment either - 29th May 2019
With only 110bhp and 118lb ft on tap, the ZS won't be blitzing any hot hatches away from the lights – it's just not cut out for that sort of behaviour, and I'm not a child. But despite the humble output of its 1.0-litre engine, it's never felt deficient in real-world performance. It's noisy under throttle, sure, but at speed it's just fine.
Mileage: 8550
Comfort comes first, if not from the factory - 15th May 2019
I've bought a cushion. The MG's lack of adjustable lumbar support had been making longer journeys a strain so I splashed out on a memory foam back support and it makes a real difference. In other news, the rubber plugs on the bottom of the parcel shelf strings have broken off. A niggle only – but made all the more niggly by being not quite niggly enough to merit a trip to the dealer.
Mileage: 5650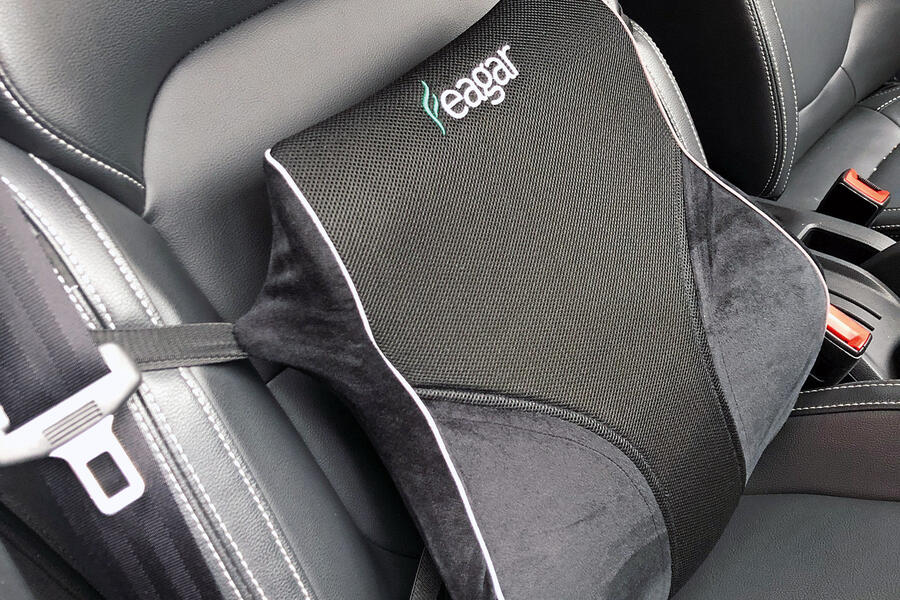 It's winning over its photographer driver – and not just for its boot - 1st May 2019
Before becoming custodian of this MG, I'd been the (temporary) keeper of the keys for the Autocar Ford Fiesta ST for a few weeks. Britain's best affordable driver's car was suitably impressive and reflected well on its maker. Even the diesel-powered Ford Focus I'd run before the ST could entertain on a decent stretch of road. So the question I've come back to more than once now I'm running the MG SUV is: can it offer anything close to the driving pleasure of Ford's finest?
And you know what? Even though the ZS might not be particularly exciting to point down the sort of roads you use on the way to the more remote Autocar photo shoots, I'll admit I'm warming to it. It's not a head-over-heels type affair by any means, but it's difficult not to respect what the MG can do given the fact that, even in top-spec Exclusive guise, it costs a reasonable £17,495.
Get a bit of a trot on and there's nothing cheap about the way it conducts itself. Vertical movements over crests are tidily controlled and shorter, sharper compressions don't leave me fretting about whether I might have inadvertently shortened my spine. In its primary ride, there's really not much that offends – handy given the amount of time I spend slogging up and down motorways.
And although it absolutely isn't a Fiesta ST, the ZS can corner with a surprising amount of enthusiasm. Again, body roll is mitigated tidily and there's more than enough frontend grip on offer. There are three different settings to alter the steering weight, too: Urban, which makes it almost unnaturally light but is handy for parking; Normal, which is, um, normal; and the heavier Sport setting.
It took me a bit of time to figure out how to cycle between the different modes, because there's no physical button to do so anywhere in the cabin. Instead, there's a submenu within the infotainment software, which you access via the 8.0in touchscreen. Finding it is a bit too convoluted for my liking and it can be fiddly on the go, even though the screen itself is impressively clear and easy to read.
In any case, I'm now at the point where I just leave it in Sport mode. This is mostly down to the fact that I find the heftier weight a bit more confidence-inspiring, but also because the faff of having to go through the touchscreen is a bit of a deterrent.
I'm less impressed by the MG's fuel economy, although this is largely because I got so used to getting about 500 miles of range per tank in the Focus. The MG is currently averaging 36.5mpg, which admittedly isn't terrible, but my trips to the petrol station are more frequent: I'm currently doing about 350 miles between fills.
That said, the interest people show towards the ZS on the forecourt has come as quite a nice surprise. It might not be the sports car that people tend to remember MG for, but Joe Public clearly still has some love for the marque. And that can only be a good thing.
Love it:
Capacious boot I still haven't tired of the sheer amount of boot space on offer. Packing and unpacking photography kit is a breeze.
Loathe it:
No fan of the fan The air-con fan can be a bit asthmatic. At times, it quite vocally sounds out of breath – irritating when I'm listening to the radio.

Mileage: 5435
Life with an MG ZS: Month 1
Straightforward systems are a real plus point - 10th April 2019
MG's 8in infotainment wins big points for ease of use. The graphics are sharp, Apple CarPlay means I can play music straight from my phone, while access to Google Maps and Waze is handy for getting to shoots in those more remote parts of Britain. A programmable shortcut button on the steering wheel is a neat touch, too.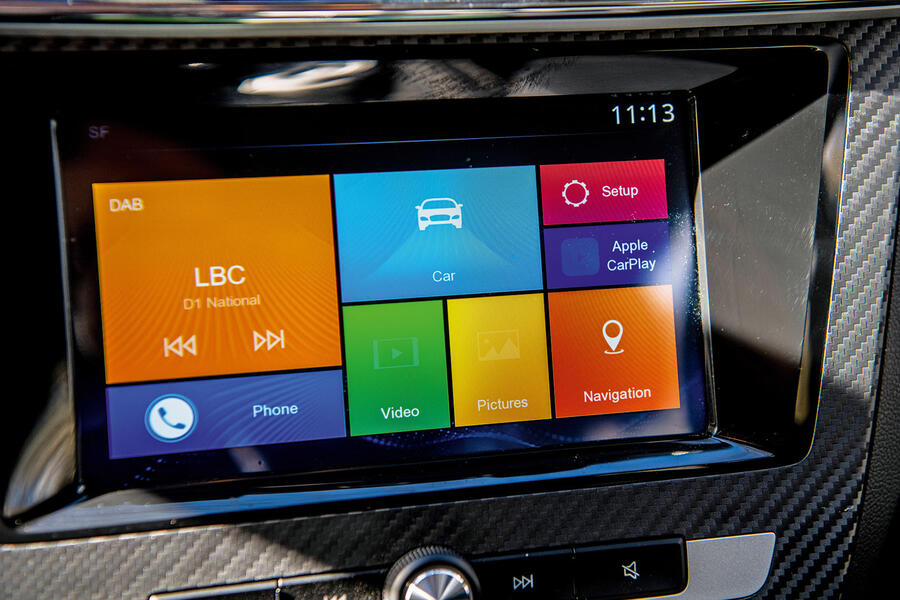 Mileage: 4107
Welcoming the ZS to the fleet - 20th March 2019
To say the MG brand has led a challenging existence for the past few decades would be to put things rather mildly.
It's a company that's changed drastically: gone are the two-seater sports cars that, for many, were synonymous with the brand; gone too are its UK manufacturing sites. In fact, were it not for Chinese intervention following the collapse of MG Rover in 2005, the MG marque itself might have fallen off the face of the earth entirely.
Surely, rebuilding a brand following the sort of decimation experienced by MG over the years would be a task so gargantuan that Hercules himself might pause for thought. That's where our latest fleet addition comes in.
Well, not this car specifically, but the new MG ZS model range as a whole. Billed as a low-cost, practical compact SUV to rival the likes of the Nissan Juke, it's already proven to be something of a miracle worker for MG since it went on sale at the end of 2017.
In 2018, the firm managed to grow its UK sales by 104% to 9049 units. Of course, a large percentage increase of a small number still amounts to a small number, but the top brass will no doubt be pleased by the trend. I'd hazard a guess they would take a good deal of pleasure from the fact it was their new compact SUV that catalysed this growth, too: the ZS accounted for 5300 of those 9049 sales.
Anyway, it's this renaissance-in-a-teacup of sorts that's piqued our interest in the MG ZS. We're curious to discover how convincing this new poster child for the once-great marque really is as an alternative to the established names in the segment.
The ZS we've elected to run is the top-flight Exclusive model. There are two engine choices at this level: the first a naturally aspirated 1.5-litre four-cylinder petrol that develops 105bhp and 104lb ft; the other a 1.0-litre turbocharged three-pot capable of 110bhp and 118lb ft. Admittedly, the 1.5 is cheaper (£15,495 versus £17,495 at the Exclusive trim level), but it was the fact the three-pot is mated to a dual-clutch automatic as opposed to the 1.5's five-speed manual that ultimately swayed the decision.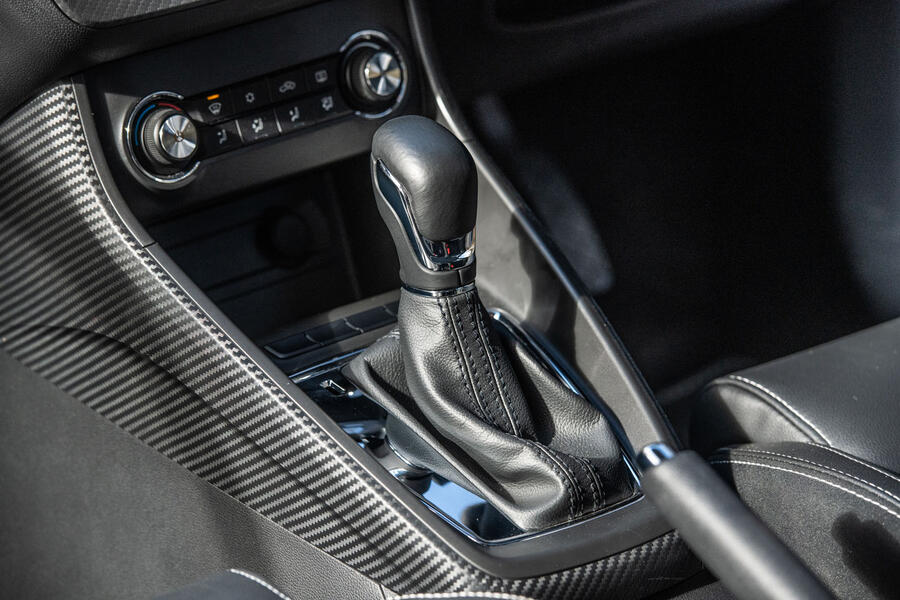 It's a car I'm going to be covering a lot of ground in over the next few months, and the idea of a torquier turbocharged engine with an auto gearbox sounded far easier to get along with than the naturally aspirated manual. Hopefully the logic will be proved correct over the coming months.
As for standard equipment, there's rather a lot of it. In the cabin there's leather-style upholstery, satellite navigation, air conditioning, an 8in colour touchscreen, cruise control, and audio controls on the steering wheel. There's also Bluetooth and USB connectivity, DAB radio and Apple CarPlay. Exclusive models get smarter 17in Diamond Cut alloy wheels, while parking sensors and a rear-view camera will no doubt come in handy on the busy residential streets near my north London home.
Despite its reasonably compact proportions, the ZS has so far proved to be a usefully practical runabout. A recent trip to the airport with a group of friends made for an excellent acid test. It can be a squeeze getting five adults into a car at the best of times, but the ZS was more than up to the task: my three back-seat passengers didn't complain about any lack of head or leg room. Result.
I was equally impressed by just how much luggage we were able to load into the ZS's boot. With the rear seats in place, there's 448 litres of storage space on offer – a figure that can be expanded to 1375 litres by folding the second row down. With a car-load of passengers, this obviously wasn't possible – but the ZS still managed to swallow the three large suitcases we'd brought along with ease.
After running a Ford Fiesta ST for a time, knowing I'll be able to load all of my photography kit in the MG's boot without having to worry about how I'm going to make it all fit is going to be a huge relief.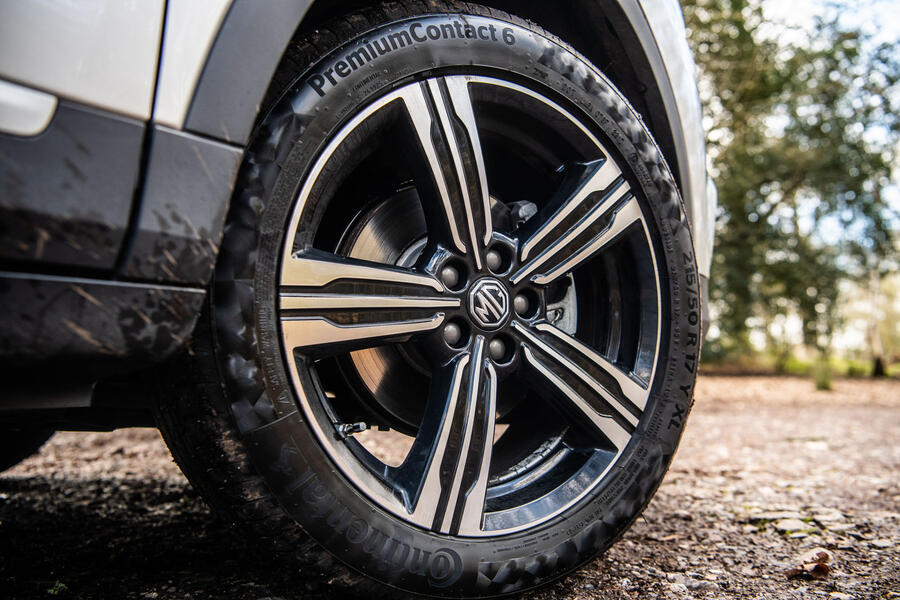 While the 1.0-litre motor doesn't have reserves of power and torque, the ZS hasn't yet felt as though it's struggled in terms of performance. The dual-clutch transmission can be a bit hesitant on kickdown, so overtaking requires a bit of extra forethought, but there's enough poke here to execute such manoeuvres in a manner that won't lead to any snickers from underwhelmed passengers.
It rides well on the motorway, too, but I have observed a tendency for it to crash more than I'd like over pockmarked patches of road. More of a concern is the driving position.
The seats have a tendency to leave my lower back feeling a touch stiff; and as the steering column doesn't adjust for reach, my knees are constantly bent over the pedals. As I'm fairly certain I won't be experiencing a massive growth spurt over the next few months, I'm hoping this is something I'll just be able to get used to. We'll see.
On the whole, though, it's been a (mostly) positive first acquaintance with our new MG ZS. I'm looking forward to getting to know this car better, and to finding out what its strengths and quirks are. I'm sure there'll be plenty to discover; after all, we snappers aren't an idle bunch.
Olgun Kordal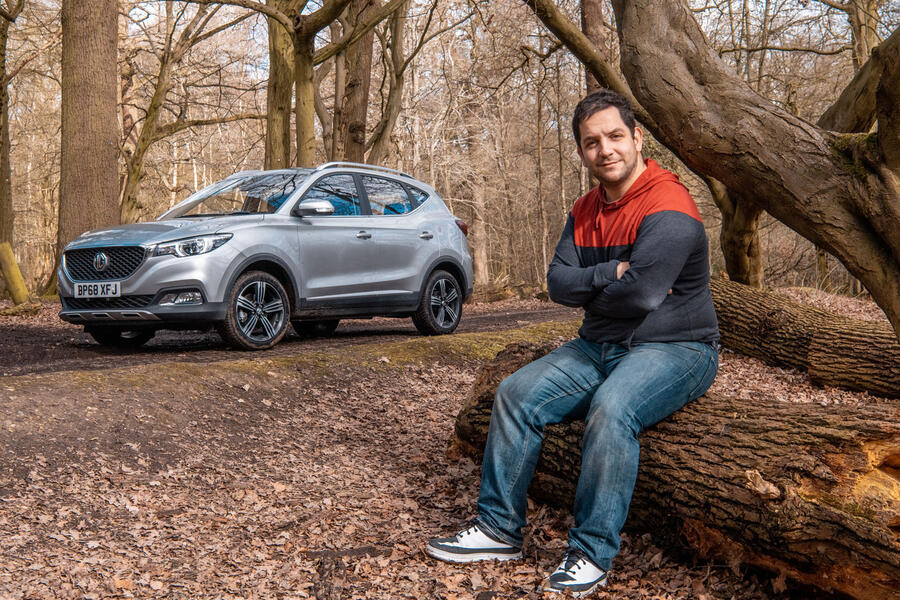 Second Opinion
While the MG ZS is a rather handsome-looking thing, I can't help but detect traces of other cars in its overall design. Its front, for instance, bears more than a passing resemblance to the previous-generation Mazda CX-5. Not that that's a bad thing, mind. 
Simon Davis
MG ZS Exclusive 1.0T automatic specification
Specs: Price New £17,495 Price as tested £17,495 Options none
Test Data: Engine 3-cylinder, 999cc turbocharged petrol Power 109bhp at 5200rpm Torque 118lb ft at 1800-4700rpm Kerb weight 1239kg Top speed 112mph 0-62mph 12.4sec Fuel economy 45.4mpg CO2 145g/km Faults None Expenses None