Porsche has released UK-specific details of the 911 Speedster: a retro-inspired send-off to the outgoing '991' generation of the sports car.
The Speedster is now available to order here priced from £211,599 inclusive of VAT, almost exactly £100,000 more than the existing GT3.
First revealed in production form at last month's New York motor show, the soft-top Speedster is the first to be developed by Porsche's motorsport division. It arrives with the same 4.0-litre flat-six as the current 911 GT3 and GT3 RS, and receives individual throttle bodies similar to the 911 GT3 R race car for improved response under acceleration.
The naturally-aspirated engine revs to 9000rpm, develops 503bhp and 346lb ft of torque, and is paired exclusively with a six-speed manual gearbox. The Speedster promises a 192mph top speed and can crack 0-60mph in 3.8 seconds.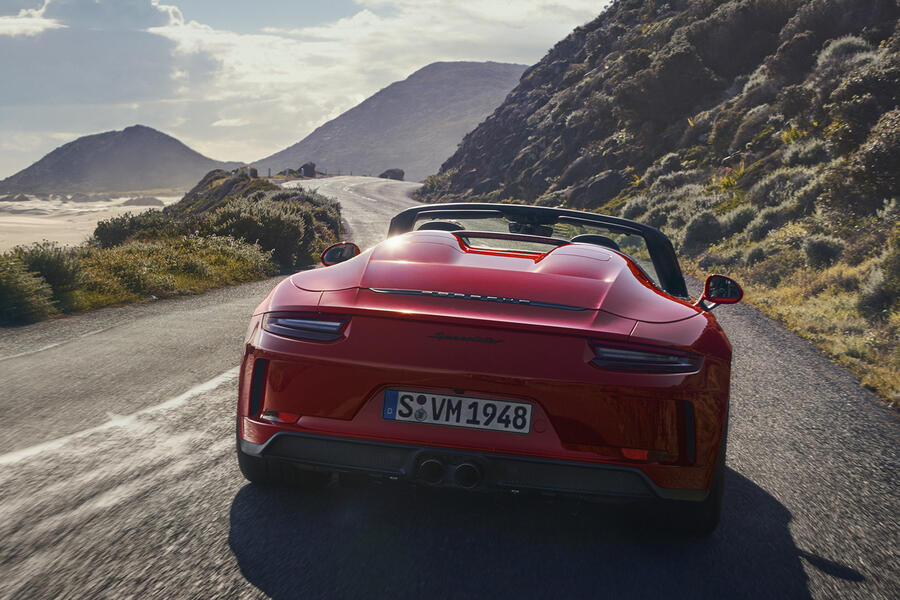 The performance-focused Speedster uses a chassis based on the current GT3, with which it shares the same rear axle steering, dynamic engine mounts and 20in centre-lock alloy wheels. It has a low-cut front windscreen and twin streamliners behind the cabin that have become emblematic of the Speedster range.
Weight saving measures include manual operation for the fabric roof, and ceramic brakes are standard. Body panels, including the front luggage lid, are made from carbon fiber composite, and air conditioning is omitted as standard (though it can be added back in as a no-cost option). Lightened door panels inside the cabin help reduce weight further, with fabric door pulls and cargo nets helping the Speedster to weigh in at 1465kg.
Originally teased last year in concept form for Porsche's 70th anniversary, this latest model now becomes the ninth 911 to bear the Speedster name. It becomes the final form of the 991-generation 911, the 992-generation model having launched at the end of 2018.