"So what do you want to do now? We could go and do some doughnuts," says the chassis engineer with ill-disguised hope in his voice. Out here in the frozen wastes of northern Sweden, it seems almost obligatory to scribe some circles in the snow. Which is how I find myself rotating at impressive speed in a Porsche Taycan, at least until it rumbles what we are up to and starts flashing rude messages at its driver.
"It's the same in all our four-wheel-drive cars," sighs Christian Wolfsried, Porsche's handiest hand on the Taycan programme. If I understand correctly, the front and rear axles have a bit of a pow-wow, figure out they're being asked to do dramatically different things, rapidly conclude the driver is a lunatic and then shut the show down.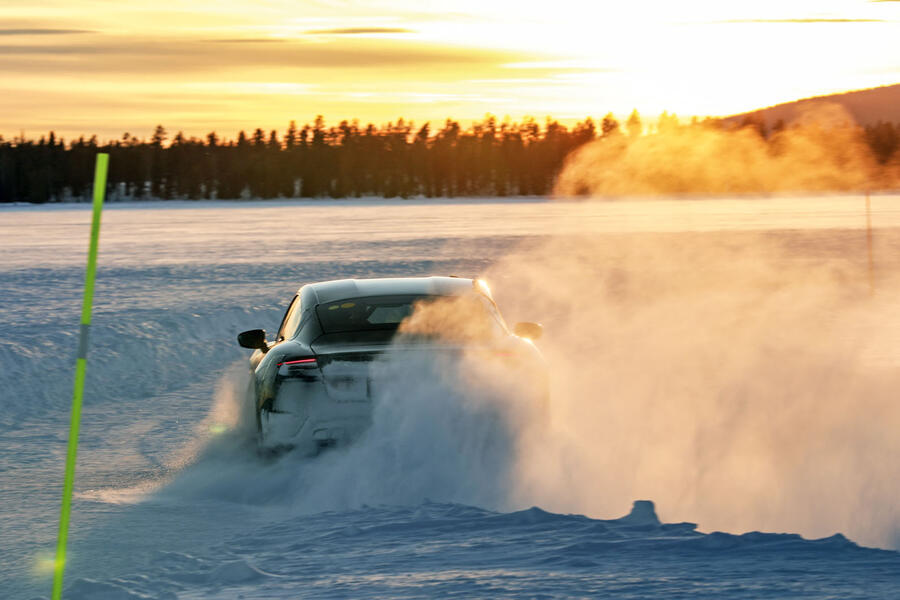 I mention this episode now because it seems that Porsche's intention when inviting me to Lapland in the first place was to reiterate the fact that despite the Taycan being powered by electricity alone, it remains above all a Porsche.
This is the stage in the proceedings at which I become sufficiently uncomfortable to feel the need to issue a hygiene notice. I have not driven the Taycan, I have merely sat next to someone driving the Taycan. Can I tell you that what I felt that day had everything to do with the deftness of its chassis and nothing whatever to do with the evident skills of its driver? Of course not. And even if I could, would I be able to accurately estimate how behaviour on a frozen lake and roads covered with snow translated to what most of you recognise as more conventional conditions? Not with any confidence.
The good news is that you will now be spared the ghastliness of reading an entire story of impressions, only to realise at the last that the author has not driven the car, only by an absence of reference to steering feel. Besides, there is still plenty to be learned and plenty to be said, not least because by Porsche's own estimation, the Taycan is its most important new car, certainly since the Cayenne transformed the business beyond all recognition in 2002, and quite possibly since the 1963 launch of the model that became known only sometime thereafter as the 911.