Porsche has unveiled the eighth-generation 911, revealing a familiar shape and some evolutionary styling – but with a heavily revised range of six-cylinder turbo petrol engines that are more powerful than before.
The new 911 is available to order now in Carrera S and 4S forms equipped with a PDK gearbox, priced from £93,110 and £98,418 respectively. UK deliveries start next March.
The new Porsche is one of the biggest attractions at this week's Los Angeles motor show. It adopts revised horizontally opposed six-cylinder petrol engines that feature a new fuel injection process for added combustion efficiency among a number of significant upgrades aimed at increasing its competitiveness against two-door rivals.
The turbocharged 3.0-litre units, which continue to be mounted in the rear, offer slightly more power than their predecessors. They can be mated to either a standard seven-speed manual or a new eight-speed dual-clutch automatic gearbox.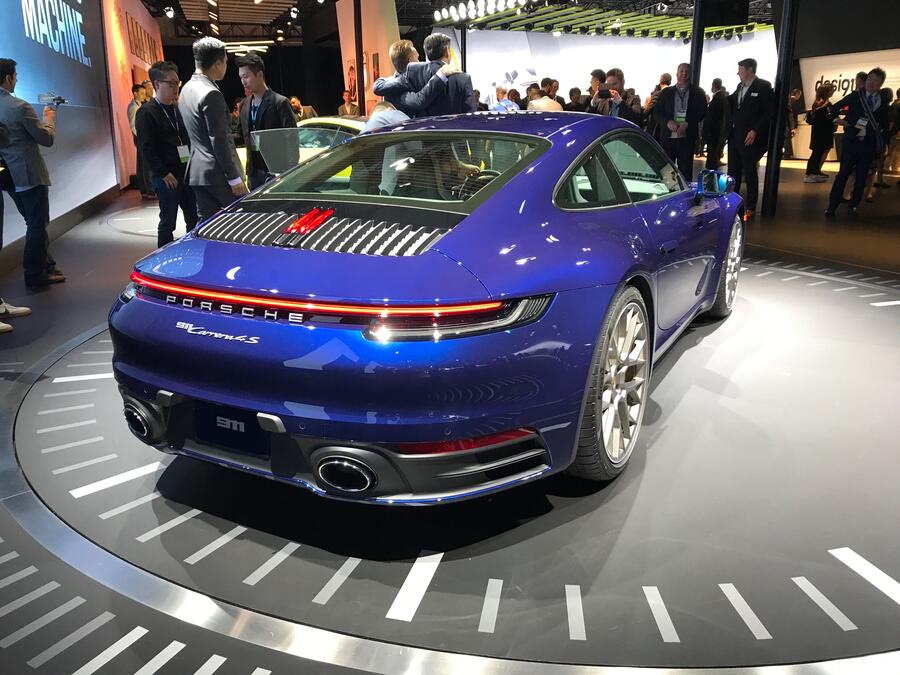 In the new rear-wheel-drive Carrera S and four-wheel-drive Carrera 4S, the reworked powerplant delivers 30bhp more than before, at 444bhp. Together with the revised gearing of the new dual-clutch gearbox, this results in a 0-62mph time that's 0.4sec faster for both of the new 911 launch models, at 3.7sec for the Carrera S and 3.6sec for the Carrera 4S.
These times are shortened by a further 0.2sec with the inclusion of the optional Sport Chrono Package. This brings launch control, revised gearbox software that allows faster gearshifts and a sport response function for added performance. As a result, it provides the new 911 Carrera 4S with a 0-62mph that is 0.6sec inside the time of the old 911 Carrera 4 GTS, at just 3.4sec.
Despite the claim of improved aerodynamics, top speeds are little changed from the outgoing seventh-generation's, with the Carrera S put at 191mph and the heavier Carrera 4S at 190mph. Combined fuel consumption on the superseded NEDC cycle is also close to the old 911's, at 31.7mpg for the Carrera S and 31.4mpg for the Carrera 4S.