What is it?
This is the DS 7 Crossback – the almost inevitable assault by DS Automobiles on the compact SUV hierarchy.
You might have seen its global dynamic debut in the news, because it was via a bespoke DS7 Crossback that French president Emmanuel Macron made his way to the Champs-Élysées during his inauguration. We too have experienced this car before, but not on UK soil.
As a product of the luxury arm of PSA Group – comprising Peugeot and Citroën, along with DS itself – it's aimed more squarely at the likes of the Range Rover Evoque, Jaguar E-Pace and Audi Q3, rather than your Nissan Qashqais, Seat Atecas and Renault Kadjars.
To help the 7 Crossback's cause, DS has shoehorned in so many features that it's difficult to know where to start. Alongside semi-autonomous driving programs, night-vision and aesthetic elements intended to capture French 'savoir faire' both inside and out, the 7 Crossback is also the first among its peers to use active suspension. The broad idea is that you'll be tempted away from more established rivals by the car's fresh take on combining old-school luxury with the latest technology.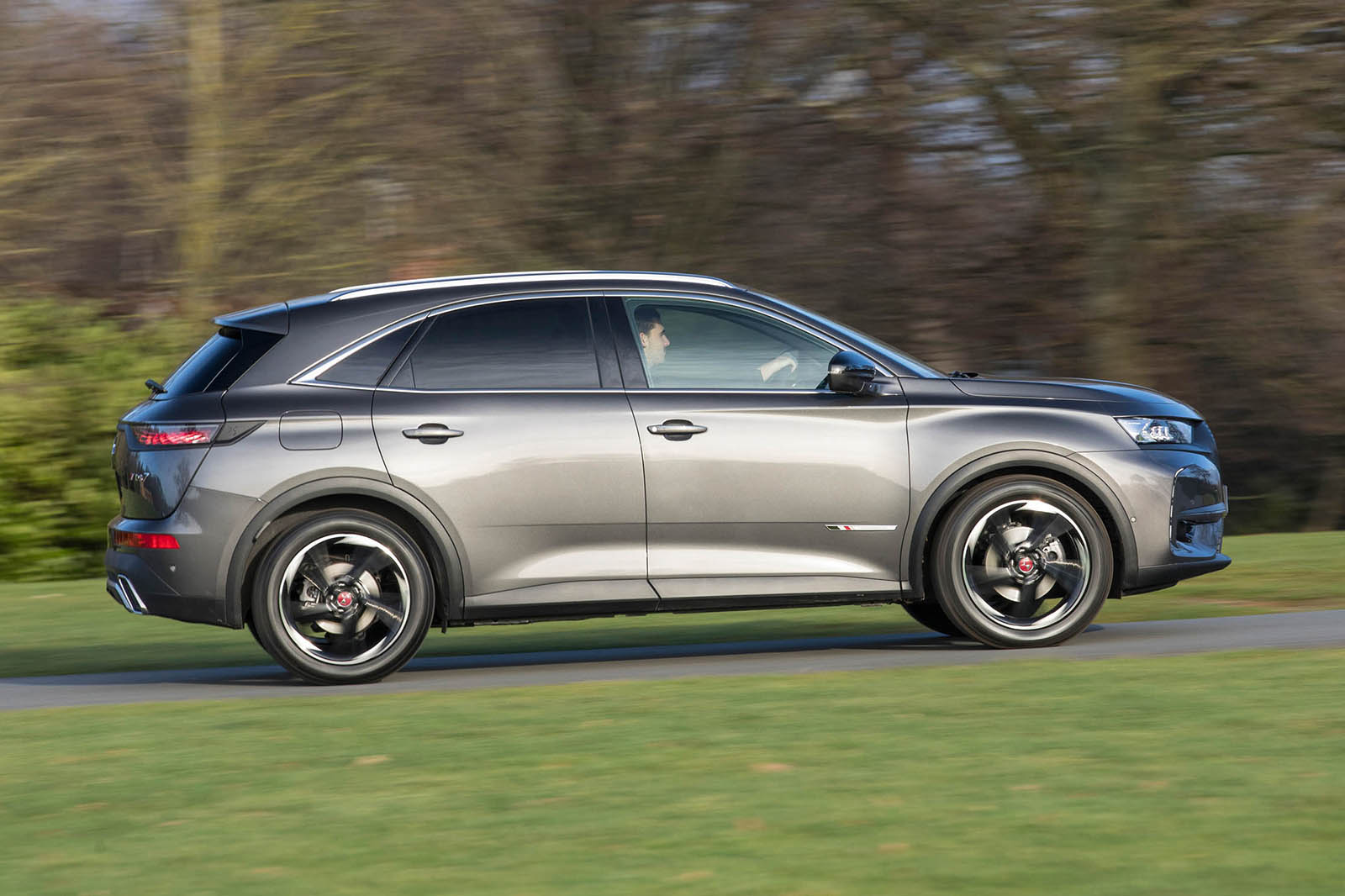 Alas, for all the Breguet-inspired detailing and swivel-eyed LED headlights, this is a familiar product that's built on the same modular platform as the Peugeot 3008 and offers front-wheel drive with a choice of PSA's existing turbocharged diesel and petrol engines.
Furthermore, the assertion that the 7 Crossback possesses a 'unique personality' lasts only as long as it takes to realise its general proportions, and particularly its deadpan front-end styling, closely mimic the Audi mentioned earlier. Is it handsome? In a square-jawed fashion, perhaps, but it relies heavily on jewellery in the form of three-dimensional LED lights and plenty of chrome – or gloss-black if you go for mid-ranking Performance Line trim.
In terms of hardware, an Aisin-sourced eight-speed automatic gearbox is your only choice if you want the 222bhp 1.6-litre turbocharged petrol engine or the 178bhp 2.0-litre BlueHDi diesel. There's also a six-speed manual available for the 128bhp 1.5-litre diesel, and, during 2019, a 300bhp plug-in hybrid with four-wheel drive and an asking price of around £50,000 will arrive.