The SUV came, saw, and pushed estates, MPVs and the odd hatchback off many families' driveways. Offering estate-like space, but with a higher load area and of course the all-important high driving position, the best family SUVs have become the do-it-all vehicles of choice for many people.
Four-wheel drive is standard on many of these larger SUVs, which heightens their towing abilities and gives them some mild off-road capability. For any hardcore mud-plugging, a proper off-roader is the way to go, however. On the flipside, some of them are actually a pretty decent steer on a twisty road.
There should be a powertrain to suit every need here. Many of these cars still offer torquey yet frugal diesel engines, as well as petrol and full-hybrid options. Some offer tax-busting plug-in drivetrains for those looking to run one as a company car. If you'd rather go fully electric, have a look at our 10 best family electric cars.
The best family SUVs
1. Nissan X-Trail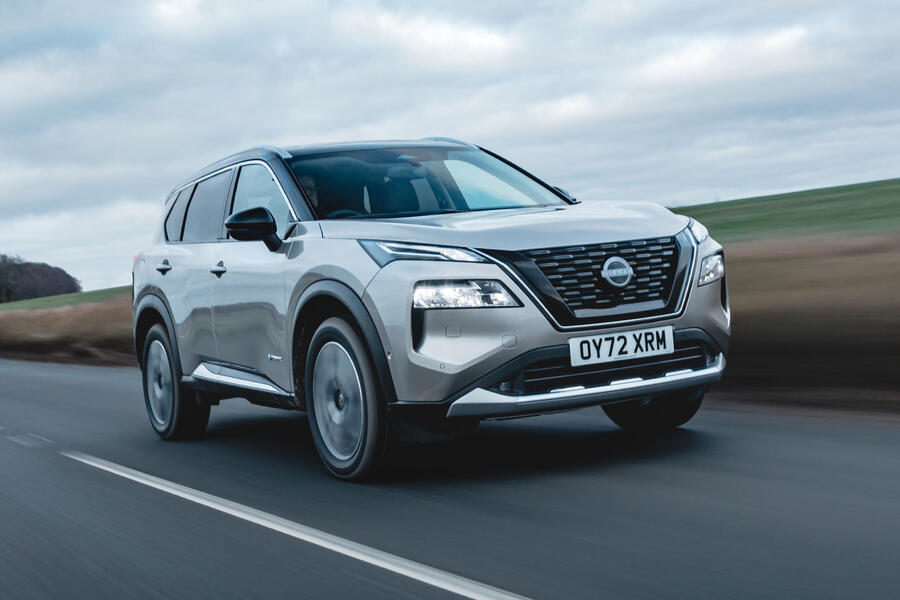 Pros: Good to drive, high-quality interior, option of seven seats
Cons: Not as efficient as the best rivals, smallish boot, jittery low-speed ride
Unusually, the X-Trail is powered exclusively by three-cylinder engines. That doesn't bode well for effortless motoring, but for the e-Power hybrid versions at least, the opposite is true.
Nissan claims that its new hybrid system – where the engine only ever powers a generator and the wheels are driven by electric motors – provides an EV driving experience, but with the reassurance that you can simply fill up with petrol. The X-Trail gets very close indeed, which makes it a very undemanding car to drive. Motorway efficiency is good, but could be better, while efficiency in town is excellent.
Away from the novel powertrain, the new X-Trail is very well considered. It's a slightly smaller vehicle than cars like the Hyundai Santa Fe or Skoda Kodiaq, but still offers seven seats as an option. The second row has plenty of space, the rear doors open 90deg and the boot space is competitive. In front, the X-Trail feels familiar from the smaller Nissan Qashqai, but that's a good thing, because there are big buttons for commonly used functions and the infotainment is mostly logical, which makes the car very easy and frustration-free to use. The front seats are very comfortable, too.
On the road, the X-Trail is an easy-going companion. It suffers from a slightly crashy low-speed ride, but is very supple everywhere else, and even offers some dynamism in the corners.
Read our Nissan X-Trail review
Save money with new X-Trail deals from What Car?
2. Land Rover Discovery Sport