Why we ran it: To assess if Cupra's first own-branded car feels like the real deal or just a Seat made too sporty for its own good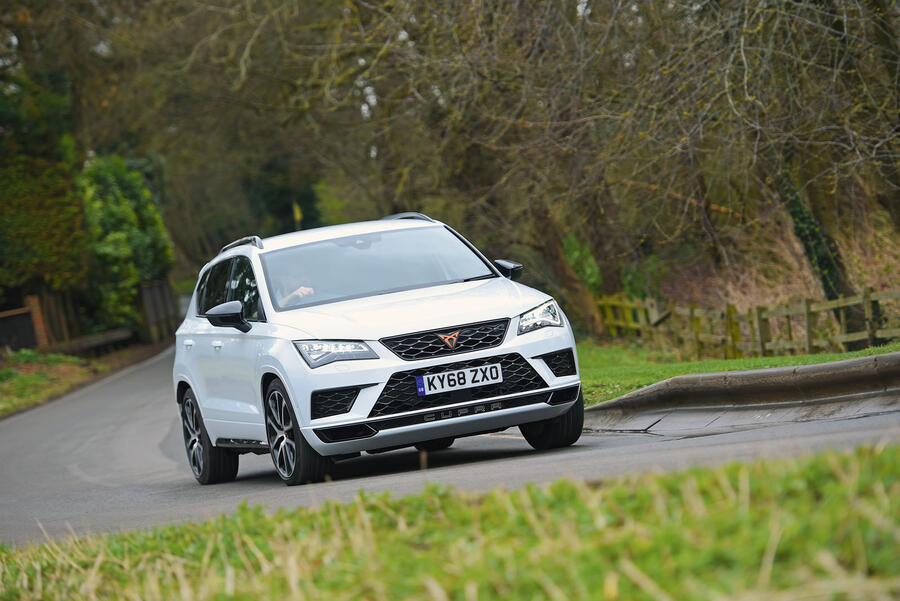 Life with a Cupra Ateca: Month 5
We've just spent the past five months living with the Seat sub-brand's highperformance SUV. So how has it fared? - 24th July 2019
One of the Cupra Ateca's more surprising capabilities – of which there are several – is to start conversations. I've had quite a few with complete strangers, each of them baffled by the origins of its elaborate copper-hued grille badge.
"What is it?" is invariably the question when checking out what appears to be a very mainstream car bearing a badge they've never seen before. Most are happy with my "a high-performance Seat" answer, and most are then strangely uninterested in knowing any more about the Spanish company's new sub-brand.
I mentioned more surprises, and one is the performance. This is a mid-size SUV with the performance of a potent hot hatch. You have 296 turbocharged horsepower to deploy and an at least as effective 295lb ft firing at all four wheels between 2000 and 5200rpm. The effect is to propel 1615kg of Nevada white Cupra to 62mph in 5.2sec and on to 153mph. That's undeniably rapid, but it only occurs when you take steps to overcome the seven-speed dual-clutch automatic gearbox's desire to set the highest possible fuel-saving score in Comfort mode, and its rather unreasonable need to think long and hard when you suddenly want to go.
The DSG transmission's ability to hide most of that 296bhp beneath a blanket of electronic indecision amounts to the most frustrating counterbalance to the Ateca's many positive surprises. Trample the throttle to overtake in Comfort mode and there's a sizeable pause before the Ateca responds. It's mere fractions in reality, but it can prompt the aborting of a manoeuvre. The same can occur when attempting to exit a side road into fast-flowing traffic, this mission also at times abandoned for the same reason.
Why not choose Sport mode, which quickens the cogs' reactions? Because that firms an already over-firm ride to the point of discomfort on the kinds of road surfaces of which this country has too many. It also has the transmission running in lower gears than necessary a lot of the time. A better solution might be to individually programme the Ateca's multiple modes, except that you can't quicken gear selection without having the brain hold onto them for longer. The slack response of the Volkswagen Group's DSG transmission can be experienced in multiple models across the brands and is pretty frustrating at times.
When you do access all of the 2.0 TSI's considerable poke – and using the paddleshifts is another means, of course – the thrust is electrifying, and all the more so because you're sitting SUV-high, not hot hatch-low. Which brings us to another positive, namely the Cupra's ability to make good use of this go, and its Haldex all wheel-drive system, through curves and roundabouts. The advantage of the over-firm ride is limited body roll, precision handling and a remarkable ability to resist understeer.
A few tweets of tyre squeal are the only drama, the Cupra's cleanly sliced line as encouraging as it is unexpected. I never took it to a track day, but were said circuit relatively smooth I'm sure the Cupra would provide heaps of poised entertainment and surprise plenty of fellow drivers pedalling cars with seats much closer to the floor. Just as the early hot hatches made Britain's ageing MG and Triumph sports cars look silly 40 years ago, combining superb handling with supermarket practicality, it's easy to see why SUVs, and especially hot ones, are killing coupés. With an SUV you've got a vehicle that can do almost anything passenger vehicles are required to do, wrapped in a robust-looking package that raises its occupants to loftier levels of well-being than any hatchback or coupé can do.
For a large chunk of the time it was hard to avoid concluding that the car's best bits were the Ateca's convenience rather than the Cupra's sometimes troubled power delivery. Despite this, from an initial period of frustration triggered by the ride and transmission, I've grown quite fond of it, not least for its ability to slingshot towards the next parish with the zeal of a startled cat. I'm used to the ride, the transmission can be made to work and the disappointing early fuel consumption has improved (slightly) with mileage.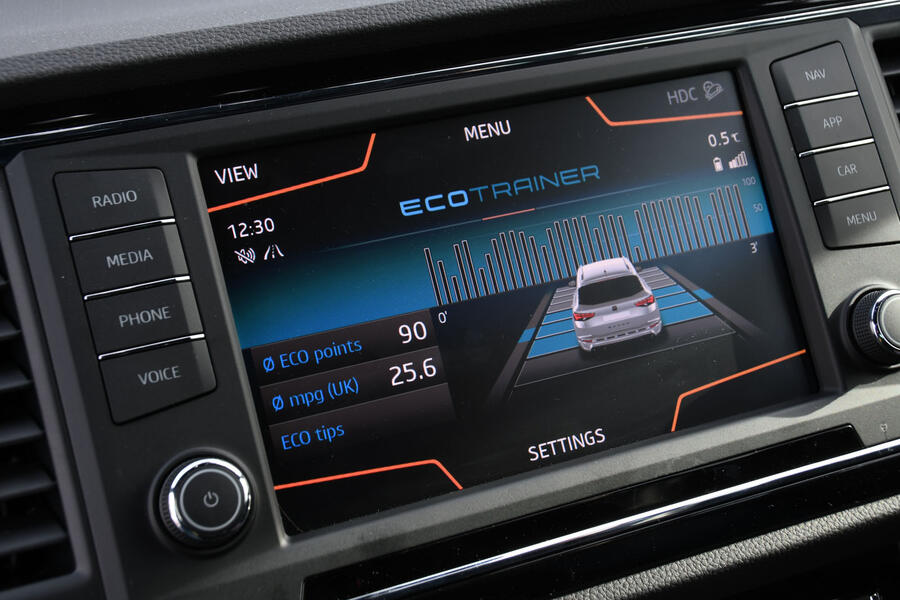 The car came nominally run-in at almost 1300 miles, at which point its thirst sat the wrong side of 30mpg. Pussyfooting about was the only way to drag it towards the less worrisome side of that threshold, and overall it managed 32mpg during 4608 miles of the usual road mix. Long, cruise-controlled motorway runs nudged 35mpg, while an indulgence of its power dropped the figure to the high 20s. That overall figure doesn't sound great until you consider the Cupra's size, its power output and the fact that it's not a diesel.
Petrol refills generated the only bills, but the emergence of a weird gurgling sound from the front end eventually prompted a call to Seat Assistance for reassurance that something wasn't about to lose its moorings. The technician reckoned it was a MacPherson strut top-mount, but actually, explained the Cupra dealer in Letchworth where I subsequently took it, the source was a rubber shock-absorber dust cover. There's a soft recall for this, and the addition of a fuel line support clip.
Letchworth Seat were informative, courteous, helpful and keen to show me their almost-opened new Cupra showroom while we test-drove the car in the (inevitably forlorn) quest to hear the noise. No matter – it was fixed, and were I keeping the Cupra I'd happily go there again. But would I have another Cupra Ateca? Probably not. The ride and DSG issues are too frustrating, and this car not quite special enough (unlike an Abarth) to earn itself a new brand ID.
Second Opinion
The Cupra Ateca disappointed me a bit for true driver appeal during its road test. It's not okay for any SUV – even a fast, compact one – to offer less ride comfort than a comparable passenger car: and an adaptively damped VW Golf R wagon beats the Cupra on both ride and handling.

Matt Saunders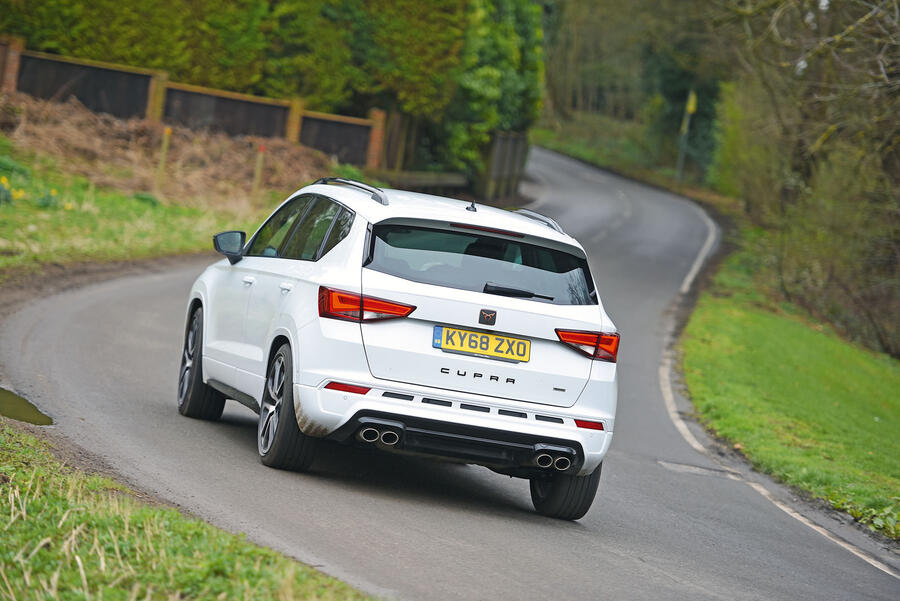 Love it:
Convenience The Ateca's generous, flexible, accommodation includes features such as this rear-seat phone cubby.
Transparent infotainment The VW Group system is a model of clarity and ergonomic ease – unlike the variations in some Audis, oddly.
Grip and turn-in In Sport or Cupra modes the Ateca attacks corners with high-grip, low-roll, high-precision zeal.
Loathe it:
Small bump bother The 19in rims are super-stylish and clean easily, but the 40-profile tyres make big meals of small bumps.
Lever of power The seven-speed DSG takes almost as much effort as a manual to get the best from the potent engine.
Final mileage: 6096
Life with a Cupra Ateca: Month 4
The view from up top - 26 June 2019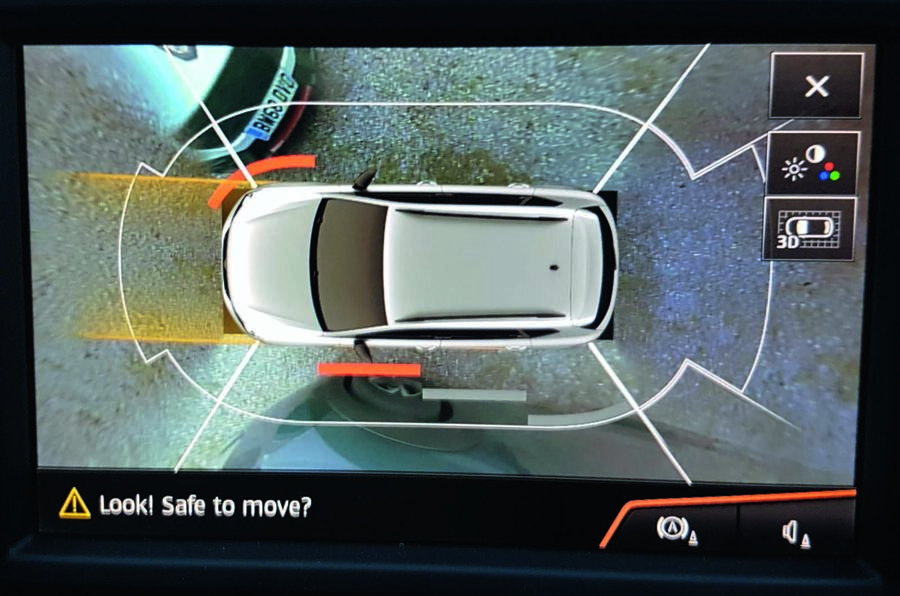 The image you see here is of the Cupra's bird's-eye view of itself while threading a path between an Abarth 124 Spider and a Citroën C5 Aircross. This not entirely new technology still mildly amazes, by knitting together an aerial view from a mix of camera angles gathered well below the car's roof level to deduce the resulting avian view.
Mileage: 5553
No more questionable noises - 12th June 2019
The gurgling has stopped. Sometimes, the noises emerging from the Cupra's offside front sounded like ancient central heating with an airlock. There isn't space here to detail the cause, but the fix was easy and carried out by a very attentive Seat and Cupra dealer in Letchworth, who provided excellent service and a Leon Cupra loan car.
Mileage: 5173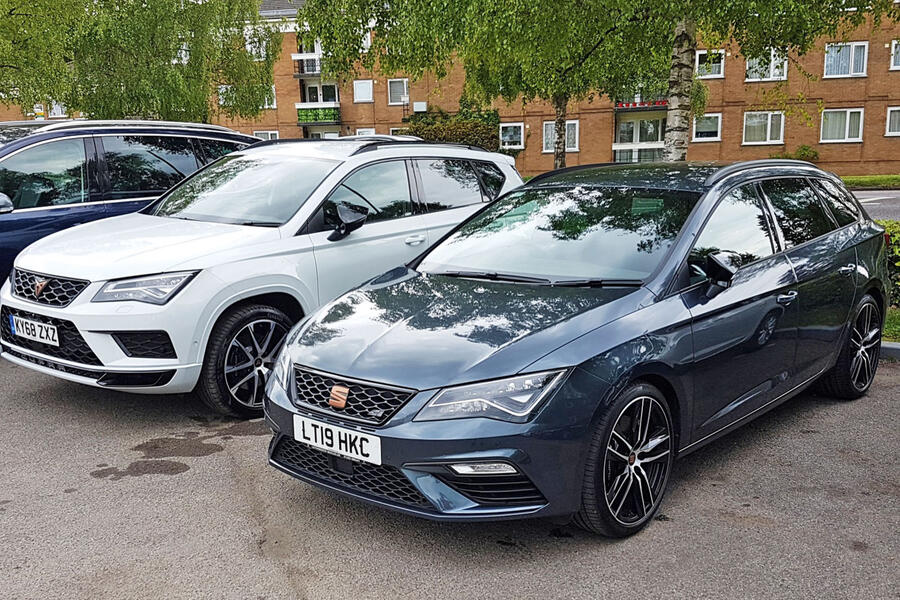 Life with a Cupra Ateca: Month 3
Our Cupra's by no means as sinister as the logo suggests – especially at 2000rpm - 29th May 2019
There was a small cluster of people gathered around the nose of the Ateca in a car park the other day. They were staring at its grille.
Was some strange wildlife caught in its wide-holed mesh, or were there odd noises emerging from beneath the bonnet? Neither. Instead, they were discussing the Ateca's copper-coloured Cupra badge – one of them, I subsequently realised, having parked next to it in a Seat Leon FR. He knew its significance, and was explaining it to the other two. The Cupra has now triggered several moments either of approving recognition, or bafflement sufficient to trigger questions. Brand badges on cars seem to do their identifying job, then.
Following the emergence of the previously reported squeaky offside MacPherson strut top mount bush, I've discovered that this is the subject of a manufacturer fix. The offending item is replaced as a matter of course when the car is in for a service, or before if an owner requests it. So the weird – and sometimes weirdly entertaining – gurgling, squeaking, knocking and drumming is not unique to this car.
It should have been fixed by now, but I had to delay my visit to the dealer. I'm not sure whether they'll be able to fix another small issue under the car's warranty, though. The Cupra's Volkswagen Group remote key fob came attached to a small, matt black metal ingot from which the Cupra badge has been cut. It's quite striking and a little sinister looking, perhaps implying membership of a club of slightly unsavoury activities. Anyway, I dropped the keys and the ingot broke off. Which hardly constitutes a fault, but it is – literally – a Cupra-branded part.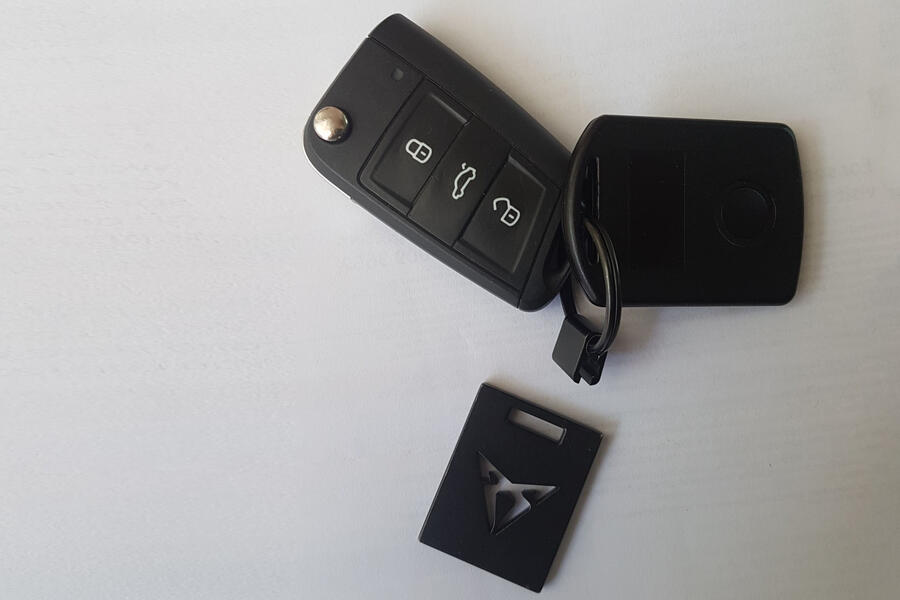 There are no other failings of this kind to report, happily, and the Cupra continues to do its thing. Which is to provide many cubic metres worth of convenience in a package punching out 296bhp, if you get lively with throttle and paddle shifts.
All those horses are most dramatically felt if you succeed in sinking the accelerator without prompting the seven-speed transmission to kick down a gear or two, which is best achieved by manually paddling. It's when there's no wait for a ratio change that you experience the fulsome flood of the 2.0-litre turbo's 295lb ft, a torrent at its strongest when you strike 2000rpm. At this point, the Ateca shifts with an alacrity pleasingly at odds with the volume of space behind your seat.
It's then that you begin to believe that this car really can reach 62mph in a fleeting 5.2sec, aided by an all-wheel-drive system that sees to any low-gear, high-rev traction issues by rapidly roping in the back axle to assist with the catapulting required. This really can be a fast car provided you're in the right gear. The all-wheel drive civilises the process of firing torque at Tarmac too, besides providing extra reassurance in the rain.
This particular Cupra comes with several additional civilising features as part of the £1930 Comfort and Sound pack. These include traffic sign recognition, lane assist and high-beam assist, together with an upgrade to a Beats stereo, a power tailgate, heated front seats and the provision of a space-saver tyre.
Some of my colleagues would be keen to add £1600 for front bucket seats too, various road testers finding the standard pair decidedly uncomfortable. I don't, but they do produce leg ache after a couple of hours, and could be more supportive of the upper body given this Ateca's g-force generating potential through corners. The front seats look pretty bland for a high-performance model, too.
The Ateca will shortly be off to a dealer for the banishment of its squeak, and a chance for its driver to check out the branding of a Cupra showroom.
Love it:
Practical performance Loads of room for most transporting tasks, either human or chattel. And the phone-charging repository.
Loathe it:
The gloom Black dash, black seats, black carpet, black headlining. Although it goes with the black keyring.

Mileage: 4747
A Sporty SUV is still an SUV underneath - 8th May 2019
So far, the best thing about the Cupra Ateca is that it's an Ateca, rather than a Cupra. By which I mean that all the things you get with any Seat Ateca are what make this Cupra satisfyingly convenient. It offers plenty of room in the front, in the middle row and boot, its controls are logically arrayed, it's quiet and, notwithstanding that low-rev torque hole, easy to drive.
Mileage: 4485
Life with a Cupra Ateca: Month 2
No shortage of space for a sporty SUV - 17th April 2019
The great thing about combining a potent engine with a practical car is that very often it's the practical car you need. Lately the Cupra has carried tiles to the tip, bodies (live) to a restaurant and its suitcase-laden custodian to the airport with an ease that defeats most sports cars. Even loaded, 296bhp is ample. It's easy to see why sportier sports utility vehicles are set to multiply.
Mileage: 4026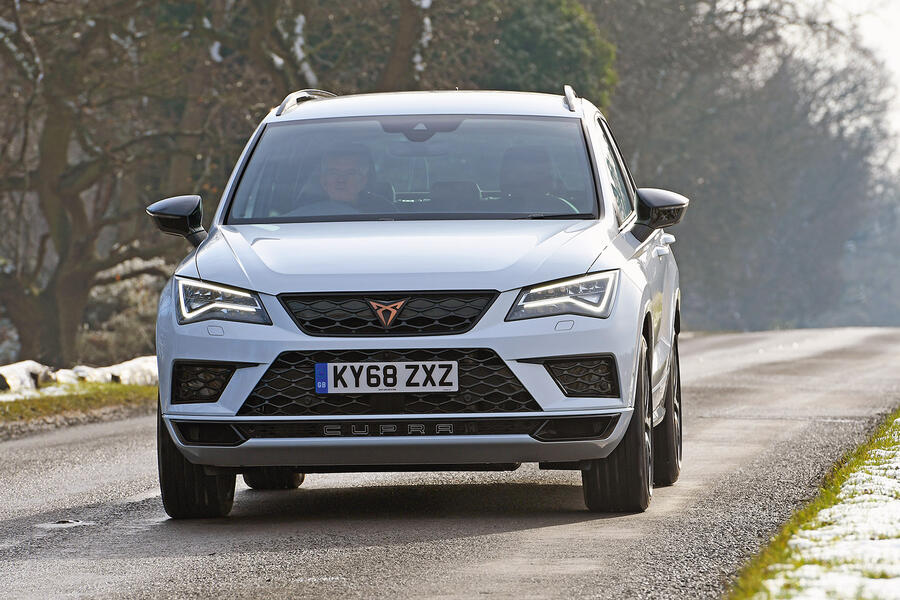 Gurgles and squeaks have led to a pit stop with a dealer - 3rd April 2019
"This is an amazing engine," said the technician looking at the Cupra's 2.0 litres worth of turbocharged four cylinder. "I built one with 600bhp and fitted it to a Volkswagen Caddy. No modifications to the bottom end were needed – they're really strong."
On that basis, assuming the Caddy doesn't blow up after 20,000 miles, there should be no reason to worry about this 296bhp version of the engine getting overstressed.
So why was a technician looking at the Ateca? Because it had been making odd noises. At first, it sounded like gurgling water, rather like a central heating system that needs bleeding. I kept an eye on the temperature gauge, wondering if there was air in the cooling system, but it never strayed. I wondered if a pool of water had got trapped somewhere under the bonnet, or even in the driver's door, the noise seeming to come from the offside front. I also drove the Ateca with the bonnet open, slowly, in an attempt to hear more clearly, but got no closer to pinpointing the source. And then on a trip to the Lake District, the character of the noise changed, from a gurgle to a squeak. That sounded more like suspension, and the noise wasn't going away. Time to call a dealer.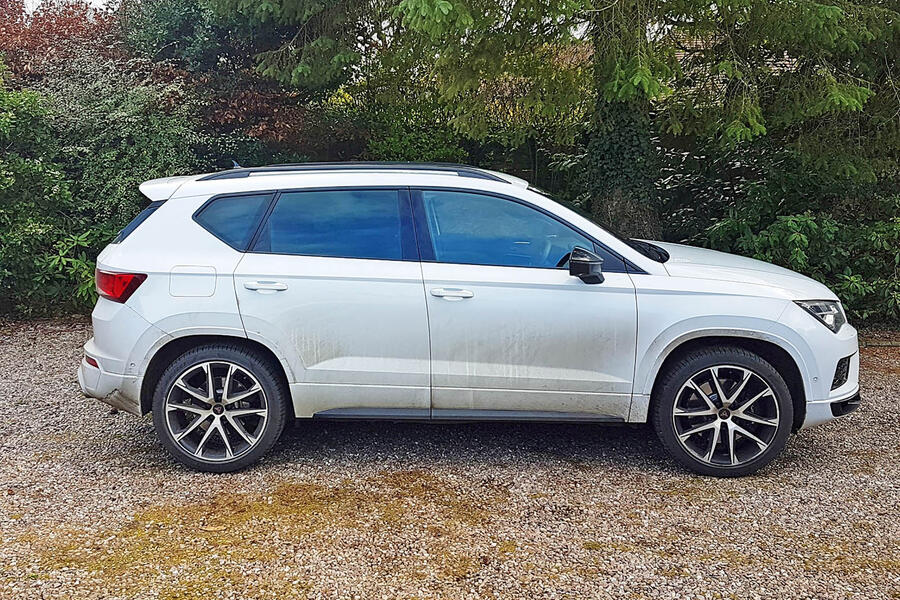 The Cupra network isn't huge. In fact, not every Seat showroom includes the sub-brand, making the garage most convenient to me 23 miles away. But Letchworth Autoway Centre in Hertfordshire couldn't take the Cupra for a couple of weeks – not quick enough if you think your problem might affect the car's safety. Instead, they helpfully suggested, call the SeatAssist line.
I did, and within an hour a technician had arrived, and in less than a mile of demonstrating the squeak, he'd told me it was a rubber bush in the MacPherson strut top-mount. There was nothing to see under the open bonnet – the strut bolts were all tight – but this was when he pointed out the amazingness of the Ateca's engine. Which was good to hear, as was the news that the noise was merely a vocal bush. The Cupra is now booked in for April, and for an overnight stay given that the entire strut assembly will have to come out. Not ideal, but it will be a chance to see what a Cupra showroom looks like.
Meanwhile, the muddy lanes where I live make the Ateca look as if it's been on an expedition, so grimed has its paint become. There was a time when muddying your four-wheel drive was a mark of adventurous honour in mudless London, but in Hertfordshire the Cupra looks like what it is: a car in need of a bath. A jet-wash awaits.
More miles have also provided several opportunities to make use of the engine's modest (by Caddy dragster standards) 296bhp. Using the sport mode and sinking the accelerator with commitment produces enough overtaking power that you can start backing off even as you pass the vehicle in question, which in my book is a sign of real potency. It's a surprise, too, if you've merely been using the Ateca for practical and commuting duties, its turn of speed at odds with its crossover character, if not a rather sexy set of alloys.
Love it:
Passing potency As long as you're in the right gear, truly swift and effortless overtaking awaits.
Loathe it:
Stiff-legged ride Although it's better than the patter and bounce of a mate's new C43 AMG Benz cabrio.
Mileage: 3984
Parking brake perils - 27th March 2019
Click. Thwang. This is the sound of the Cupra's electronic parking brake button being depressed, followed by the graunchy, resonant twang of the brake shoes or pads (I'm not sure which, yet) freeing off if the Ateca has been parked up for a few (damp) days. They haven't stayed stuck on yet, but it's something I'll be keeping an eye on.
Mileage: 3248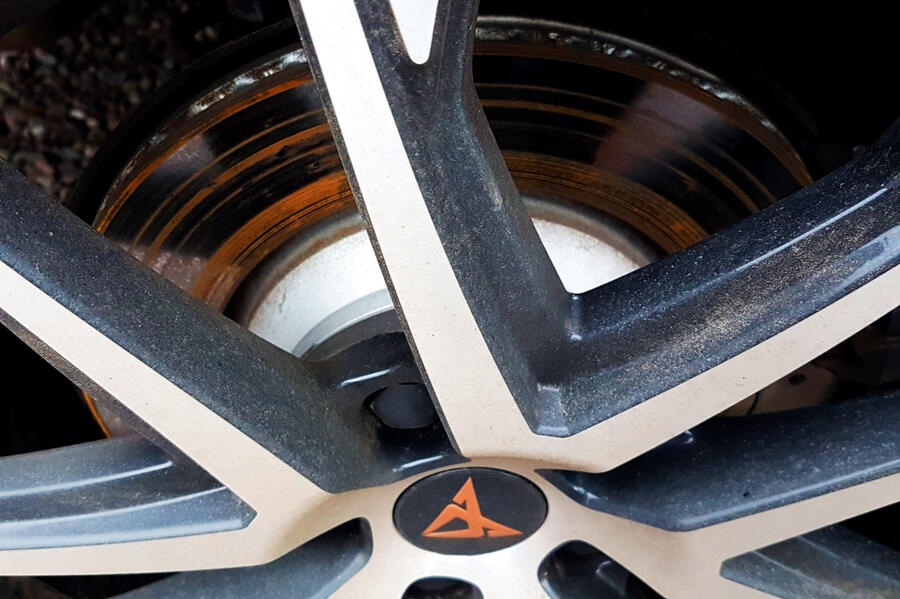 Potent SUV proves its user-friendliness – providing the gearbox can keep up - 13th March 2019
So I'm rewinding the last 2800-odd miles I've now travelled in this car, thinking about the things I most like, and what's popping up first are the excellence of the Volkswagen Group infotainment system – a model of usability and in stark contrast to the confused controls of the new Toyota Corolla driven recently – and the usefulness of the powered tailgate, which has the handy feature of merely unlatching if you stab its centre console release button briefly. The lid only rises fully if you hold said button down to trigger the lifting mechanism. It's a good precautionary feature if you've reversed into a tight spot.
Neither of these items has anything to do with the fact that this Ateca is not a Seat but a Cupra, and therefore comes with 296bhp and the potential to harpoon 60mph from rest in only 4.9sec, although there are many moments when this car doesn't remotely feel like one with that much power to unleash. As mentioned in the car's introduction, an indolent seven-speed dual-clutch automatic transmission does much to blunt its performance, with its inability to select a gear, any gear, when you mash the throttle being a source of some frustration. It's particularly an issue when you want to overtake or need a bursting surge to blend with the traffic on a busy roundabout. The pause can be that long that you sometimes have to abort.
So the transmission, the tailgate and the sat-nav have all stood out so far, as has the continued interest in the Cupra from others. A fellow Ateca owner encountered at a vehicle dismantlers asked what it was like with nearly 300bhp. The answer is, if you're in the right gear, startlingly swift and pleasingly smooth with it. The Cupra also feels stable and secure enough to handle the power with ease, although I have yet to drive it hard in rain.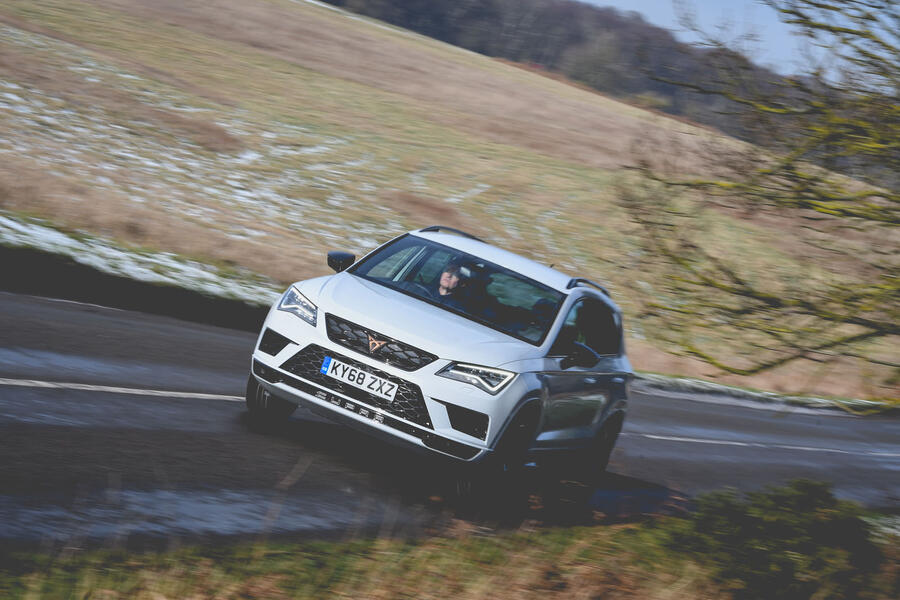 Years ago, magazines ran long-term test cars knowing there was a fair to good chance that the vehicles would develop paragraph-generating faults. That's rare today and so it proves with the Ateca, which had been fault-free until a week ago, when it generated a couple of sentences. I reached inside to pull the bonnet release, which did its job before coming off in my hand.
In its defence I tugged at the lever, which lives on the passenger side, from behind the wheel, and the angle perhaps caused it to come adrift. Nothing seems broken, and I've clipped the lever back on. The bonnet was being opened not to investigate trouble but to access the battery to jump-start another car (a long-dormant Seat Mii, as it happens).
The improving weather will doubtless yield more opportunities to enjoy those 296 horses, which run a lot more willingly if you knock the gearlever rearwards for Sport mode, or paddle the paddles. Using these techniques, it looks highly likely that this Cupra will be able to consume roads at quite some pace. The same may also apply to unleaded, which has improved from the 29mpg or so of the first few miles to more than 33mpg now. But I suspect this figure will take quite a tumble when the throttle dips deep.
Such numbers are easily gleaned from the display tucked between speedo and rev counter, with a combination of a large rocker button and a small rotary drum on the steering wheel enabling you to shuttle between different trip logs as well as the navigation map, your radio station and so on. Details like this provide light entertainment on duller roads, while radar-controlled cruise shares the load of traffic-snarled motorway slogs.
So it's an easy car to live with, and one whose power is well hidden – although that's an arrangement not without appeal, the character of the car changing substantially when you work it hard. It's now due a wash, although at least for now it has an authentically rugged look.
Love it:
Impressive interface Volkswagen Group infotainment is an object lesson in ergonomic clarity. It makes you wonder how others make such a mess of it.
Loathe it:
Tardy transmission DSG auto 'box is often a real impediment to swift progress, taking too long to translate a sunk throttle into action.
Life with a Cupra Ateca: Month 1
Our new Cupra already has its fans but will we be among them in six months' time? - 27th February 2019
"Who makes this car?" asked the lad at a hand car wash the other day, the strange copper-coloured badge and 'Cupra' lettering across an air intake providing him with insufficient clues. I explained. "Is it the first? Will there be more?"
Yes and yes: the new Cupra Ateca (don't forget to forget the 'Seat') is the first of several that will include a Cupra Leon and, in time, the Formentor - an entire car bespoke to Cupra rather than derivatives of Seats.
Of course, the Cupra name is far from unknown, especially among enthusiasts, who have bought more than 60,000 cars badged thus in 40 countries over two decades. Seat's broad aim with this brand is to give itself the freedom to develop more specialised and expensive sports models without their price being limited by the value-for-money aura of the parent marque. The relationship is similar to the Fiat and Abarth linkage and the man behind the rebirth of Abarth and birth of Cupra is the same: Seat boss Luca de Meo, formerly a Fiat marketing whizz.
That de Meo might be on to something was borne out by the first long-distance drive in this white four wheel-drive 300bhp machine. KY68 ZXZ triggered much excitement on a slow-moving section of the M6. I was asleep at the time, leaving my wife to wonder why the occupants of an Ibiza Cupra, also white, were almost leaping up and down at the thrill of seeing this latest Cupra beastie. That said, the girl in the passenger seat found her movement restricted by the box of beer on her lap, reported my wife. In fact, much of the space not taken by the Ibiza's three occupants appeared to be filled with boxes of alcohol. Which might explain their excitement at the big-booted Ateca.
Besides a decently scaled luggage bay and some copper badging, what else does this ultimate version of the Ateca provide for £35,900? Primarily go, and plenty of it. The 2.0 TSI turbo petrol engine produces 296bhp in an SUV weighing 1540kg and all-wheel drive enables it to erupt to 62mph in a rapid 5.2sec. Our road test team recorded a 0-60mph time of 4.9sec, in fact. The power and a solid 295lb ft are channelled through a seven-speed dual-clutch gearbox with paddle shifts. The Ateca tops out at 153mph, which should be fast enough for most.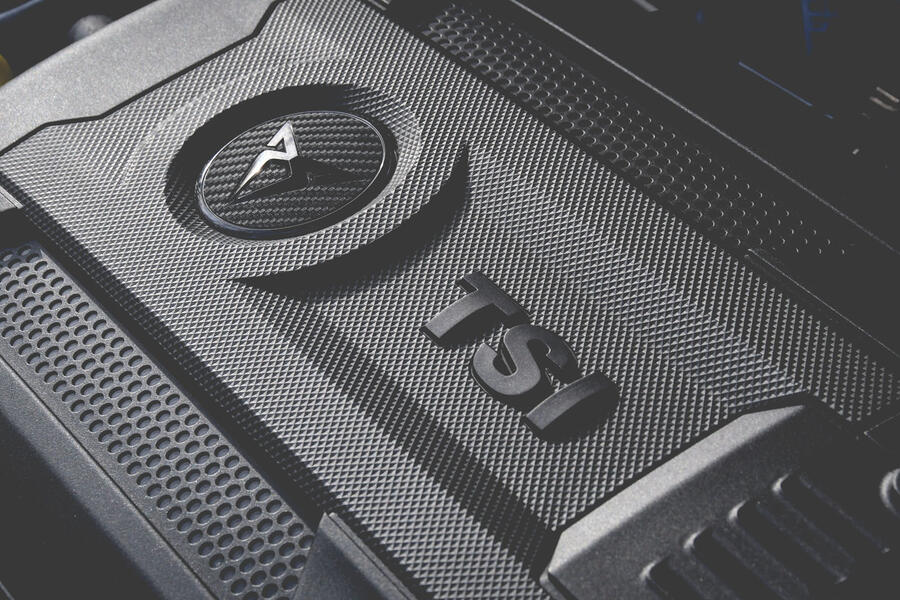 The Cupra's performance package also includes adaptive dampers. Their mode is selected via a rotary knob in the centre console that alters a variety of parameters to deliver comfort, sport, individually adjustable, snow, off-road and high-performance modes, the last of these labelled Cupra.
Given that this car was only just run-in when it arrived, at 1029 miles, and that its first journey was mostly motorway, there's been little chance to explore these six settings, although the incentive to leave it in comfort for the country lanes where I live is strong because the ride is quite firm, even in that mode. More positively, however, the car feels tautly constructed and the suspension is quiet and consistently damped over bumps that are more rounded off than absorbed.
You get a subtle hint of the Ateca's intent in that comfort setting, then, but not much from the transmission, whose ambition in the normal mode is to score the highest ratio possible. There's not too much wrong with that, given this will save you fuel, but it's more of an issue when you want instant, opportunistic acceleration, the gearbox momentarily paralysed while its brain attempts to decode what you might want or, more specifically, which of the seven ratios might best deliver it.
By the time that has happened, the chance may have passed, or you surge off with absurd zeal, having pressed the accelerator still harder to provoke a response. An occasional momentary lull before the turbo charges can lengthen the pause. Choosing the sport mode helps, or you can pull on a paddle. Urgently.
But enough of these minor carpings. There's plenty else to be pleased about when surveying this Cupra's cabin, ranging from a virtual instrument display that can place a navigation map right in front of you to a wireless phone-charger bay in the centre console, a decently sized infotainment screen using the Volkswagen Group's excellent control logic, suede seat facings and, rather absurdly, a carbonfibre-weave vinyl material for other parts of the seats and the steering wheel boss.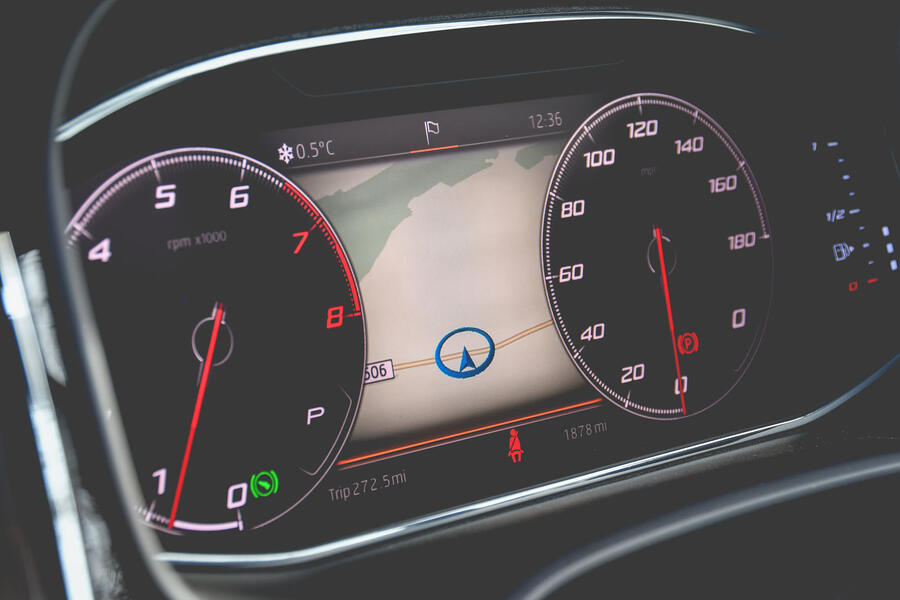 The wheel itself is a pleasant thing to clasp, and the driving position is good, but as noted in our road test, the standard seats lack thigh support and are rather tamely shaped given this car's dynamic ambitions. There will be a bucket seat option but, at £1600, that's an expensive solution.
This particular car has other options, though, all of them bundled within the £1930 Advance Comfort and Driving pack, which provides traffic sign recognition, lane assist, high-beam assist, a space-saver spare wheel, an electric tailgate, a Beats audio system (very good) and heated front seats to create a reasonably well-equipped carry-all delivering excitingly assertive acceleration.
Over the next six months, we'll find out whether this, the electronically damped all-wheel-drive chassis, some styling tweaks and a fair haul of kit are enough to warrant those Seat Ibiza Cupra warriors bouncing about excitedly in their bottle-filled car.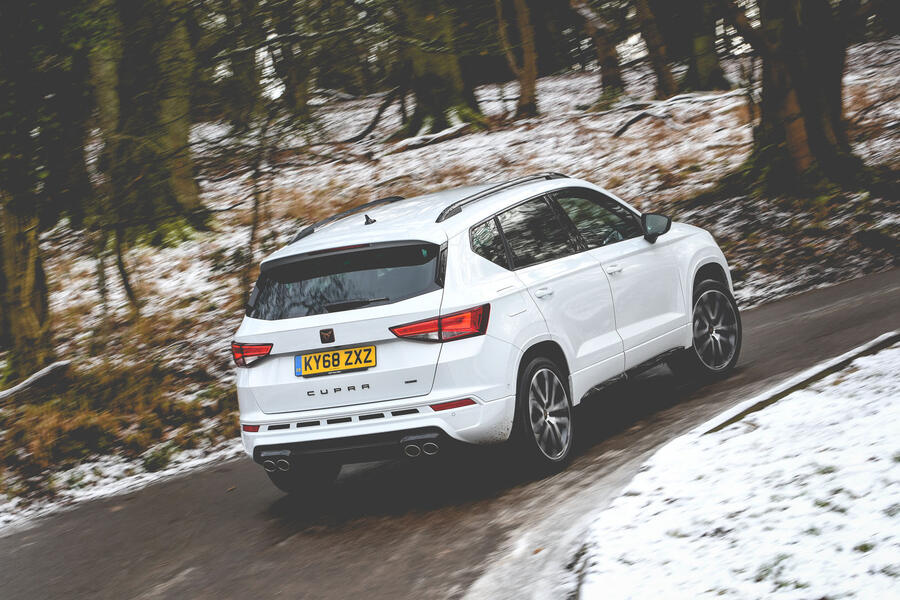 Second Opinion
One thing the Cupra Ateca seemed to me to lack, back when we road tested it, was proper separate-entity design distinctiveness. I'll be interested to find out if Richard feels the same way after an extended relationship, especially as his car does without the optional Design pack, which, adding copper-coloured alloy wheels and a bit more interior decoration, might have addressed that issue. I'm also keen to know if the ride wears itself in a bit. It'd be irritatingly firm and fussy for me in a daily driver.
Matt Saunders
Cupra Ateca Prices and specification
Prices: List price new £35,900 List price now £37,845 Price as tested £37,830 Dealer value now £31,950 Private value now £28,000 Trade value now £26,000 (part exchange)
Options:Advance comfort and driving pack, including traffic sign recognition, lane assist, high-beam assist, space-saver spare wheel, electric tailgate, Beats audio and heated front seats £1930
Fuel consumption and range: Claimed economy 31.7mpg Fuel tank 55 litres Test average 32.0mpg Test best 35.1mpg Test worst 27.3mpg Real-world range 350 miles
Tech highlights: 0-62mph 5.2sec Top speed 153mph Engine 4 cels, 1984cc, turbocharged, petrol Max power 296bhp at 5300-6500rpm Max torque 295 lb ft at 2000-5200rpm Transmission 7-spd dual-clutch automatic Boot capacity 485 litres Wheels 8.0Jx19in, alloy Tyres 245/40 R19 Kerb weight 1615kg
Service and running costs: Contract hire rate £357 (36 months, 8000 miles per year) CO2 192-201g/km Service costs none Other costs none Fuel costs £894.08 Running costs inc fuel £894.08 Cost per mile 19 pence Depreciation £11,830 Cost per mile inc dep'n £2.76 Faults Bonnet release lever came off (twice), front suspension noise