When it comes to celebrating the 60th anniversary of the Mini, what better way to let your hair down and party like it's 1959 again than releasing a 160mph tearaway like the new John Cooper Works GP?
To be specific, the third-generation GP is a 164mph tearaway. As anyone that's followed the Mini's evolution will know, the range has matured since the evocative name returned to our roads in 2001. And the GP is no exception.
Where the original, supercharged R53 was a handbuilt special that was assembled by Bertone and finished by Mini dealers, its R56 successor was more sophisticated, a car that you could drive to the Nurburgring for a hot lap or five without regretting the decision the moment you hit the first stretch of motorway.
Since Mini showed the latest GP concept at the 2017 Frankfurt motor show, a lot of drivers have dared to dream that the third-generation car might recapture some of the attitude of the original car, which was a bit of a riot on the right stretch of road. That's because the concept, overseen by Oliver Heilmer, looked for all the world like a TCR touring car.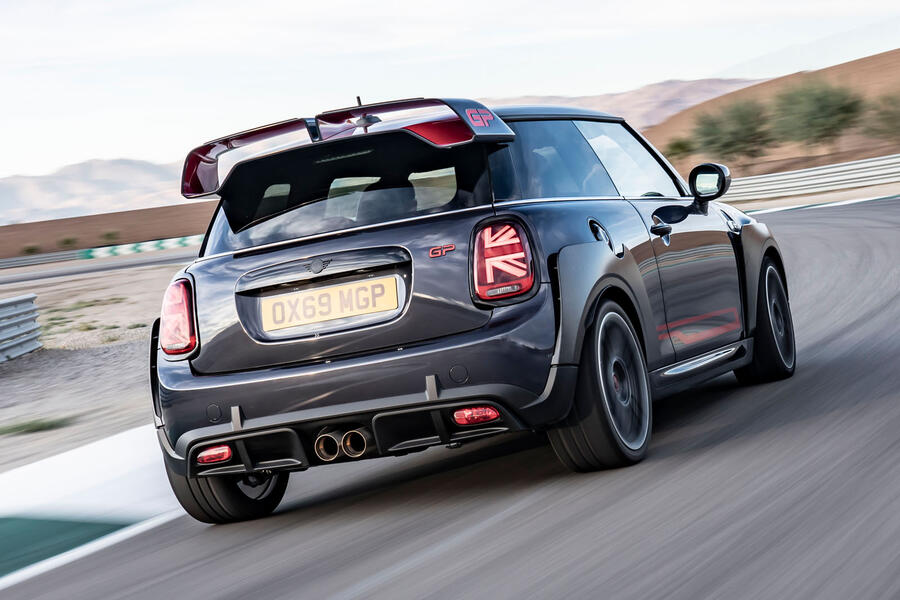 That attitude remains intact for the production model. Each car bears its number on the front wheelarch extensions, which are fashioned from carbon-fibre reinforced plastic of the sort found in the BMW i3. The stance is, well, slammed, and those arch extensions allow for 40mm of extra track compared with a JCW hatch.
The back wing is nearly as large as an original Mini and the neat looking 18-inch alloy wheels wear 225/35 Hankook Ventus tyres, with a choice of treaded S1 Evo Z rubber or semi-slick TD versions.
I drop into the passenger seat of a car wearing the semi-slick tyres. Remember, there's only one passenger seat in the GP, with the back chairs binned and a bright red brace spanning the space. My driver is Jürgen Metz, who developed the chassis of the latest GP. That could be good news; he has worked on both previous iterations and has benchmarked competitor vehicles including the RenaultSport Megane and Honda Civic Type-R, so should have a feel for what makes a GP distinct.