Autocar has been given early access to the Aston Martin DBX ahead of the car's unveiling on 20 November, including a passenger ride alongside Aston's chief engineer, Matt Becker.
The new SUV will be the most complex car in the company's history when it arrives next year and Aston Martin has confirmed a starting price of £158,000.
UPDATE: The Aston Martin DBX has been revealed - full story here
The five-door 4x4 rides on a new aluminium platform and will be powered initially by a 542bhp 4.0-litre Mercedes-AMG V8. The twin turbocharged has been given an Aston tune, particularly aurally, with less bass than in its AMG applications. It drives through a nine speed torque-converter automatic gearbox, the first time Aston has used the Mercedes '9G' transmission. Other powertrains will follow and the platform will be used for other Aston models.
The new platform allows the engine to be placed well back in the engine bay and none of the block overhangs the 22in front wheels. Extruded chassis sections along its length meet vast castings at each corner, providing great body strength. Aston says torsional rigidity, at 27,000Nm/deg, is high, but that just as important is great hard-point stiffness to reduce road noise.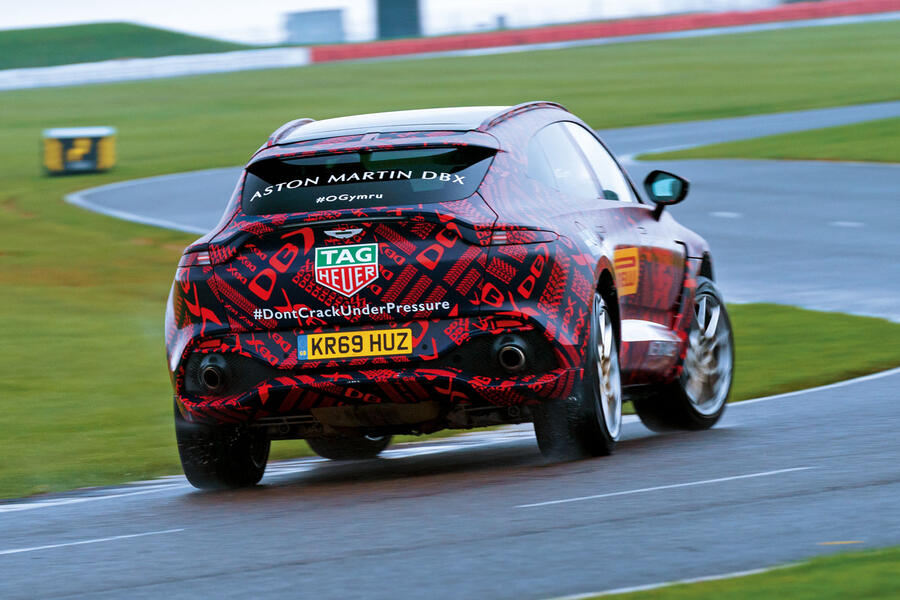 There's a slight, 54:46 front biased weight distribution to the 2245kg off-roader. Aston values vehicle handling highly and, as a result, the DBX has a raft of dynamics systems "without which you couldn't do it", according to Becker.
There is double-wishbone front and multi-link rear suspension, triple-chamber air springs at each corner, adaptive Bilstein dampers and 48V active anti-roll bars, which, Aston says, are specced to provide 1033lb ft of roll resistance, more torque than in any rival. Overall, the DBX has less body roll than a Aston Martin Vantage. Aston could have made it roll not at all, but apparently that "feels weird", said Becker.