Yes, it's convention to test a group of cars that are differently shaped, but this isn't a normal group test. At least they're a different colour.
What we have here is a five-star car in the shape of the (dark blue) Alpine A110, a slightly flawed but brilliantly refreshing small French two-seat sports car with a bespoke aluminium platform and a Renault Sport engine in its middle to drive its back wheels.
We've said an awful lot about the A110 already but, to recap, it's a revelation. Weighing just 1103kg (in Pure form, or 1123kg as the Légende), it has agility in spades, while the ride over poor surfaces is doubly impressive. What we particularly love about it is its lack of convention; Alpine knows a great driver's car doesn't necessarily need to have incredibly stiff suspension and that not everything has to feel like it was developed on a race track.
However, the white car here is the newer Alpine A110 S, which is definitely not an A110 mark two but a different take on the original; the two are meant to do different things. The S is a more, well, trackish, tied-down, focused version of the A110. Some of the things that the standard car deliberately isn't, in fact.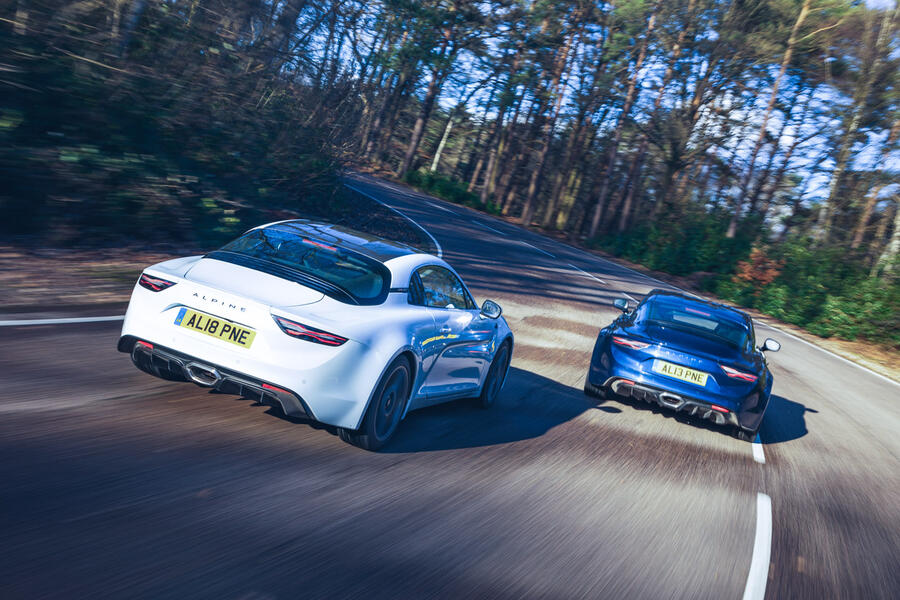 To that end, it has a bit more power – a 40bhp increase to 288bhp, although torque remains the same, at 236lb ft, because that's the operating limit of the standard dual-clutch automatic gearbox.
A suspension drop puts the S 4mm closer to the ground, stiffens the springs by 50%, stiffens the anti-roll bars by 100%, retunes the dampers and adds 10mm of width to the standard 205/40 front and 235/40 rear tyres.
That said, you can spec the 215/245 rubber on the standard A110 too if you pay for the optional forged wheels (sorry, this test will get a little geekily detailed).