The maths is simple. Frankfurt and its biennial motor show lie 501 miles from Autocar Towers in Twickenham, according to Google Maps. This Jaguar I-Pace, Autocar's long-term test car, has an official range of 298 miles. So you can work out for yourself how many re-charge stops might be needed – in theory – to get to Frankfurt. But we're more interested in how such a road trip for one of the new breed of long-range electric cars like the I-Pace will pan out in practice.
What makes the journey a feasible proposition this year is the growing number of fast-charging stations that promise to reload the I-Pace's 90kWh battery in under an hour. We are going to use exclusively the fast-charger network run by Ionity, newly established by car makers as their version of Tesla's Supercharger network and intended to facilitate exactly what Autocar is attempting: a cross-Continent journey by battery-electric vehicle (BEV).
Planning the journey is a challenge in itself. Ionity's chargers are placed around 85 to 100 miles apart and, given that the I-Pace's real-world range appears to be 200 miles, it's a tricky balance to decide how far to push the stops.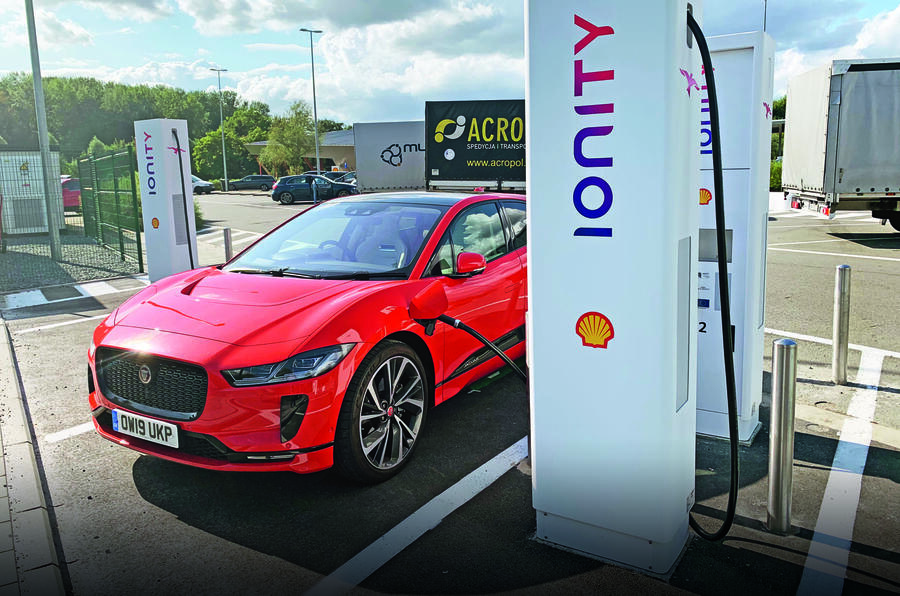 In the planning stage, I opt for a conservative strategy of nine fast-charge stops in total for a round trip of around 1000 miles. But during the journey itself, I'm left wishing we could drop a couple of stops to speed up progress.
More experience of driving the I-Pace in the UK would have given me the confidence to push the stops, but there are a few unknowns about range, plus an unmovable deadline to attend a press conference in Frankfurt set by news editor Lawrence Allan, so a stranding is out of the question.
We also don't know how the Ionity fast-charge hardware and I-Pace on-board electronics will work together. Will the battery be able to take a 100% charge in a sensible time?
Good news at the first Ionity charge-up on the M20 services at Maidstone. All goes well with the charger technology, which works smoothly after the New Motion RFID card unlocks the pump and electrons flow at a rate of just under 1kWh per minute. I pump in 36kWh in 48 minutes and then head towards Belgium with a 187-mile range, enough for a 60-mile buffer, and a confident feeling about the drive to Shell Wetteren. The sole glitch is locating the chargers inside the service area because there are no signs. This emerges as an ongoing challenge: none of the five charging areas I use has signs. It doesn't matter at some because they can be seen easily, but at others, it's a matter of driving around hoping to find them.