Why we're running it: To discover how deploying the premium EV's mighty acceleration dovetails with preserving its electric range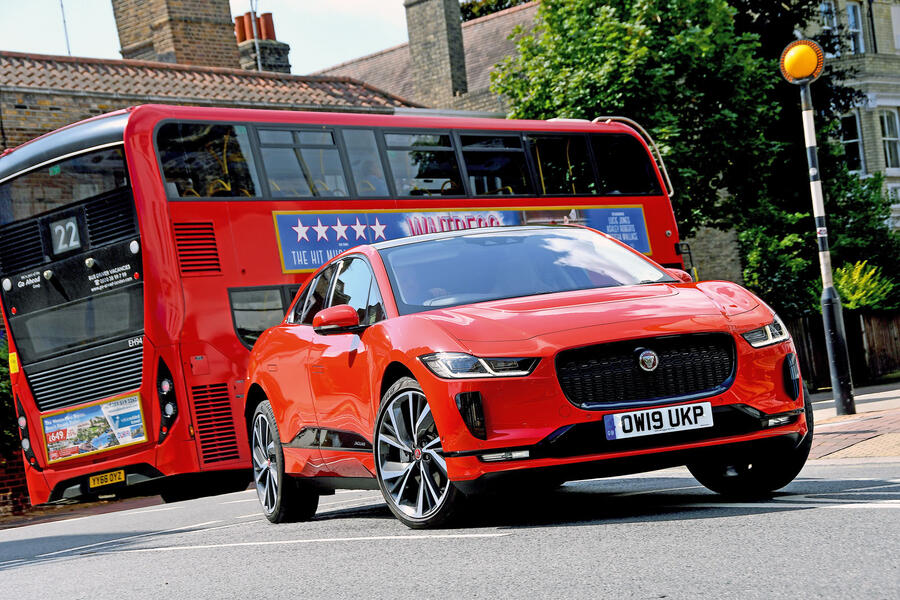 Life with a Jaguar I-Pace: Month 2
Becoming a charge-master makes EV ownership easier - 4 September 2019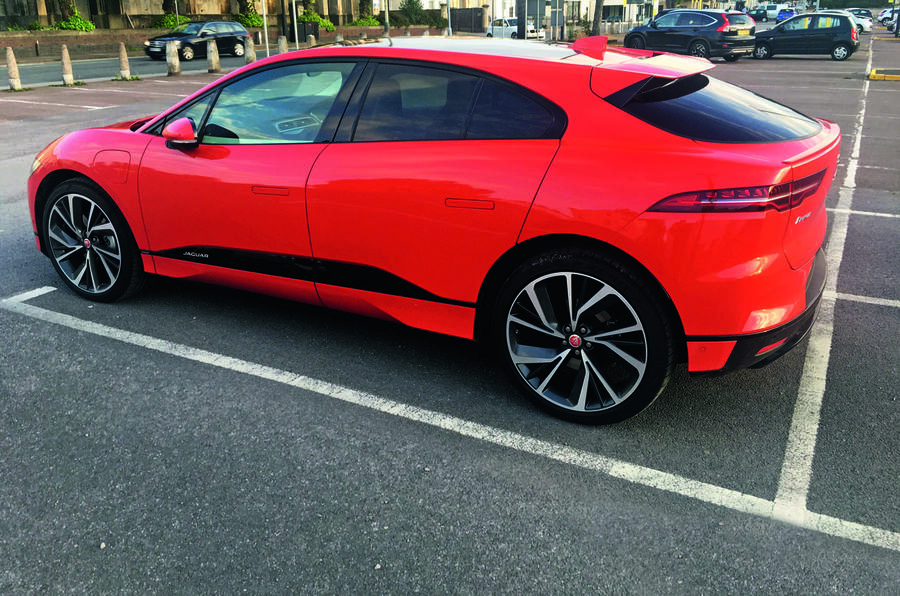 I seem to have cracked the early charging glitches (operator error) but I'm battling to get anywhere near the promised 258-mile range. Using Economy and with smart ventilation working (it only cools or heats occupied seats), I can do 225- 230. But I'm learning that it hardly matters. You always want to stop by the time you've done 150 miles.
Mileage: 2004
Life with a Jaguar I-Pace: Month 1
Welcoming the I-Pace to the fleet - 28th August 2019
If you ever needed proof that how a car looks is crucial to its market acceptance and ultimate success, you'd have been well and truly persuaded during our first week's ownership of a Jaguar I-Pace 400 HSE. You might reckon the car's pioneering all-electric propulsion system would be the major source of comment given that this is the first battery-powered Jaguar in history.
But it wasn't. Not at all. The comment – and there was plenty of it – usually went like this… Observer: "That the new electric Jag?" Autocar: "Sure is…" Observer: "Wow, doesn't it look great? That colour's fantastic. Is it orange? And the wheels – are they 22-inch? They look brilliant. Must be the best-looking Jaguar ever. What's it cost?"
No mention there of the I-Pace's 90kWh battery pack, or its awesome capacity for 4.5sec, smooth and silent sprints from standstill to 60mph (delivered with zero wheelspin because all wheels are driven). No mention of a predicted range that seems to vary between 220 and 260 miles. And only secondary attention to the price – which starts at £71,495 for a standard 400 HSE after the £3500 government incentive, but totals £79,740 in our case because of the mighty raft of options carried.
Everything is secondary, in those early minutes, to the car's sleek, unique outline, to how well it wears its £700 Photon Red paint (which in decent sunlight is a tasteful Nearly Orange) and how well it rolls on its 22in five-split-spoke wheels.
If you value the joy of driving extra-refined cars, as I do, you'll find there's nothing in your memory bank quite like those first few miles in the I-Pace, as it demonstrates its near-silence and total smoothness. There's a faraway whine as you accelerate, but the car's ability to gain speed without noise or vibration simply doesn't compute. It even shades other electric cars. After a few journeys, this consolidates into a kind of gliding gait that is simply intoxicating. Ridiculous to introduce noise into this, even if you could. And hard to imagine that, just a couple of years ago, many of us feared that electric cars would never have the ability to exhilarate a driver.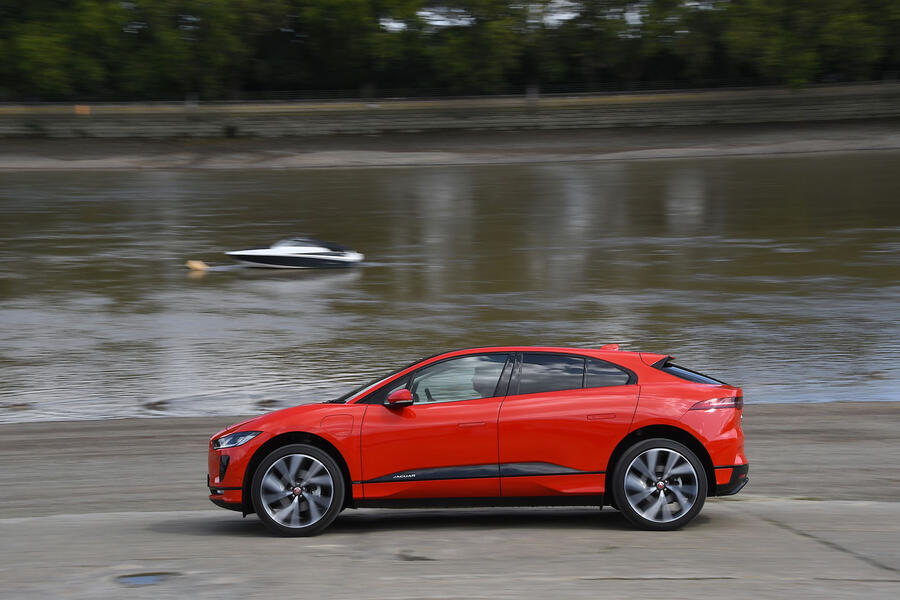 Of course, the wheels are in touch with the road in a conventional way. This car has a flat but sporty ride. But great trouble has clearly been taken to control road noise (in a way other electric cars do not) and the wind noise is also low. The ride is conventional in a sense but, as you ride, you soon tune into the fact that this machine has a long wheelbase with smaller than usual overhangs, that the major mass is beneath the floor, that there simply isn't a great big metal lump suspended on rubber over the front wheels and that because of all this, the self-levelling air suspension units have a comparatively easy time keeping things on an even keel.
This and the I-Pace's sophisticated torque-vectoring system – the ability to send different amounts of torque to different wheels as the car manoeuvres – means the car stays in line at road speeds whatever you do, gripping hard and responding near-instantly to practically any input.
On the subjects of charging and range, we're still acquiring knowledge. The maker claims a 258-mile WLTP combined (read 'realistic') range, but we've had trouble reaching that without preconditioning – a heating process you can put the car through while it's still charging. But plug the car in overnight at this part of the year and without preconditioning you'll be offered 210-215 miles, a figure the I-Pace will faithfully fulfil if you cruise at 70mph on motorways and remember to let downslopes regenerate your battery.
In our experience, it takes good management and careful driving to get anywhere near an honest 258 miles. But the Economy setting, the softest of three driving modes, works much better than most by adding eight to 10 miles to the total range while maintaining decent accelerator response and cruising capability.
At charging time, we've so far had a bit of trouble. The car has never refused outright to take charge, but we've had unsuccessful attempts after which we've simply had to start again. Other users report the same.
The way to make it work seems to be to ensure your I-Pace is in Park, power off, with the (automatic) handbrake on and with the tailgate securely closed. You need to plug your cable first into the power source, and then into the car (the handbook makes that point very firmly). Usually there'll be a loud click and the dashboard will show an amber 'CHARGING' message, whereupon you can be confident of locking the car and walking away with the battery capacity growing. The 7kW charger in my own garage is enough to keep a car like this healthy, provided it has an evening to recover from a long trip.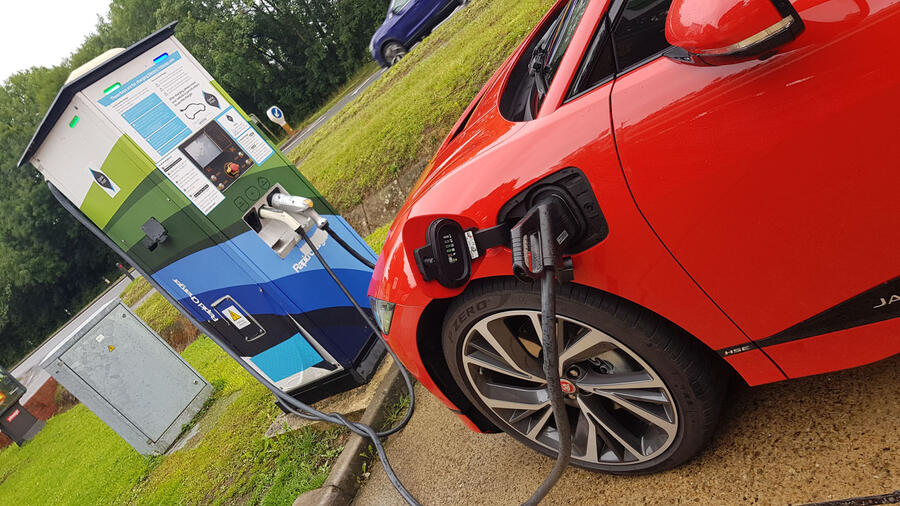 Key impressions so far? This is a superb car, especially this latest example that improves in quality detail on the early models Jaguar rushed into service. The driving position – around which former Jaguar designer Ian Callum said the car has been designed – is wonderful. Full marks for the seats, too, and the amazing performance.
On range and connectivity, we're happy without being ecstatic. Hookup uncertainties do play on your mind and, having got used to the 300-mile ranges of much cheaper Hyundais and Kias, the 220-250 mile range of this car is just okay. Recent chats with manufacturers bidding to launch electric cars make it pretty clear 300 miles is the figure that makes people feel safe.
We'll get used to all this. We will learn the I-Pace's charging quirks and soon see that 220 miles is plenty. There is a learning curve, and we're on it. But in itself, from stem to stern, the electric Jaguar is brilliant. Living with it looks set to be a delight.
Second Opinion
I didn't instantly warm to the I-Pace. The big centre console seemed contrary to the space-creating possibilities of an EV layout; the twin touchscreen controls a bit confused. Then I drove it. The I-Pace has a real sense of quiet, opulent luxury. It feels special. Like a Jaguar should.
James Attwood
Jaguar I-Pace EV400 AWD specification
Specs: Price New £71,495 (after gov't grant) Price as tested £79,740 Options Photon Red paint £700, monogram trim finisher £250, suedecloth headlining £900, suedecloth steering wheel £600, 22in five-spoke alloy wheels £500, electronic air suspension £1100, panoramic roof £960, activity key £300, heated/cooled performance front seats plus heated rear seats £1400, head-up display £900, privacy glass £375, exterior black pack £260
Test Data: Motor Two asynchronous electric motors Battery 90kWh Power 394bhp Torque 513lb ft Kerb weight 2133kg Top speed 124mph 0-62mph 4.8sec Range 292 miles (WLTP) CO2 0g/km Faults None Expenses None