Tim Harvey nestles into the snug bucket seat and cracks that trademark toothy smile. He looks right at home, just as he should, because he's sitting in the very BMW M3 E30 in which he won the final round of the British Touring Car Championship way back in 1991. Tim has changed in the past 28 years (well, only a little), but the car hasn't.
"It's a funny thing," he says after squeezing out to admire the E30, resplendent in Vic Lee Motorsport's iconic Labatt's beer livery. "I was transported back in time. It was the smell. I can't remember what I had for breakfast this morning, but when I got in there was that whiff of paint off the transmission tunnel, where it always used to burn. I haven't sat in this car since I stepped out in the winner's enclosure at Silverstone after that last race of '91."
Sitting beside the E30 in the Brands Hatch pitlane is another BMW, but one that dwarfs the perfectly proportioned three-box M3. It looks wide and burly, but it's special too, because this G20 330i M Sport just happens to have just won this year's BTCC. And there, looking on, is its driver: newly-crowned four-time BTCC champion, Colin Turkington.
The cars contrast in size and so do their drivers, but vice versa… 1992 BTCC champion Harvey was never exactly – ahem – a waif, while Turkington is the archetype of the lithe, modern racing pro. Hips, Colin. Do you even know what they are? He's not exactly short, but he is tiny.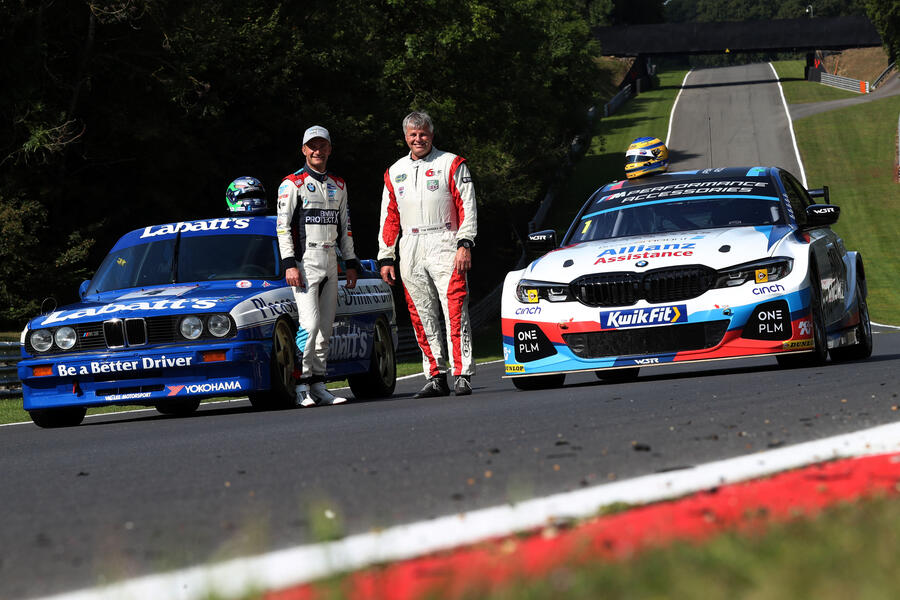 This is a special day, a chance to compare and contrast two eras, away from a hectic race weekend. The blue M3 represents the start of something massive: 1991 heralded the opening salvos of the Super Touring wars. Soon, most of the major manufacturers would flock to the BTCC and make it, for a few years, the most competitive and exciting race series in the world. The larger, brand-new M3 represents what the BTCC has become: still a crowd-pleaser, still spectacular, but part of a motoring landscape that might as well be from a different planet.
Inevitably, both drivers are gagging to swap cars and have a blast. For Turkington, the E30 is far from a step into an unrecognisable past. The Northern Irishman, a genuine tin-top fan, has raced classic M3s before. Today he's in his element – as is Harvey.
"My dad has an E30 and I fell in love with it so much my wife and I used it as a wedding car!" says Colin as we gather to compare notes. "This is the era when I fell in love with the BTCC. The cars were cool, but it was the characters involved, too: the likes of Tim, John Cleland and so on."