The Volkswagen Group has officially confirmed six new models, including the Porsche Cayenne Coupé, at its 2018 Annual Conference in Wolfsburg, Germany.
As well as the Cayenne Coupé, the all-new models include the Audi Audi Q3 Sportback and an unnamed B-segment SUV.
A replacement for the current Bentley Flying Spur, as previously reported by Autocar, is also due. The final two models, the Volkswagen Bora and Lavida, which are already sold in China, will have electric variants launched this year solely for the Chinese market.
The cars appeared briefly on screen during the company's financial presentation.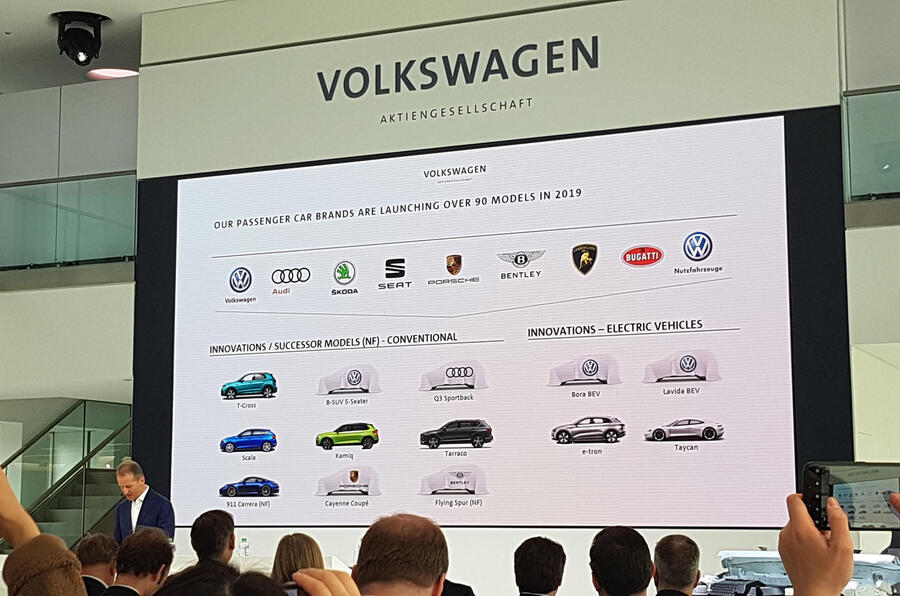 The Group also revealed that there will be a second wave of as many as 15 new MEB-underpinned electric cars as part of its aim to get to 22 million battery electric vehicle (BEV) sales by 2025. These are likely to arrive from 2022 and follow the first wave which includes a host of already announced EVs including the Porsche Taycan and Mission E Cross Turismo, the Audi E-tron GT, E-tron Sportback and Audi E-tron, the Volkswagen Buzz, Vizzion, Crozz and ID hatchback and the Skoda Vision E.
The company also showed predictions that by 2040, 70% of the European new car market will made up of BEV sales and about 10-20% plug-in electric vehicles, though these will be powered by fuels made from renewable electricity.
By the same time, China's market should be 85% BEV and around 10-15% fuel cell. The US market, however, may only be up to 60% BEV by 2040.
Read more
Porsche Cayenne Coupé to go on sale this autumn