An official sketch of the Porsche Cayenne Coupé has been revealed ahead of the car's imminent unveiling.
The image appears to confirm that the Cayenne Coupé is targeted as a rival for the BMW X6 and Mercedes-Benz GLE Coupé, broadening the scope of the Cayenne line-up.
Read the full official reveal story of the Porsche Cayenne Coupe
Porsche's UK boss has already confirmed to Autocar that the car, which is expected to share the vast majority of its underlying chassis with its traditional SUV sibling, will go on sale this autumn.
Marcus Eckermann said: "The Cayenne Coupé is a very important car for us. It's a very good looking car. In the UK, I don't think it will make up as much as half of the overall Cayenne line-up mix, but it will be a good share of it."
Prototype versions of the car - which show clear styling similarities to the leaked sketch - have been spotted wearing minimal camouflage during winter testing, after having previously been seen at the Nürburgring showing off a new active rectracting spoiler.
The spy pictures show that the new Porsche model receives the same front-end styling as the third-generation Cayenne, albeit with a unique front bumper design. In a move mirroring that of its key rivals, it adopts a newly designed liftback-style tailgate, altered rear side windows and a new tail-light design that is aimed at providing the Cayenne coupé with a more sporting profile.
The retractable rear spoiler, which had previously only been seen in its lowered position, appears to raise and lower as a single piece, rather than use the split wing design seen in the second-generation Panamera.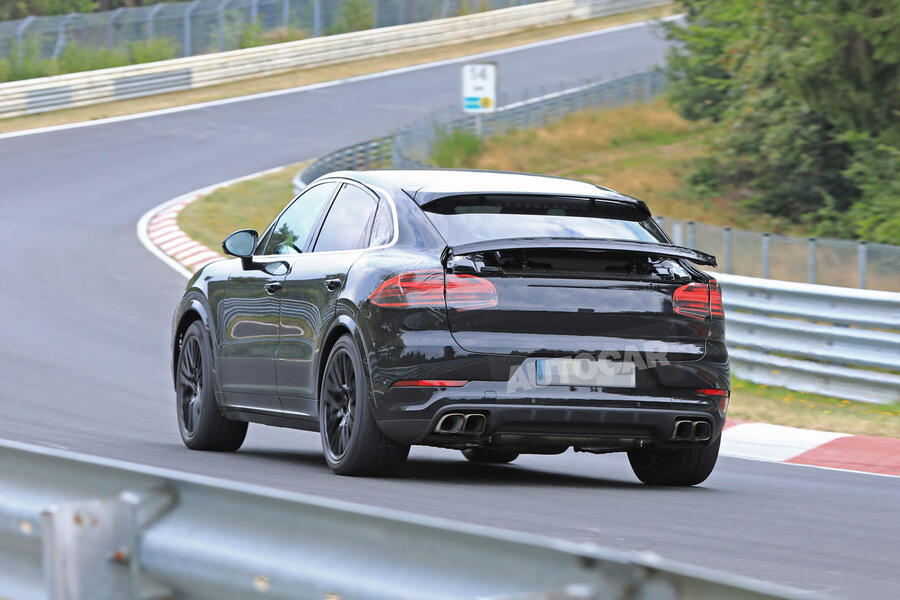 Engineering sources close to the German car maker had previously told Autocar that UK sales for the more sleek Cayenne derivative are set to begin in the fourth quarter of 2019. Its arrival was confirmed by Porsche boss Oliver Blume, who revealed that he'd granted a production green light to the coupé last June.