Entry to the ID Buzz, the concept Volkswagen has confirmed will go into production as the modern-day Microbus, combines the magic of contemporary electronics and traditional heave.
Waving a hand within the side swage line on the driver's door triggers an electronic opening mechanism, which involves the conventional front-hinged driver's door swinging open to reveal the concept's wonderfully simplistic yet surprisingly roomy interior.
Official: Volkswagen to put ID Buzz electric concept into production
The floor is mounted at a high 525mm due to the need to house an extensive crash structure within the front end and the battery within the long 3300mm wheelbase, but there's a small step integrated within the sill area to ease entry as you climb aboard. You step up and then into cabin.
Inside the Volkswagen ID Buzz concept
The initial impression once you're inside is just how high you are positioned above the road: the driver's seat places your torso well above the belt line. In combination with an upright windscreen, it offers a commanding view enhanced by generous quarter windows. The links with earlier Microbus models are undeniable and provide the ID Buzz with a wonderfully authentic feel.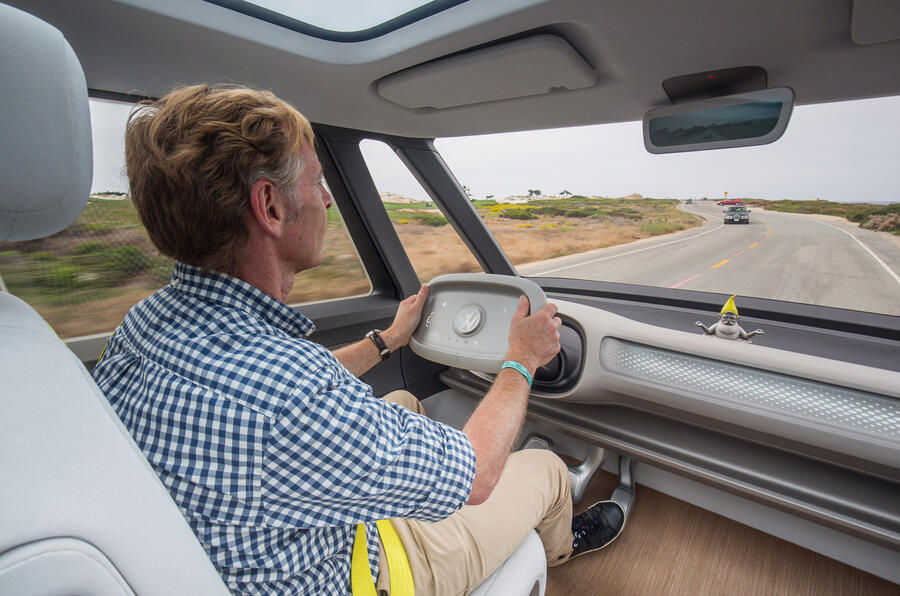 With a design that aims to reduce clutter, the high-mounted full-width dashboard is devoid of any controls. The main functions, including the gear selection and indicators, are all housed within the rectangular steering wheel.
The ID Buzz is fitted with two electric motors, one mounted at the front within the short nose section, the other within the rear-axle assembly. This gives it four-wheel-drive capability. Each motor delivers 201bhp, although the combined system output is limited to 369bhp. It's a layout Volkswagen boss Herbert Diess says will be mirrored on more upmarket versions of the new Microbus.
The ID Buzz can also be configured as a rear-wheel-drive model featuring a 268bhp rear-mounted electric motor in a drivetrain layout similar to that of the ID hatchback.
Fitted with a large 111kWh lithium ion battery mounted low in the floor, Volkswagen claims the ID Buzz has a zero-emissions range of up to 372 miles on the European test cycle.
Driving the Volkswagen ID Buzz concept
A swipe of your finger on a starter button within the touch-sensitive steering wheel is all that's needed to prime the electronics and ready the ID Buzz to move off.
The one-off concept has been in use all morning by the time I get my turn in the driver's seat, and there are concerns about the level of energy remaining within the lithium ion battery.