The world's most powerful 2.0-litre, four-cylinder series production engine has been revealed by Mercedes-AMG, set to feature in its upcoming '45' model range.
Developing 415bhp in its most potent 'S' form, this completely new 2.0 turbo replaces the engine used in the previous A45 A-Class, CLA 45 and GLA 45.
Despite the potency of the outgoing A45 355/376bhp AMG four, engine development boss Ralf Illenberger says that emission requirements, the desire for more power, less weight and the different packaging requirements of Mercedes' latest generation of compact cars necessitated a complete redesign. "The only carry-over parts are a few nuts and bolts," he added. The new M139 engine produces 382bhp in standard form and 415bhp in 'S' guise, and 354lb ft or 369lb ft of torque.
New Mercedes-AMG A45: what we know so far about 415bhp super-hatch
Another major aim has been extracting a sportier driving experience from the engine by altering its torque delivery. While the previous, M133 four-cylinder engine's torque curve resembled a diesel's, rising steeply to level off across a wide chunk of the rev range, the new M139 2.0 produces more of a crescendo of thrust.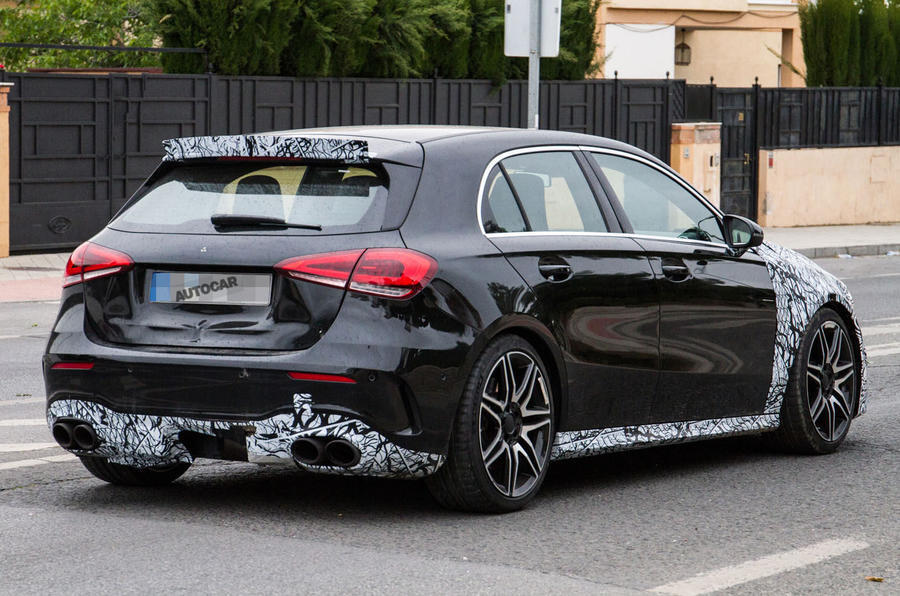 The aim is to produce the rising rush of acceleration characteristic of a revvy, normally aspirated engine. Rather than flat-lining, diesel-style, from around 2000rpm, AMG's new engine generates peak torque at 5200rpm, while nevertheless producing more shove than the old one between 1000-2000rpm, the strongest surge developing from 3000rpm. Overall, said Illenberger, "it produces a more sporty delivery".
More diesel-like are the 160 bar combustion pressures generated by the new unit, and a lighter yet more robust cylinder block developed to withstand them. It's of the closed deck variety, creating a crankcase casting more like a part-closed box rather than a semi-open one, with deep, strengthening skirts around the cylinders. The new alloy block is as strong as a diesel engine's, said Illenberger. The 16-valve cylinder head is also new, a key design challenge being the dispersal of the considerable heat generated.