First it was electric luxury cars, then it was medium SUVs, but now the EV battle is really heating up in the heartland of the European car market: the family hatchback.
These cars are the perfect size for most families. They're big and practical enough to house a lot of stuff, but small enough that cities are still easy to navigate. There's room for a decent-size battery pack, but because these cars are still fairly compact, they're relatively light and aerodynamic, and therefore efficient, so you can expect 200 miles of range from most of the options on this list.
Every mainstream manufacturer wants a horse in this race, and then there are the incoming Chinese manufacturers keeping the establishment honest. Prices range from about £30,000 to the mid-£40,000s for some of the high-spec extra-long-range options. It's such a hotly contested class that there are other options that didn't make this list. Here are the 10 best ones.
Meanwhile, if it's a smaller and cheaper supermini EV you're after, or a larger, more versatile and more luxurious family EV, our related top 10s summarise our current favourites in those classes.
Best mid-sized electric cars 2023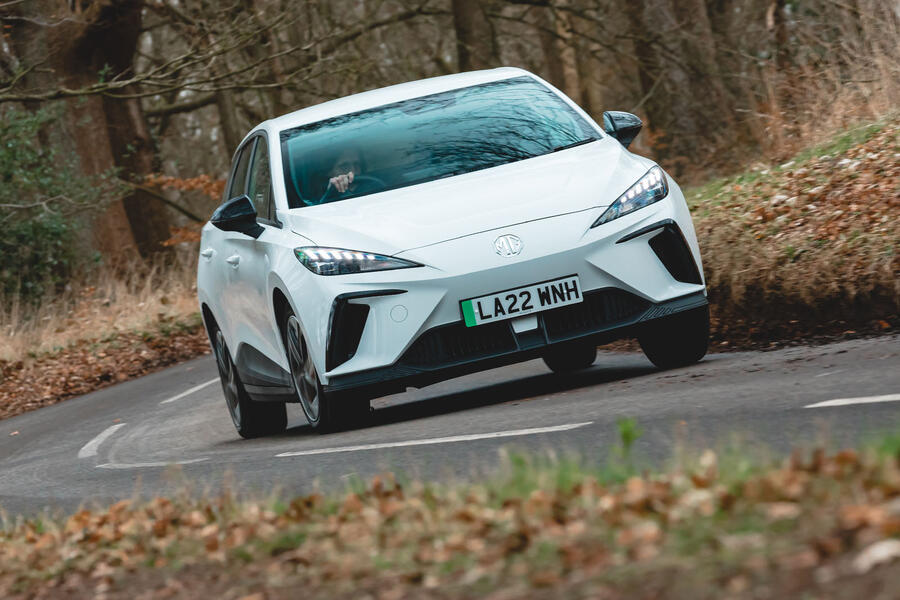 Don't worry: there's no need to adjust your set. It really is an MG at the top of this list. For years, the Chinese brand has been floating around in the bargain basement, offering cars with eye-catchingly low prices, plenty of kit and a decent warranty but hobbled by a lack of dynamic sparkle and the sort of perceived quality that wouldn't pass muster on most pound-shop purchases. Yet with the all-new MG 4 EV, it has achieved a turnaround in terms of driving dynamics and showroom appeal.
This is no hot hatch in disguise, but the MG 4 steers sweetly and its well-developed suspension serves up a winning blend of agility and comfort. It's a car that's genuinely satisfying to drive, scything through a series or corners with poise and panache.
The MG 4 range offers you the power of choice, too. The entry-level version starts at just £26,995 yet still boasts an official range of 218 miles. We'd go for the mid-spec Long Range, which manages 281 miles of range on the WLTP cycle thanks to a 64kWh battery and a 201bhp motor.
If you have a strong need for speed, there is the MG 4 XPower with a whopping 426bhp, but it's more of a blunt instrument than the standard car. Later in 2023, MG will also add an Extended Range version, whose 77kWh battery means it's rated for 323 miles.
Other highlights? Well, while the detailing is fussy, there's no doubt the shark-nosed 4 looks distinctive, while its interior is neatly styled and far more upmarket than you would expect. There are couple of cheap-feeling components (the door cards and centre cubby lid), but otherwise it's a match for the mainstream, plus it's roomy and practical too.