The electric vehicle revolution is well underway - and if you don't believe us then you only need to look at the full-size family car class. As more motorists make the switch away from ICE, it's these generously-sized do-it-all machines that are proving to be some of the most popular.
With their more generous proportions, these models can accommodate a larger battery for a better range without impacting on practicality. Moreover, as the cost of EV technology continues to come down it's these family-friendly machines that benefit the most, their higher production volumes allowing manufacturers to really sharpen their pencils when it comes to pricing.
Of course, the traditional family car class isn't what it once was with the usual saloon staples. These days, it's more likely a buyer will be looking for an SUV or crossover, which is good news for manufacturers as they can hide the bulky battery packs under the floor. That said, there's more variety than you'd think, with hatchbacks, estates and, yes, even the odd three-box saloon.
Better still, most of these cars have decent-sized batteries that deliver the sort of range that won't have you in a sweaty stress every time you embark on a journey, which is no bad thing considering the state of the public charging network. In fact, if you've got a home charger then the range resilience of many of these cars means you'll rarely need to trouble one of these sites.
Perhaps even more importantly, for people like us at least, is the fact that manufacturers are starting to inject some genuine driver appeal into these cars beyond the exciting but short lived thrill of their instant, and often savage, acceleration.
So, here's our list of the top full-size family EVs you can currently buy. However, as the 2030 deadline on ICE car sales looms ever closer you can expect the competition for inclusion on this countdown to become increasingly fierce.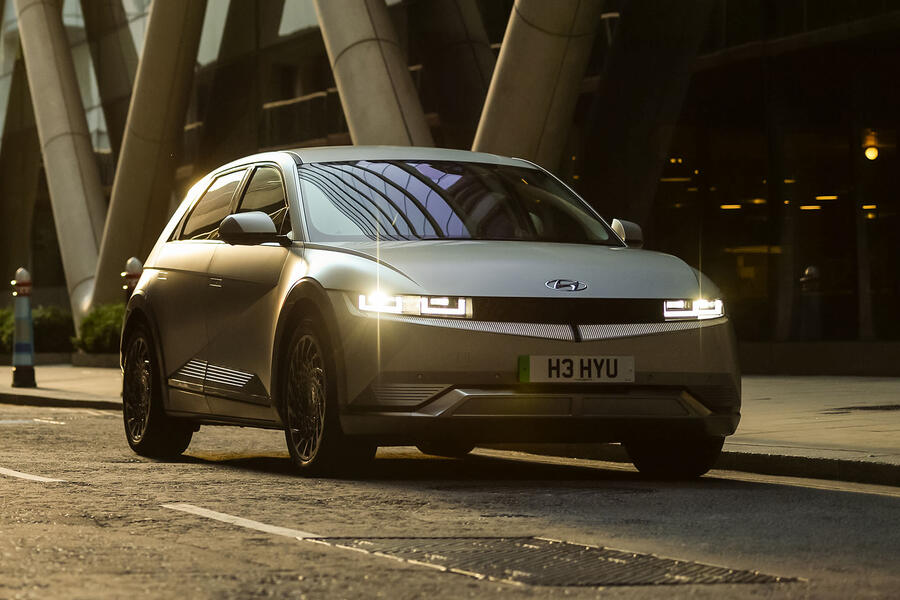 It's a sign of the fast-paced change in the automotive sector, as well as consumers' willingness to abandon the old certainties that Hyundai and Kia feature so high up this list. Unlike more cautious European brands, the Koreans have fully embraced electrification - and nowhere is the success of this approach more obvious than the Ioniq 5.
Built on a bespoke EV model platform it features powerful 800V electrical architecture that allows for much faster charging. Currently this cutting edge technology is shared only with the Porsche Taycan and Audi E-tron GT, plus the closely related Kia models. As a slightly ropey analogy, it would be like Ford kitting out its original Focus with the twin-turbocharged flat-six of a contemporary Porsche 911 Turbo. Sort of.
It's not just a technical exercise either, because the Ioniq 5 draws attention with its distinctive retro-futuristic design (think space-age reimagining of the Lancia Delta) and modern, high-quality interior.