The defunct Bond car company is not one of the best known — most recall it, if at all, for its bizarre, wedge-shaped Bug of 1970.
Bond started in 1949, with the introduction of the Minicar, a three-wheeler with a two-stroke engine. It was designed by Lawrie Bond, an engineer from Preston, and was built in the Lancashire town by a commercial company called Sharp's.
After a fairly successful run (production totalled 24,482 cars), Sharp's decided to focus its efforts in the automotive field, renaming itself Bond Cars and launching its first (and, as it turned out, only) proper (see four-wheeled) car in 1963.
This was the Equipe GT, a two-door sports coupé the length of, and significantly lower and narrower than, today's Ford Fiesta.
It was produced with assistance from Triumph, using the chassis of the Herald and the gearbox, brakes and 63bhp 1.1-litre engine of the Spitfire. The suspension (also Triumph) was independent all-around, with a rear swing axle, while the body was constructed from fibreglass, a still relatively new material.
It was pitched, according to Autocar, at "motorists who otherwise would like to own a sports car but are deterred by the need to accommodate a young family" and those "who want more than two seats in a car of essentially sporting character". The price for the coupé was £822, which is equivalent to around £15,800 today; the sportiest thing you can get at that price now is probably a Seat Ibiza.
Although through its more practical layout the Equipe weighed 50kg more than the Spitfire, its performance was still good, with a 0-60mph time of 17.6sec compared with the Spitfire's 17.3sec.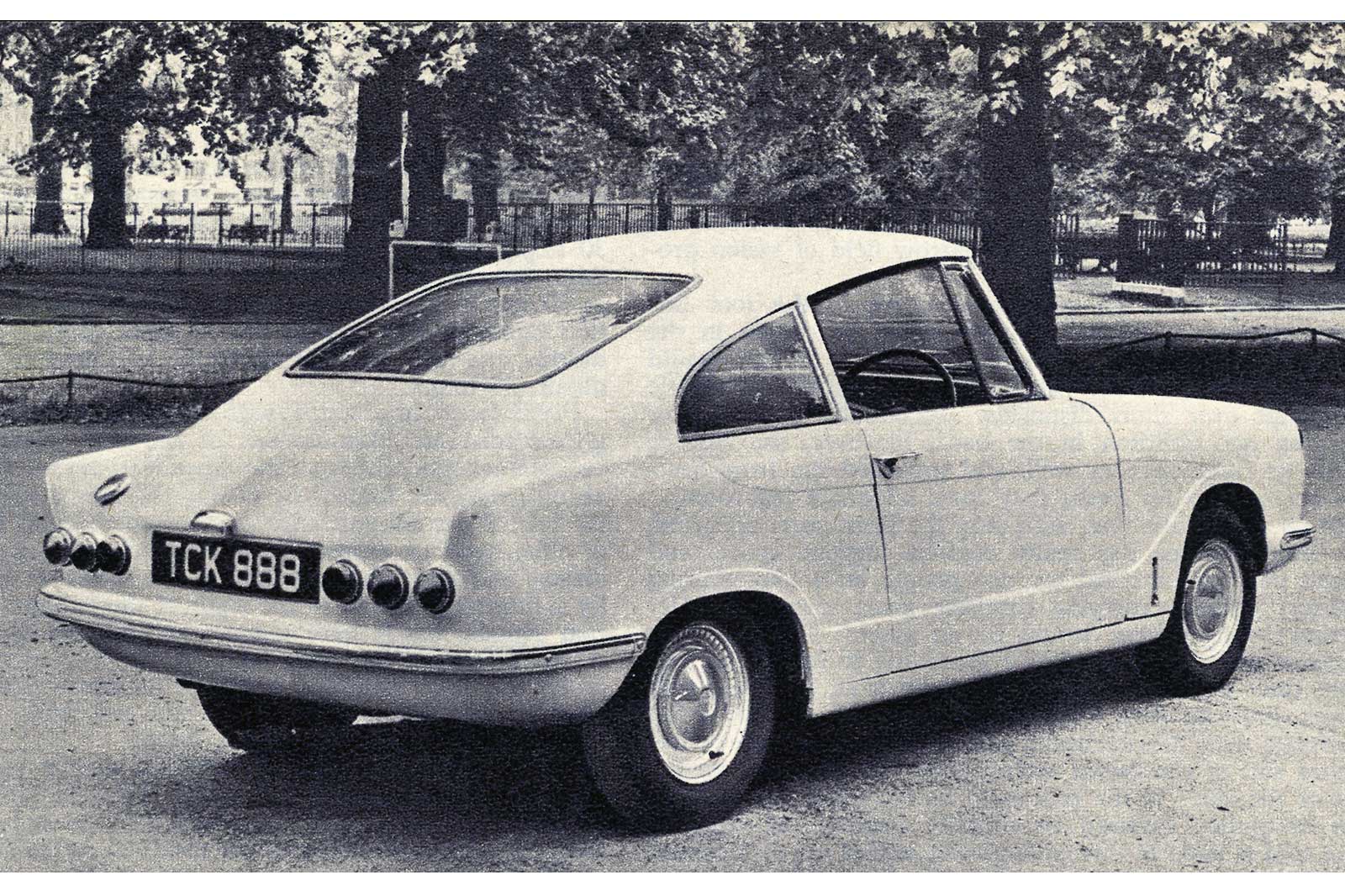 "An immediate impression is of the eagerness and smoothness of the little four-cylinder engine," we said. "It revs freely and quietly right up to 6000rpm without vibration.
"A crisp exhaust note accentuates the impression that this is a very willing power unit. Sufficient power is available for a restart on a 1-in-3 incline, provided controlled clutch slip is used to keep the revs up. The drive takes up smoothly and clutch pedal pressure is reasonably light."
We found the four manual gears to be smooth and easy to change, with the lack of synchromesh in first being of "decidedly practical value" and third "the perfect ratio for storming hills and for main road overtaking".
The ride was judged to be "excellent on reasonably well-surfaced roads", although "potholes in the road caused pronounced thumps, sounding as though the suspension had bottomed".