The recent Fiat Chrysler Automobiles Capital Markets Day featured a blizzard of news about new models, with the group's major brands revealing their five-year plans for the benefit of financial analysts.
Having covered the event, it was hard to take in all the announcements at once. Huge model reveals were made almost in passing, and much of the news left you wanting for more information. Having had time to digest it all, here are the seven new models that most excited and intrigued me.
They aren't necessarily the most significant cars announced at the event – just the ones that I'm excited to hear more about. Let us know which cars intrigued or excited you in the comments section.
FCA Group to focus on most profitable models and brands 
Earlier this year Autocar exclusively reported that Alfa Romeo was developing a high-performance Giulia coupé. And we were right – except it won't be called the Giulia coupé.
Instead, the firm has dipped into its rich history and dusted off the GTV nameplate. It's a nice touch, and demonstrates how, even as Alfa expands through large SUVs and Chinese-only long wheelbase cars, it can do so by capitalising on its past.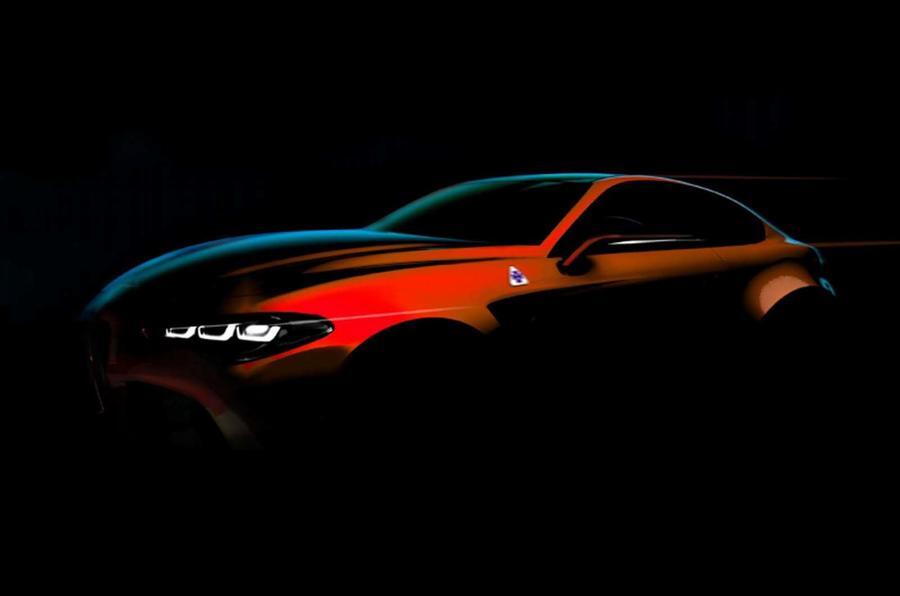 6: Jeep Grand Cherokee Deserthawk
Jeep believes it can grow its position in the SUV market because its history of making off-road 4x4s gives it 'authenticity'. And that's why the firm has developed the Grand Cherokee Trailhawk and Trackhawk, flagship models designed to deliver high performance thrills on and off-road respectively.
I sampled both in the USA last year, going bouldering over a genuinely brutal trail in the Trailhawk (below) before an all-too-brief blast in the 697bhp Trackhawk on a circuit. Both proved entertaining and capable – and they're going to be joined by a new Deserthawk, which will be tuned for high-performance motoring on sand.
Sure, that's unlikely to offer much practical value anywhere in Britain, but we'll be intrigued to find out what it can do.
The confirmation of the Maserati Alfieri, a Tesla-baiting EV supercar, is hugely exciting. 0-62mph in around two seconds and a top speed of more than 186mph? Yes please.
But what amused most was seeing the tag line given to the Alfieri on the presentation. Having had immense success advertising the Levante SUV as 'the Maserati of SUVs', the firm clearly thought long and hard for a way to describe the Alfieri EV, before plumping for: 'the Maserati of EVs'. Inspired.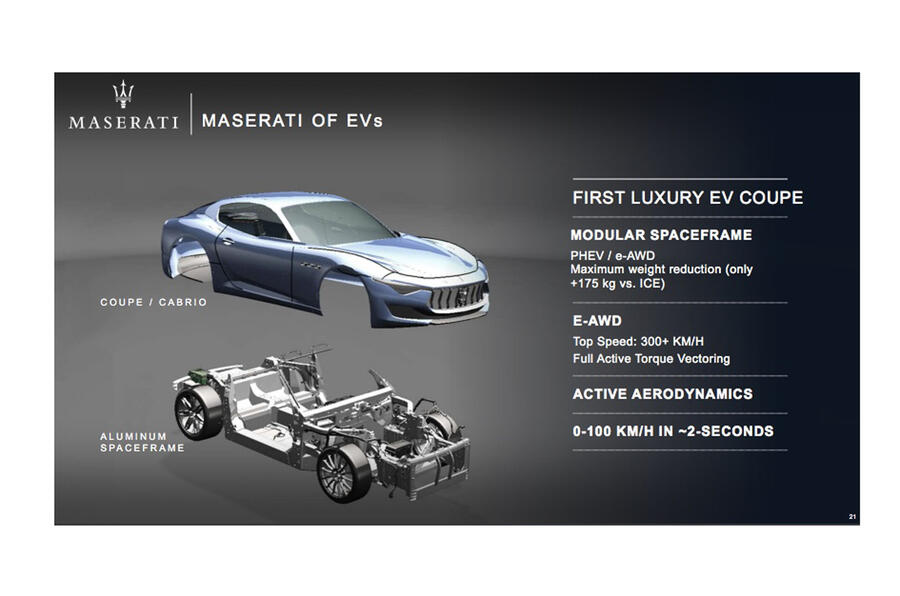 Opinion: why won't some car firms call an SUV an SUV?
And on the subject of Maserati EVs…
4: Maserati Blue
Maserati didn't just announce one full battery electric vehicle, but three. Alongside the Alfieri (in both coupé and cabriolet forms) will be pure-electric versions of the forthcoming new Quattroporte saloon and Levante EV.
Opinion: behind the scenes at the FCA Group Capital Markets Day
Notably, the firm is branding these models as 'Maserati Blue', suggesting the adoption of a sub-brand of sorts.
More notably, as a selling point over the likes of Porsche and Tesla, Maserati was keen to play up that all its powertrains – yes, even the fully electric ones – will be provided by Ferrari. That suggests Ferrari's electric development is further along than the firm has admitted so far.
3: Jeep Wrangler plug-in hybrid
We already knew a Jeep Wrangler PHEV was coming, but the Capital Markets Day presentation offered an interesting insight on how it will be pitched.
The traditional selling points of hybrids – lower running costs and compliance-based incentives – don't resonate in America, where fuel is cheap and fuel economy regulations relatively lax. Instead, Jeep highlighted up how a hybrid's greater torque can "bring a higher level of off-road capability" to the Wrangler.
First drive: Jeep Wrangler Unlimited Rubicon 2018 review
Ford looks set to adopt a similar strategy with promotion of its forthcoming Ford F-150 hybrid pick-up. And it might help electrified powertrains make inroads in the USA beyond California.
While you might be able to sell a Californian on a hybrid's green benefits, such considerations are far less of a concern in, say, Texas. But show a Texan how a hybrid can help him attack an off-road trail with more gusto, and he might just listen…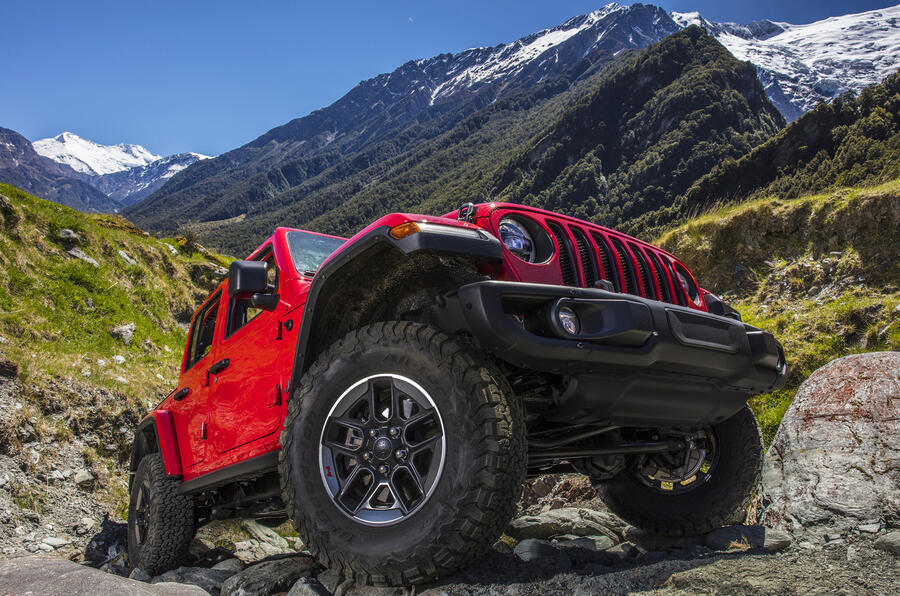 At the event, FCA president Sergio Marchionne confirmed that, in Europe, the once-mighty Fiat will become an electrified city car brand, with a range largely built around the 500.It's a dramatic shift for what was effectively Italy's national car firm – but one that, if done well, could capitalise on both future technology and a love of nostalgia to give the brand a fresh direction.
The first impression was a good one, too: as well, an electric 500e, Marchionne announced a new 500 Giardiniera estate. Interestingly, he did so not with a concept sketch but a retro advert for the original Giardiniera.
That car had the engine laid flat under the floor of the boot to maximise rear load space, a design similar to the way battery packs are placed in most EVs. Fingers crossed the new Giardiniera is a similarly cleverly packed pocket estate, rather than a bloated design with a few styling cues like the 500X, 500L or the Mini Clubman.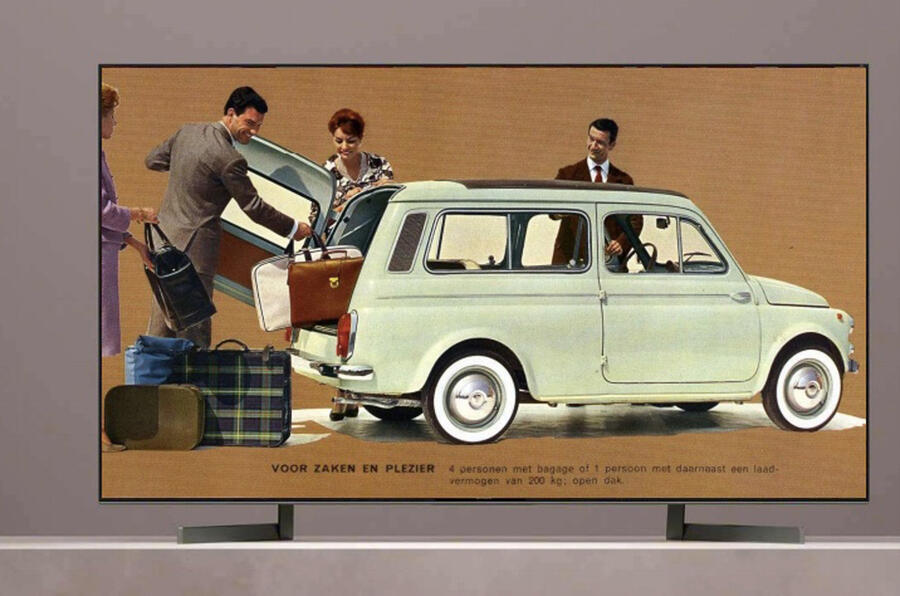 1: Ram TRX
Yes, it's an American pick-up truck, that won't ever be sold in Britain – largely because it would be a tight fit on the roads over here. Still, as concept trucks made real go, this is so bonkers it would be rude to ignore.
Ram boss Mike Manley was pretty open about why the TRX exists: to take on the Ford F-150 Raptor, which has shown buyers will pay a premium for a performance pick-up. Fitting, then, that TRX stands for Tyrannosaurus Rex (which, if you remember the original Jurassic Park, killed the raptors at the end of the film…).
More exciting is that, if it follows the 2016 concept, the TRX will likely be powered by Dodge's 5.7-litre V8 Hellcat engine which, in supercharged form, produces 697bhp.
Does a pick-up truck need 697bhp? Of course not. In this age of electrification, is it fitting that a V8-powered gas guzzling pick-up is named after a dinosaur? Probably. But do we really want to try the Ram TRX? Oh yes.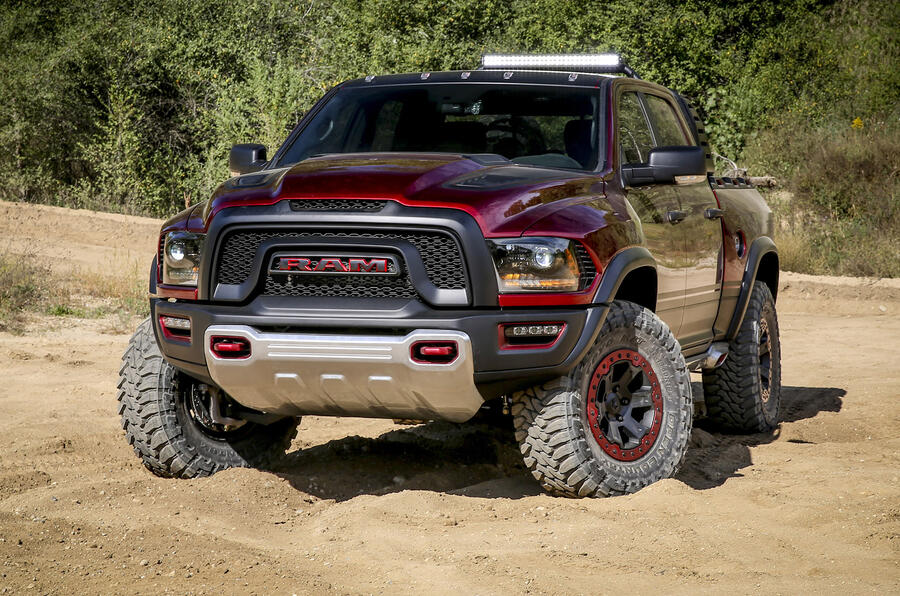 Read more
FCA Group to focus on most profitable models and brands 
Opinion: behind the scenes at the FCA Group Capital Markets Day
Jeep plans baby SUV to sit below Renegade
Maserati takes on Porsche and Tesla with EV supercar, new SUVs