What is it?
The Bentley Bentayga has confronted and batted away criticism from its earliest inception, and here's another hurdle for it to clear: the arrival of a diesel engine, Bentley's first.
It raises all sorts of questions, chiefly over whether a diesel can ever deliver the kind driveability and refinement that befits the brand. Those are qualities that have served Bentley well for 97 years, lest anyone be in any doubt about the kind of heritage that's being toyed with.
Needless to say, this being a Bentley, it's no ordinary diesel, although it is one co-developed with Audi. It's a triple-charged 4.0-litre V8, which uses two twin-scroll turbochargers supplemented by an electrically driven supercharger, and it weighs 3kg more than the flagship twin-turbo 6.0-litre W12 petrol engine.
As in the Audi SQ7, the V8 develops 429bhp and - crucially - the same peak torque as the W12. However, the diesel's 664lb ft extends from just 1000rpm to 3250rpm, helping to fire the car from 0-62mph in 4.8sec and on to 168mph. Between 25mph and 75mph it is pretty much on a par with that W12, too. It is, says Bentley, the fastest diesel SUV in the world. Fuel economy is officially 35.8mpg combined and its CO2 emissions are 210g/km.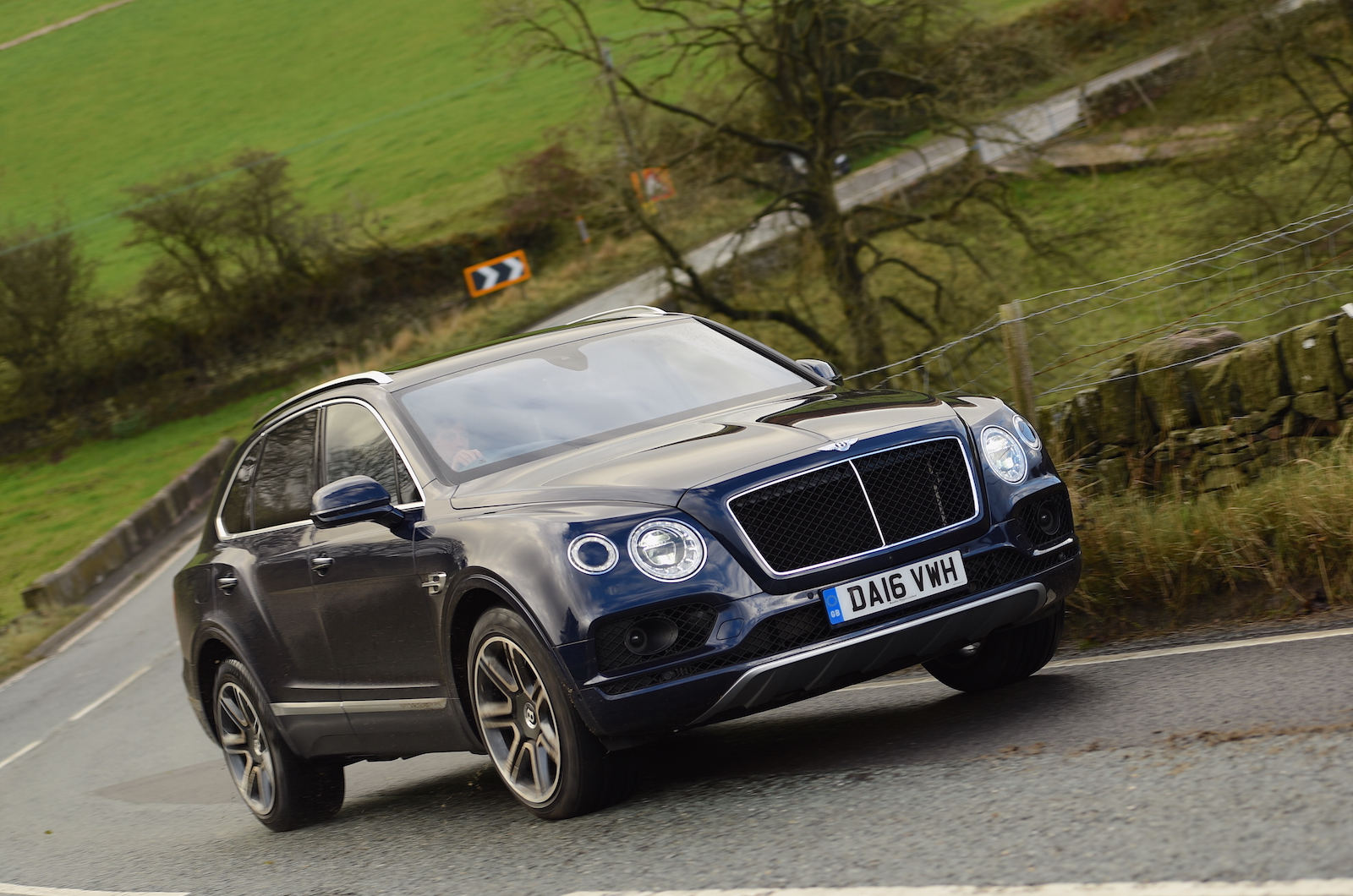 Bentley officials are keen to point out that this is a powertrain born of opportunity, not necessity; they would never have launched it had the appropriate technology not been developed first, they say. The key breakthroughs are the engine's triple-charging system, the 48V supplementary electrical system used to power the electric supercharger and a sophisticated exhaust cleansing system.
The triple-charging system provides boost at low revs from the near-instantly reacting electric supercharger, called an e-booster. Powered by the 48V electrics, it primes the first of two twin-scroll turbochargers. This first turbo amplifies midrange thrust, then a second twin-scroll turbo provides extra shove at mid to high revs. The effectiveness of the e-booster is heightened by a valve shut-off system, whereby an exhaust valve disengages to provide faster combustion pressure build-up.
The exhaust gases are cleansed by a selective catalytic reduction system, an AdBlue urea fuel supplement and an additional catalyst.
If you're eagle-eyed you'll be able to spot a Bentayga diesel because it has a black radiator mesh, twin quad exhausts and discreet badging. Other than the engine and ancillaries (including the exhaust system), physical changes are few and far between and largely focus on minor tuning of the suspension, necessary because of the weight distribution shift as a result of the addition of a 23-litre AdBlue tank. Bentley even claims that, as the Bentayga was engineered with this engine in mind, it hasn't required significant acoustic work to block out any unwanted thrum.