When was the last time you failed to wrap your head around an unbelievable performance statistic? Or, have you become so accustomed to reading silly numbers that it's now rare for anything to make you stop and think? Personally, not since discovering that the McLaren F1 could hit 60mph in 3.2sec – a surreal time recorded by this magazine in 1994 – have I struggled for words.
That was, at least, until a moment ago, when 37-year-old German engineer Réne Wollmann explained that the Battista – yet another eye-wateringly expensive entry on the rapidly lengthening 'hypercar' roster, with deliveries due in 2020 – will almost halve the legendary McLaren's sprint time, courtesy of 1900bhp and 1700lb ft from four electric motors.
Admittedly, an FIA World Rallycross Audi A1 will do the same, but this is where the truly mind-bending stat comes in. Here it is: stamp on the accelerator pedal at 80mph and the Battista will accumulate speed at the same rate as a Tesla Model S P100D does when launched from standstill. The American car, remember, reaches 60mph in 2.5 seconds. In fact, it's so pulverisingly quick in 'Ludicrous' mode that footage of passengers attempting to suppress laughter, tears and possibly other bodily fluids has become a YouTube phenomenon. Presumably, the Battista will demolish it for straight-line pace, despite weighing more than two tonnes.
It's hard to imagine how that sort of paradigm-shifting acceleration will feel. Multi-millionaire collectors who nowadays don't open their wallets for less than 700bhp won't have experienced anything like it either, which is why – so the official line goes – Pininfarina is running pre-delivery workshops like the one Autocar is attending at the Circuit de Calafat.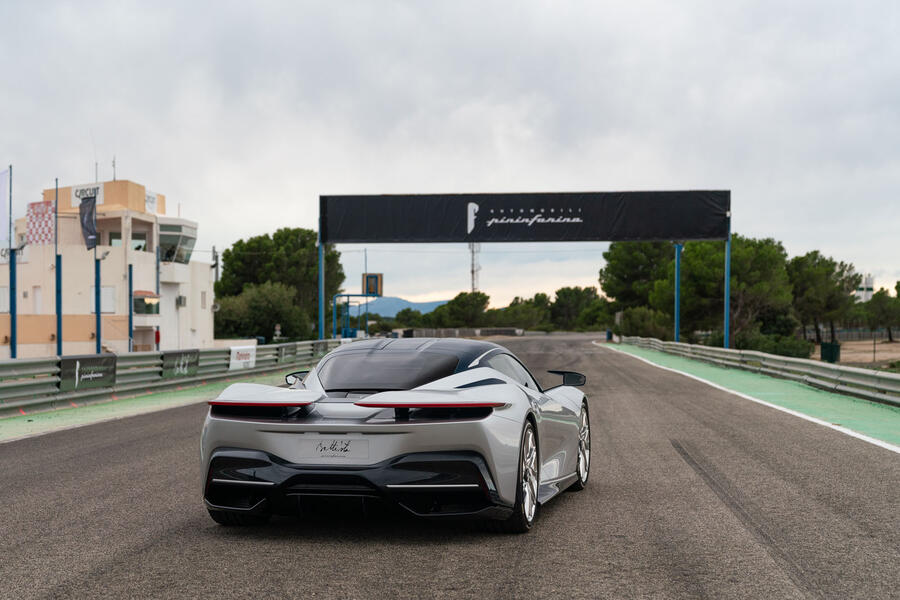 This a tight, technical track that sits on the Spanish coastline an hour's drive south of Barcelona, and one that Mahindra Racing uses to develop its Formula E cars – Mahindra being the Indian car-making giant that bought a controlling stake in the world's most famous coachbuilder in 2015. It is now refashioning Pininfarina as a maker of luxurious electric cars with a calling card of extraordinary speed. The product pipeline includes more practical vehicles, but similar to the strategy that Tesla initiated with the original Roadster in 2008, the brand is starting in the headline-grabbing, uppermost echelon of the sports car market. The Battista, which is to be constructed almost entirely of carbon fibre, and with cabin opulence comparable to a Bugatti, will cost around £2million. And, frankly, a Formula E car, or anything else the sensible side of a Top Fuel dragster, wouldn't see which way it went.