Ford is putting the finishing touches to a new Focus ST, due to be unveiled at the start of next year. The launch of the hot hatch will follow that of the regular car this summer, and will be timed to beat the Mk8 Volkswagen Golf GTI to market.
UPDATE: Ford has officially revealed the 2019 Focus ST with 276bhp. Read more here
A Ford insider has confirmed to Autocar that the new Focus ST will feature an updated version of the 2.3-litre Ecoboost four-cylinder engine found in the current Focus RS, albeit detuned from the 345bhp it currently puts out to suit the parameters of the ST's front-wheel-drive platform.
Initial speculation was that the current range-topping 1.5-litre petrol engine in the standard Ford Focus would be uprated to suit, but achieving the necessary power gains would push that unit beyond its reliable limit. Power output has yet to be confirmed, but a figure in excess of 250bhp, possibly nearer to 275bhp, from the 2.3-litre unit would give it the potency required to take on the latest hot hatches such as the Hyundai i30 N and Renault Mégane RS.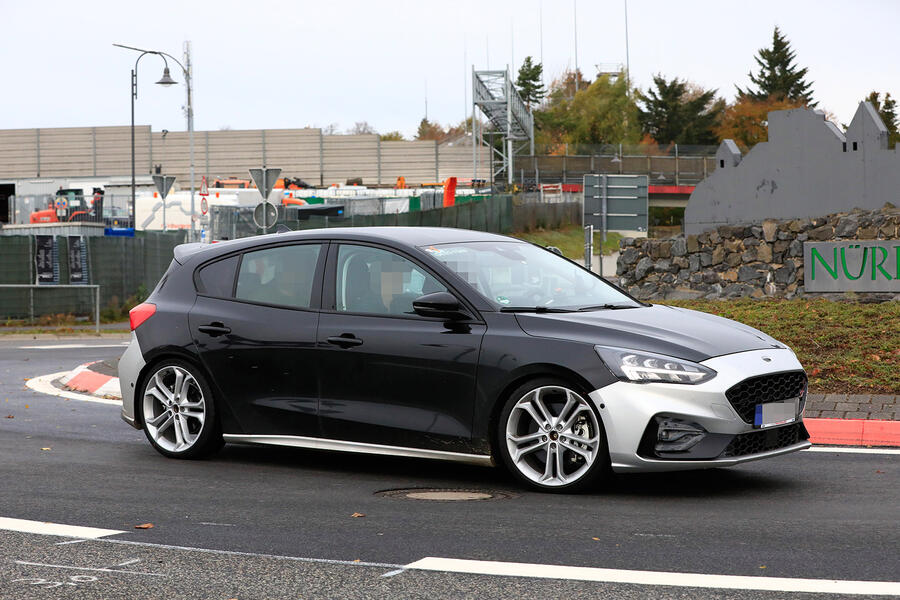 A modest power boost will be bolstered by the fact that the new Focus is up to 88kg lighter than the old car; and even with the ST's heavier, larger-capacity engine, weight savings should still be apparent. The Focus ST will initially be offered solely with a manual gearbox, but an automatic version is also under development for both petrol and diesel cars.
It will be the fastest mainstream model in Ford's range (beneath the Ford Mustang) until the next Focus RS arrives in 2020, using 48V hybrid technology to offer around 400bhp. The petrol ST will also be joined by a Volkswagen Golf GTD-rivalling diesel variant later in the year, despite a Europe-wide decline in the sales of oilburners. That looks likely to use Ford's latest 2.0-litre unit developing more than the 182bhp of the previous ST diesel, possibly making use of the twin-turbocharged version found in the range-topping Ford Mondeo and Ford Edge.