The long-awaited Audi E-tron GT will make its public debut at this year's LA motor show, According to Audi design boss Marc Lichte.
Although Lichte did not explicitly name the upcoming car, his promise at the 2019 LA show that "in one more year here we will present our coupé" was almost certainly a reference to the production model of the GT, which was initially previewed in concept form in 2018.
The four-door sports saloon, sister car to the Porsche Taycan, will be the third of Audi's stand-alone electric models, following the Audi E-tron and the recently revealed E-tron Sportback. A compact electric model is also due. By 2025, Audi will have 12 electric models.
Audi E-Tron GT concept - first drive of electric sports saloon
The sleek, Audi A7-sized model will be the flagship of Audi's electric line-up, falling under the custody of the brand's Audi Sport performance arm.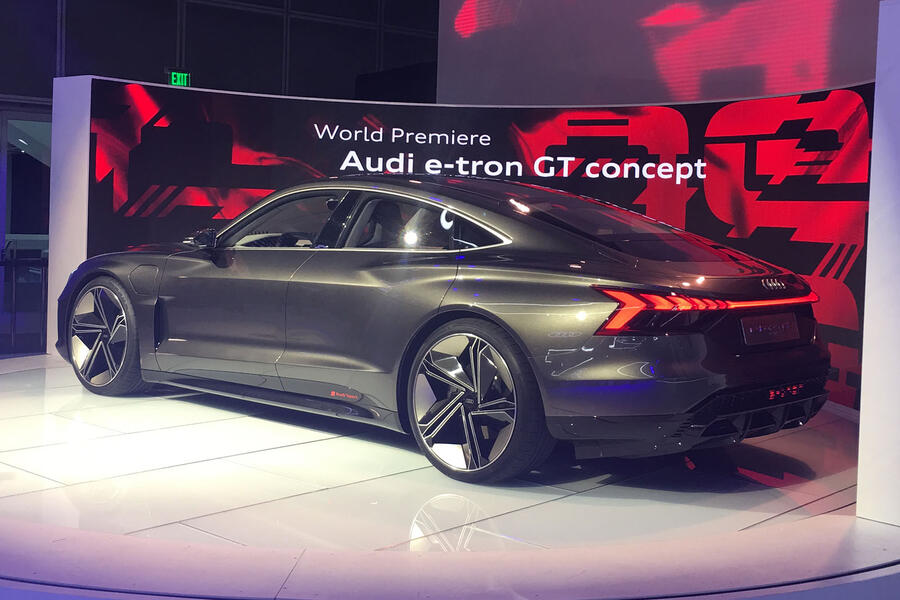 It will offer 248 miles of range on the WLTP cycle and, most notably, be capable of charging at 350kW. This will dramatically reduce charging times, meaning that an 80% fast charge will be achievable in under 20 minutes. Currently, a similar level charge takes more than double that time.
For at-home charging, as well as using a traditional cable, Audi will offer a wireless charging option via an induction plate.
The GT concept's two synchronous motors, one at the front and one at the rear, produce a collective 582bhp power output, enabling it to accelerate from 0-62mph in 3.5sec with a top speed of 149mph. Torque is transferred to the wheels via the quattro permanent all-wheel drive with torque vectoring.
"The acceleration isn't important. It's being able to reproduce that acceleration five, six, seven times," said Audi Sport product marketing boss Stefan Holischka, alluding to some electric performance cars that struggle to replicate acceleration times more than once due to battery limitations.