The first official images of the new Land Rover Defender have leaked out, seemingly taken from a magazine article to be published on the car in South Africa.
They give the best look yet of the car, which is set to be revealed at today's Frankfurt motor show.
The legitimacy of the images seems to be confirmed when they are compared to previously leaked images, as well as an official teaser video that last week revealed the new Defender is driving 4000 miles from Kazakhstan to its own unveiling in Germany.
It's here: Land Rover has unveiled the new Defender at Frankfurt
With the wraps off, it is clear to see how the Defender's design has been influenced by the original model and its successors. Short front and rear overhangs on both the 110 and 90 variants indicate its potential off-road prowess, while the rear-mounted spare tyre and side-hinged tailgate are design elements carried over from the previous generation.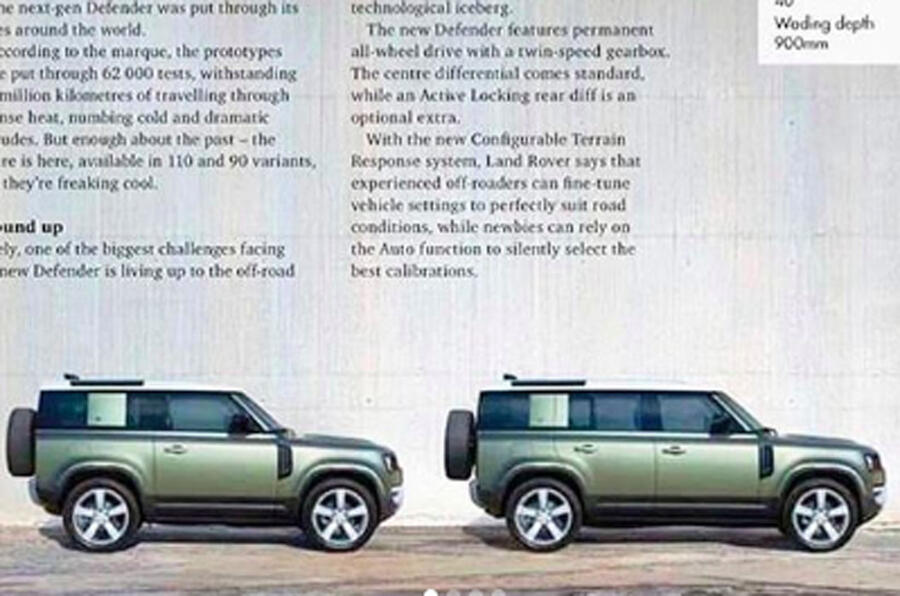 Although the two-box silhouette remains true to that of its precedecessor, curved corners, exposed structural elements and flared wheelarches bring the model's design into line with the rest of Land Rover's current line-up. One variant shown in the images appears to be the basic-spec Utility variant, which looks to be equipped with painted steel wheels and protective body trim.
The leaked article also reveals key information regarding the new Defender's powertrain, dimensions, capabilities and specifications.
Inside, the new model has moved upmarket compared to the last generation, and receives Land Rover's all-new Pavi Pro touchscreen infotainment system, capable of advanced connectivity and over-the-air updates.
The larger 110 variant can host five, six, or seven seats, and is quoted as having a rear loadspace capacity of 2380 litres with the rear seats folded flat. The 90 has a smaller rear seating area, but can seat six with the addition of a small 'jump seat' between the driver and front passenger, made possible with the relocation of the gearstick to the dashboard.