The last Land Rover Defender has been built at Land Rover's Solihull factory, bringing to an end the car's astonishing 68-year history. As we remember the Defender, here's the time we took one used example further than it was ever designed to go...
Crossing the Atlantic ocean (sort of) in a Defender
Our Land Rover Defender is skipping along a single-track A-road at 30mph.
I flick the left-hand indicator and turn 90deg onto a rough track that leads down a shallow slope. Within moments, the engine's persistent chuntering no longer dominates the cabin. It has been joined by the sound of splashing.
The road dissolves into saltwater and, in a heartbeat, we've reached the car's stated wading limit of 500mm. But this Landie's not for turning. There are two miles of North Atlantic ahead, and it's about to get much, much deeper…
Last of the direct descendants of the original Land Rover, the Defender could never go gentle into that good night. It needed one last hurrah – a final test of the storied go-anywhere grit that has cast lifelines into the darkest reaches of the planet over the past 67 years.
But we wanted to say a fond farewell on home soil. Land Rovers have driven as far above sea level as you can go in the UK, scaling the 1344 metres of Ben Nevis more than once. But our target was on the contrary: to go more than a metre below sea level.
And not in a factory-fresh car, either. Sure, your modern-day niceties of contrast-stitched 
leather upholstery, air-con and a fancy stereo make daily Defender driving more comfortable, but when it comes to the rough stuff, they're 
an irrelevance.
All we needed from our car was the toughness that has been supplied as standard since 
1948, so we chose a 20-year-old, 216,000-mile Defender 90 Station Wagon for the task.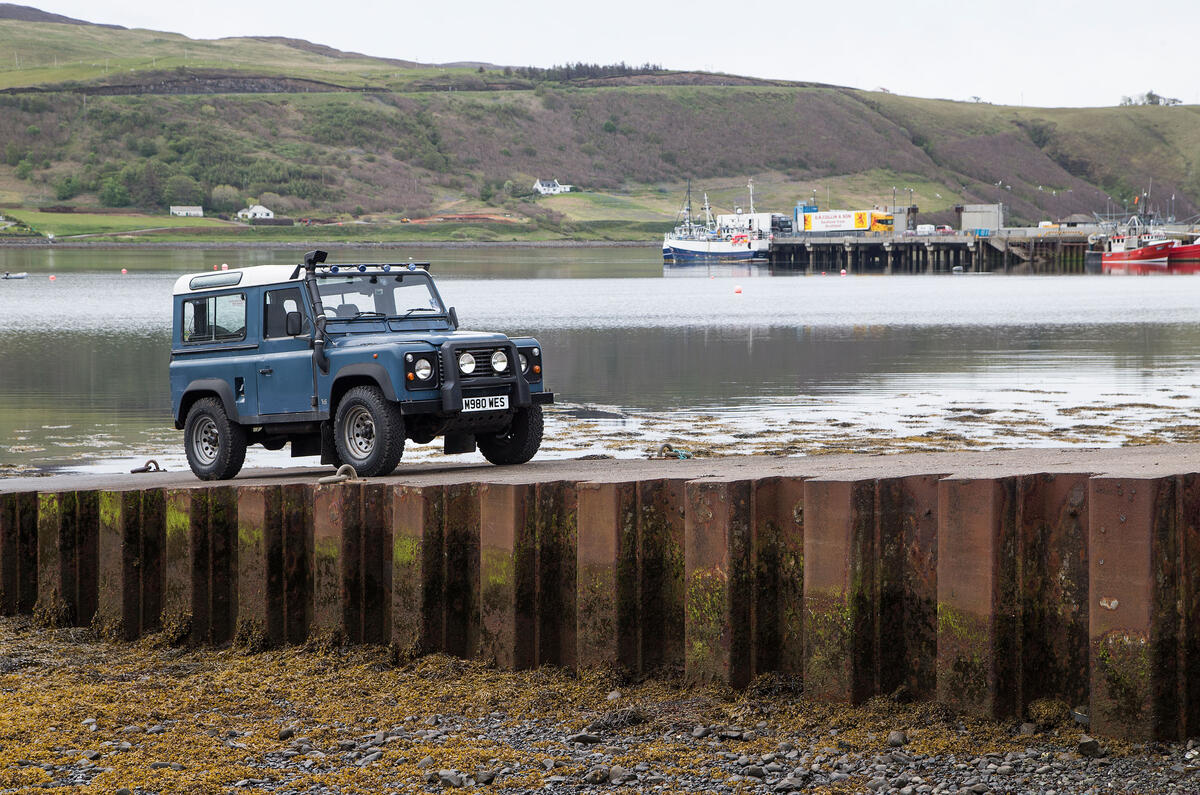 We first get acquainted at Edinburgh Airport. The car's blue paint – which has softened from gloss to matt over the years – is slowly fraying into rust at the margins, and there are daft spotlights up top, but the ABCs of Defender are there: square-set, upright and effortlessly rugged-looking.
Land Rover shies away from the amphibious implications of the word 'snorkel', because the exposed plastic pipe is only really intended to keep dust out of the engine, but the 'raised air intake' – as it's properly known – is sure to prove useful.
And probably not for the first time. Club stickers plastered around the Defender tell us that previous owners were enthusiasts, and that the car has spent at least some of its life clambering around the Isle of Skye.