Porsche has futureproofed its new eighth-generation 911 with a series of engineering measures that will allow it to support both mild hybrid and plug-in hybrid drivetrains during its planned seven-year lifecycle, according to its head of sports car development, August Achleitner.
Although the 992-series 911 will initially be offered with an updated version of the old model's twin-turbocharged 3.0-litre flat six petrol engine, delivering 444bhp in both rear-wheel drive Carrera S and four-wheel drive Carrera 4S models, Achleitner has confirmed that development is progressing on a hybridised version that will provide the iconic sports car with the capability to run exclusively on electric power for limited distances.
New 2019 Porsche 911: eighth generation sports car revealed
"We've taken the experience we gained with hybrid versions of the Cayenne and Panamera, as well as the 918 Spyder, and applied it to the new 911," Achleitner said. "In the future, this will allow us to offer it with pure-electric capability."
Despite its famously tight mechanical packaging, Porsche has successfully modified the rear-mounted drivetrain of the 911 to allow the housing of a disc-shaped electric motor within the rear section of its eight-speed dual-clutch automatic gearbox.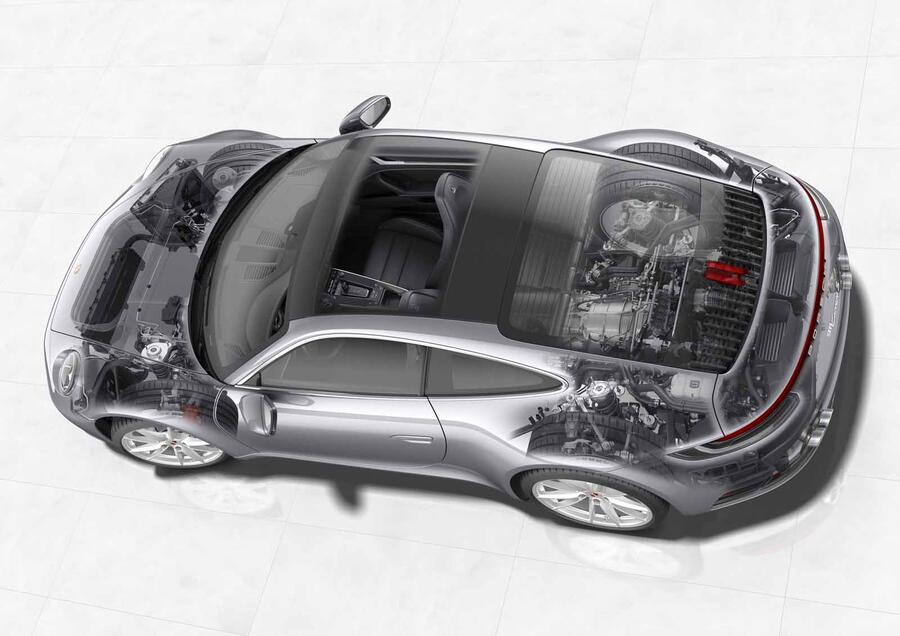 Key among the changes enabling this is a brand-new gearset similar to that already used by the second-generation Panamera and Cayenne. Achleitner, who is set to retire at the end of 2018, says the new gearset is almost 100mm shorter than the old one, providing space in the rear of the gearbox to house the motor.
As well as adopting a new gearset, the ZF-produced eight-speed PDK unit also has a higher torque rating than its predecessor at "over 800Nm [500lb ft]", in a move that Achleitner says is necessary to allow the 911 hybrid to handle the strong torque loading of the motor.