The next-generation Porsche 911 GT3, due in 2020, has been spotted testing on public roads in near-production bodywork.
Previous test mules had greater amounts of camouflage, making this the first time the upcoming car's front end has been seen almost entirely undisguised - revealing an extra air intake between the headlights. This latest prototype also reveals the sizeable signature rear wing, and a similar rear LED light bar to the new 992-series 911 due to be shown at this year's Los Angeles motor show.
The next GT3 is expected to resign an illustrious line of race-bred naturally aspirated performance engines to the history books, according to sources close to the German car maker, who suggest it is due to adopt a twin-turbocharged powerplant.
The move, not yet officially confirmed by Porsche, would bring the 2020 911 GT3 and its more heavily focused 911 GT3 RS sibling into line with other models in the new 992-series 911 line-up, which are already confirmed to received updated versions of today's turbocharged 3.0-litre and 3.8-litre units.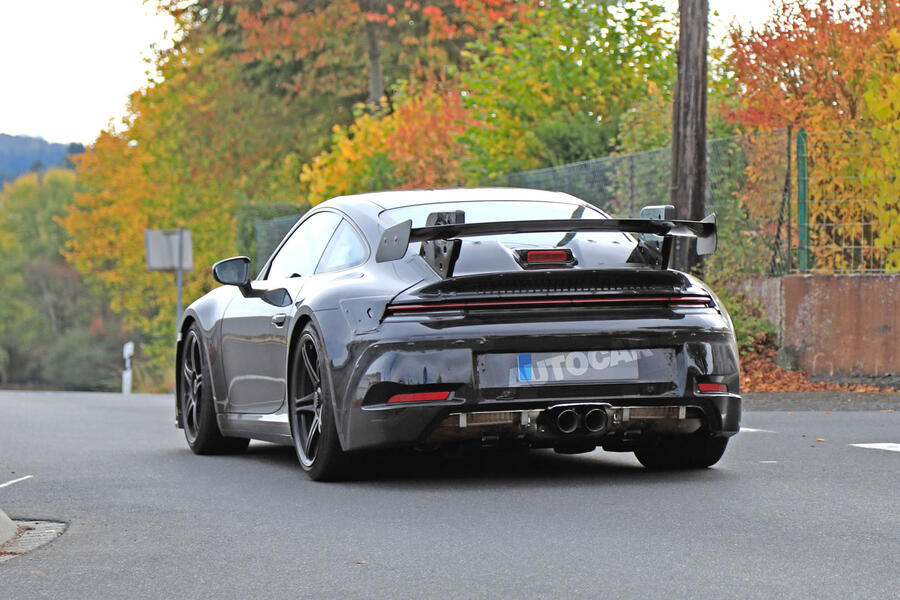 The Stuttgart-based source, with direct links to Porsche Motorsport, contends plans are for the GT3 to adopt a heavily reworked version of the existing 911 Turbo's twin-turbocharged, 3.8-litre horizontally opposed six-cylinder engine.
In the new 911 Turbo, due to be revealed during the latter half of next year, the revised engine is expected to kick out 572bhp, giving it the same output Porsche as the outgoing 911 Turbo S. However, suggestions are it could be tuned to deliver somewhere in the region of 513bhp for the new 911 GT3.
With the naturally aspirated 4.0-litre flat-six engine used by today's 911 GT3 rated at 493bhp, the twin-turbocharged unit would undoubtedly have to the potential to not only lift the power output of its successor but also bring a wholesale increase in torque.
In today's 911 Turbo, the twin-turbocharged 3.8-litre unit delivers 524lb ft between 2200rpm and 4000rpm, compared with the 339lb ft between 6000rpm and 9000rpm for the naturally aspirated 4.0-litre in the current 911 GT3.