A recent straw poll on Autocar's Twitter asked which of today's hot hatch stars would take victory. There were a few chirrups in support of the Volkswagen – the Golf GTI we have here is a last-of-the-line special from an engineering powerhouse and so ought to be rather good – but, a little tediously, almost all predicted a knockout blow from Honda. 
Front-driven hot-hatch showdown in Wales today, with the new Golf GTI TCR, RS Megane Trophy and the mighty Civic Type R. Find out the winner in Autocar April 17. Until then, any guesses? pic.twitter.com/x8nihR5UbF

— Autocar (@autocar) April 8, 2019
We shouldn't be surprised. This is the FK8 Civic Type R: the best driver's Honda since the DC2 Integra darted onto the Japanese domestic market in the mid-1990s, and a car whose behind-the-wheel zing tends to unify the opinion riven by its design. Honda might not have volume enough in Europe to support continued production at the Swindon plant where the Type R is exclusively built, but the 3500 employees who now face an uncertain future can be obscenely proud of the car they've manufactured. So far this has been the undisputed class champion, and today is its tilt at immortality. 
But not if the box-fresh Golf GTI TCR or a radiant Liquid Yellow Renault Sport Mégane illuminating our Welsh surroundings can help it. These are the latest wares from arguably the most pre-eminent houses in the entire hot hatch business. They're tweaked and tuned, more expensive than the base model but perceptibly quicker and – we hope – more fun. And why would anyone spend more than £30,000 on what is, after all, merely a front-driven performance derivative of a mass-produced family car, unless it was enormous, irresistibly good fun?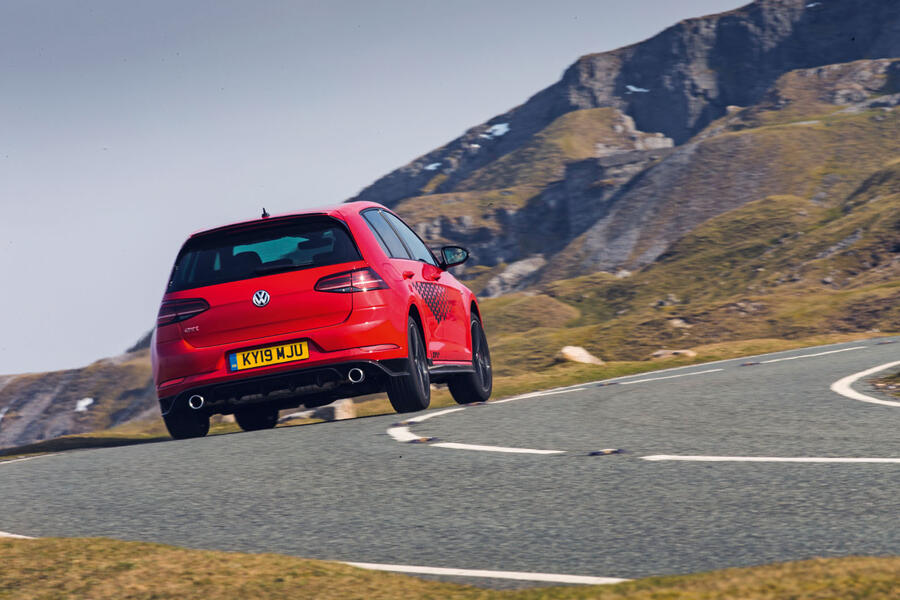 When it comes to hot hatches, history shows the engineers at Renault Sport HQ in Les Ulis normally need a second bite at the cherry to give us their best effort, and when that bite comes with a Trophy badge, it normally blitzes the opposition. In this instance, no time has been wasted in deploying the Mégane RS 300 Trophy – to give its full name – and it's a typically convincing effort. Power from a quicker-responding 1.8-litre four-cylinder turbo engine shared with the Alpine A110 is up 20bhp over the base Mégane RS to 296bhp, with torque rising from 295lb ft to 310lb ft if you go for the dual-clutch automatic gearbox, which we haven't. The Trophy retains four-wheel steering but gets a new bi-modal exhaust, 19in wheels wrapped in Bridgestone Potenza S001 tyres (track-ready S007s are an option) and Renault Sport's Cup chassis as standard.