The Rimac Nevera has broken the Nürburgring lap record for a production electric car, posting a blistering time of 7min 5sec to complete a full lap of the 12.8 mile circuit.
Getting close to the 7min time at the 'Ring is an achievement for any manufacturer, and with the development of electric cars advancing at searing pace, the Nevera's time proves manufacturers can develop EVs to not only handle the stresses and strains of 'The Green Hell', but of any situation that is thrown at them.
Driven by Croatian racing driver Martin Kodrik, the Nevera shattered the previous record for a production EV by 20sec - the Tesla Model S Track Pack - which posted a time of 7:25.231.
You can watch the video of the Nevera's lap below.
The challenge posed by the circuit and the variety of corners along the 13-mile course gives car makers unparalleled insight into where their machines work best, as well as where they need to improve.
As such, a Nürburgring lap record is something of an accolade for a manufacturer, and several have spent years honing their machines around the Nordschleife in the hope of being crowned the fastest of all.
These record laps can be divided between several different types of car. Take a look below to see the quickest lap times in all the major categories.
There is a caveat, however, in that the 'official' length of the lap was increased in 2019. Before this, all time were logged on a 12.8 mile circuit that effectively left out a short stretch of the T13 straight at the end of the lap. Yet with so much emphasis being placed on setting a fast time, the Nürburgring decided that only the whole 12.944 miles would count. As an example of the difference that makes, the record set by the GT2 RS (below) would be 6:38:835 under the old timing method.
Fastest road-legal lap around the Nürburgring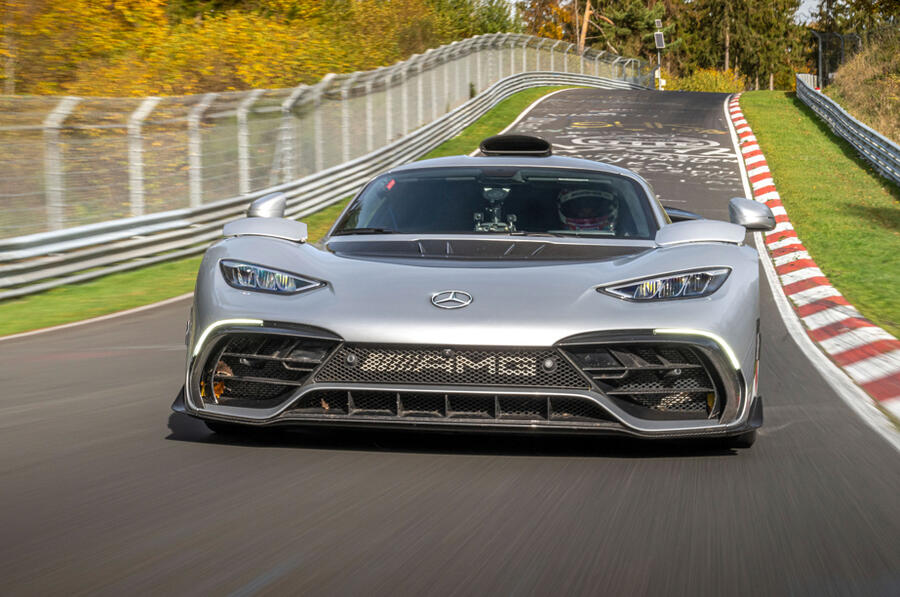 The Mercedes-AMG One has set a new fastest lap for production cars at the Nürburgring, eclipsing the previous record by almost 10sec.
The 1049bhp hypercar posted a time of 6min 35.183sec around the 156-corner circuit, driven by Mercedes DTM driver Maro Engel on 28 October. This lap time also took the record for the super-sports car category.
Dubbed a Formula 1 car for the road, the £2.2 million hypercar is the most potent Mercedes-AMG road car ever made, combining a modified version of the firm's turbocharged 1.6-litre V6 grand prix engine with four electric motors.
2 - Porsche 911 GT2 RS (with Manthey Performance Kit) - 6:43:30
Guided by Porsche works driver Lars Kern, the Porsche 911 GT2 RS completed a lap of the Nürburgring in 6 minutes 43.30sec, breaking the previous record by 4.747sec with an average speed of 115.5mph.