It was always going to happen, wasn't it? Even in the middle of July, no more than a fortnight after temperatures around the UK soared into the mid-30s, it would seem that gathering a triumvirate of convertible sports cars together in North Wales is still too much like tempting fate. Or the weather gods. Or any other abstract concept you'd usually curse and swear at while shaking your fist at the sky, wondering why oh why, on today of all days, did it have to rain. How typical.
But anyway, the new BMW Z4 M40i is one of the latest examples of the breed to touch down on our shores. Previous iterations of Munich's two-door drop-top haven't always been praised for being standout driver's cars, but BMW seems confident this third-generation model is the one to rewrite that history for the better. A Nürburgring lap time reportedly some three seconds quicker than that of its M2 stable-mate is certainly an encouraging sign. So too is the fact that the Toyota Supra – the BMW's brother from another mother – emerged victorious when we pitted it against the Porsche Cayman T and BMW M2 a few weeks back.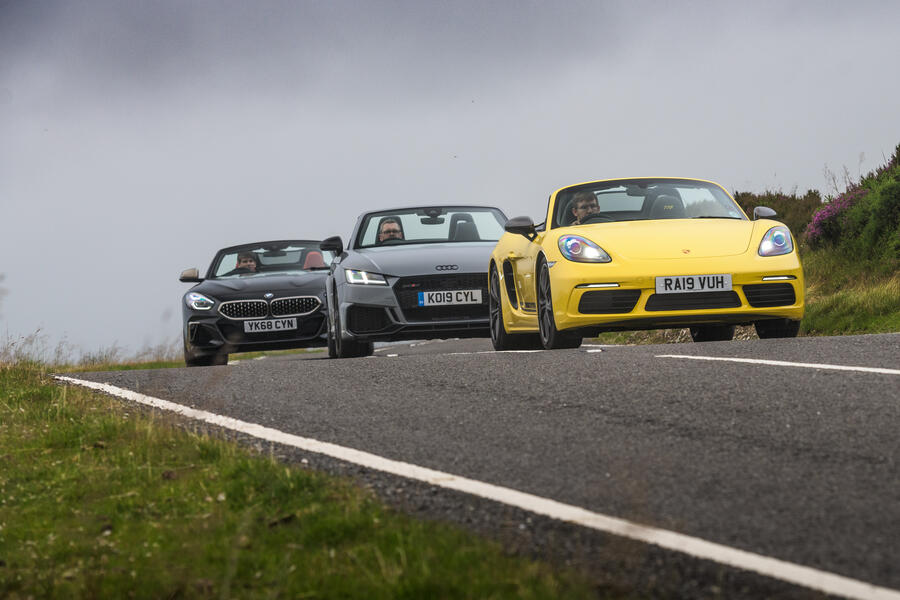 With all that in mind, the temptation to gather together a handful of ideologically aligned adversaries and head for the hills proved too strong to resist. Which is exactly why our test subjects – made up of said Z4, a Porsche 718 Boxster T and an Audi TT RS Roadster – are now moored in a windswept, soggy car park on the side of the B4391, completely saturated.
But sitting here, watching snapper Olgun Kordal fish around in his bag for the correct lens as the fine, mist-like rain continues to drive home the fact that one of us should have checked the weather forecast, isn't without its perks. From this vantage point, you can appreciate just how motley this crew of convertibles really is, and soak in the diversity of the drop-top landscape in 2019.